When I think VMAs, I think of pinnacle moments that are forever connected and associated with the performers that bring them. When I think VMAs, I think Britney Spears "Oops I Did It Again" strip down, I think N'Sync "Bye Bye Bye" TV popping spectacular, I think Kanye West stealing the mic and interrupting Tay Swift's thank you speech… and the list goes on. So more than anything, the VMAs always make me the most excited to see what crazy and epic moments our inspirational musicians are going to throw down on the stage and red carpet this time around. From Teddy Bears to 90's throwbacks, I give you my breakdown below of the Top 8 biggest moments (for the better or the worse for viewers) of this year's VMAs.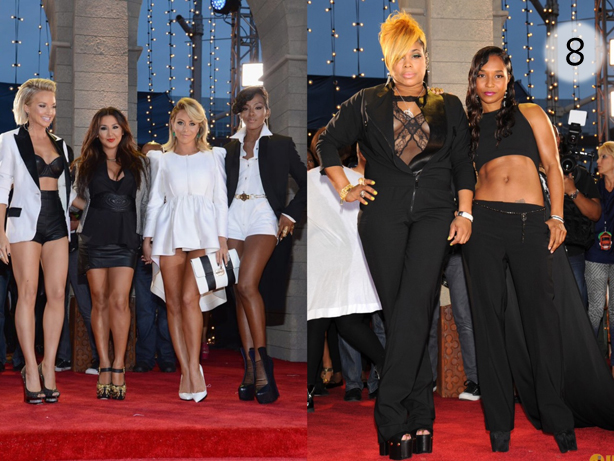 8.) Return of the Female Ladies
Do I see a lot of female band reunions in the future?! From Danity Kane's appearance on the red carpet to TBoz and Chilli of TLC introducing Drake's performance on the actual VMAs, last night reminded me about why I thoroughly believe the reign of the female groups was way too short. Always thinking that Danity Kane's star group power was so close to being a possible epic success and was cut way too early in life (I mean… Welcome To The Dollhouse was an amazing album that was basically the soundtrack to my 2008), seeing them reunited made me all sorts of excited. And having flashbacks to the monumental times of "Waterfalls" and "No Scrubs" with TLC, both groups made me want more of these honeys and reunions to happen ASAP.
7.) Case of the Exes
What's probably one of the most entertaining parts about the VMAs is that it's not just a show of performances and awards, but it's one of the few times we really see the real-life feuds, drama, and friendships of our fave Hollywood celebs being played out. All eyes were on Harry Styles from One Direction when Tay Swift "casually" and "mysteriously" made a shout out and shot down to him (in true Taylor Swift style) during her acceptance speech for Best Female Video. And while everyone from Jaden and Will Smith to the Cash Money Young Money crew were getting down and loving every second of Drake's performance of "Started from the Bottom", probably the best part of that whole thing was the audience cam shot to Rihanna who "casually" made it a point to look as unamused and unenthused as possible. The quick and subtle camera snippets yet bigger meanings behind them are some of the things that only the VMAs knows how to bring, making up for some of the most talked about moments of the night.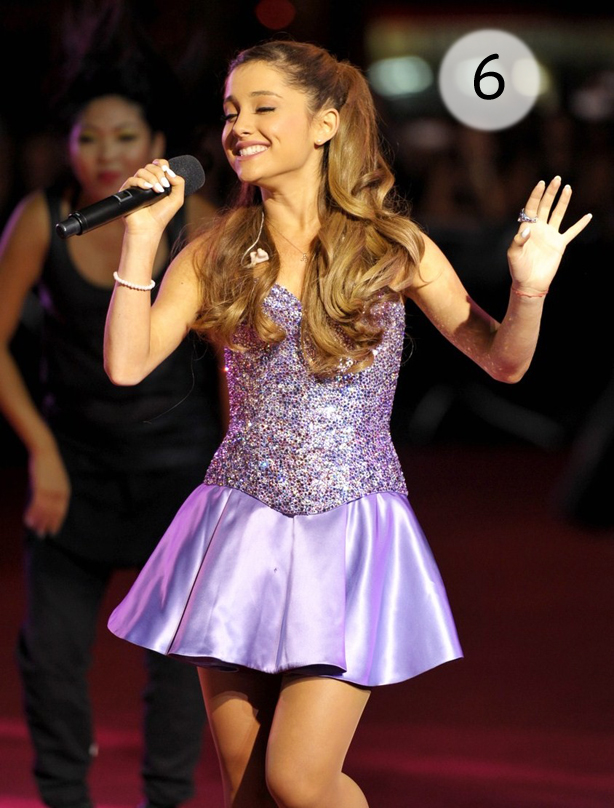 6.) Adorable Ariana
The highlight of the VMAs pre show near and far was Ariana Grande's performance of my fave summer anthem "The Way". So adorable that I couldn't stop watching even if I wanted to, Ariana's performance, demeanor and the way she carried herself through that whole show was not only impressive, but showed us all that she is truly an upcoming diva to be reckoned with. With the cutest purple sequined dress and a look of nerves and excitement that was so real and refreshing to see, Ariana sang her way into the #6 spot.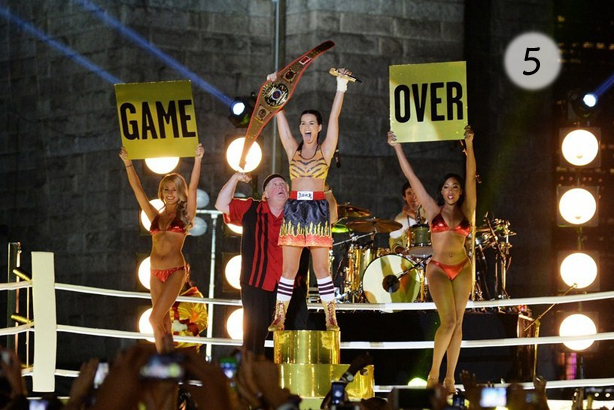 5.) Roaring With Perry
A huge fan of her inspirational anthem "Roar", there's not much to say about Katy Perry that isn't evident to everyone already. Ending out the VMAs with a performance in a big bang and a big bridge (the Brooklyn Bridge to be exact), Katy knew how to roar up the outdoor crowd.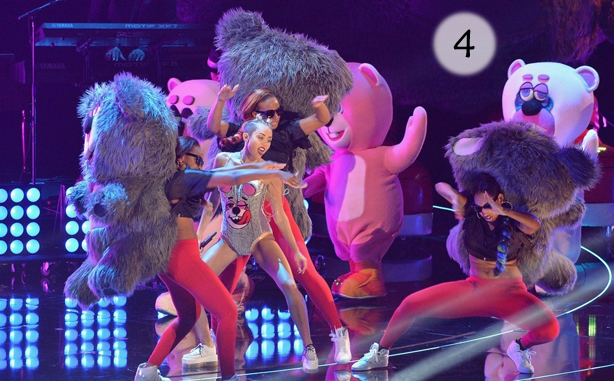 4.) The Teddy Bear Fiasco
As a long time Miley fan, I was looking forward to watching her performance on the VMAs. Even though I've been questioning a lot of her actions (and haircut) lately, I was excited to see her do her epic twerks and sing my low-key favorite song of the moment "Can't Stop". But, when she hit the stage, I was not only thoroughly disappointed, but couldn't help but ask the new-age question "Why Miley why?". Hoping that she would stop, even though as she sang very confidently that she "Can't Stop", the electronic teddy bears along with the teddy bear leo altogether gave me too many mixed emotions that I was not down for. And when Robin Thicke came out on stage, I thought to myself that finally, this was all going to be turned around. But as the Miley-Robin combo continued on, I just more and more baffled and confused of Robin, Miley…. and her foam finger. Who ever thought I would be saying, this, but all I could say from that whole performance is… Thank the lord for 2Chainz.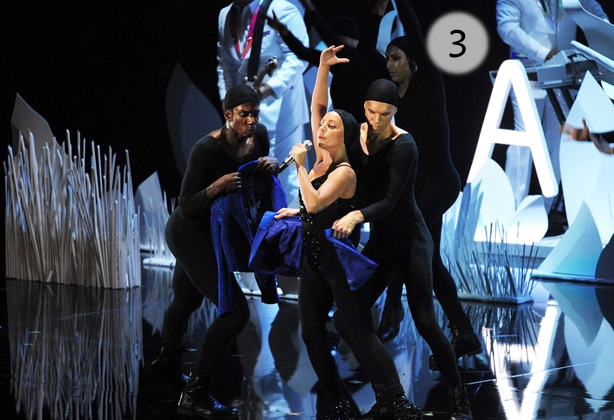 3.) More Applause for Gaga
Anyone that knows me knows that I am probably Lady Gaga's biggest little monster that anyone has ever seen. So when Gaga finally returned to the scene and the radio airwaves with her new single "Applause", you can sure believe that my phone was blowing up like no other, with people asking if I've heard the new single and what I thought about it. So you can imagine my excitement when I heard that Lady G (which in fact is what "Lainey G" was inspired from) was not going to only perform at the VMAs but open it. While I and many others may not be the hugest fans of "Applause", I think we can all surely say that the Lady hit the stage with a vengeance reminding us all why she is an amazing performer and the current Queen of Pop. With flashbacks to her "Pokerface" days in the wig with the straight-edge bangs to her epic "Telephone" era with the bright neon yellow hairdo, Lady Gaga reminded us that no matter what people say, she always kills it.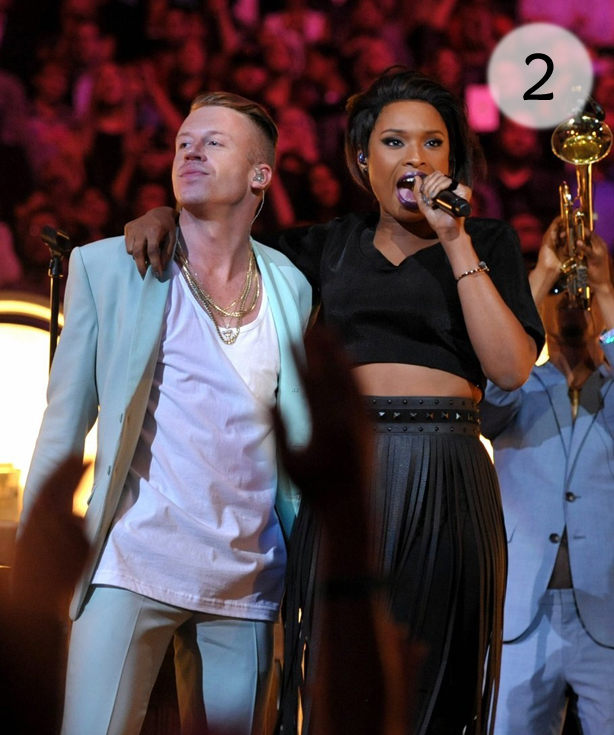 2.) Macklemore Sweeping VMAs
Prior to the VMAs, I wasn't sure if I was on the Macklemore boat or not. But I have to say, the VMAs 100% flipped that around for me. When I saw Macklemore and Ryan Lewis win it big this year, it was so exciting to see two people truly being thankful and taking it all in on stage—a favorite part of mine for new artists at the VMAs. So grateful and humbled (and looking super stylish while doing it, Macklemore's mint green suit was too perfect), fan or not, you felt proud and happy for the boys, believing that they truly deserved to win the prized moon men. And on top of that, while other artists came in with crazy antics and props (i.e. Miley and the electronic teddy bears) to try to do a big splash to make a memorable performance, Macklemore kept it simple with a small stage and small band– letting the power of the words of "Same Love" be the showstopper of the performance. Adding in Queen JHudson in the mix to create the cherry on top of the perfect sundae, Macklemore is evidently the #2 biggest moment at the VMAs.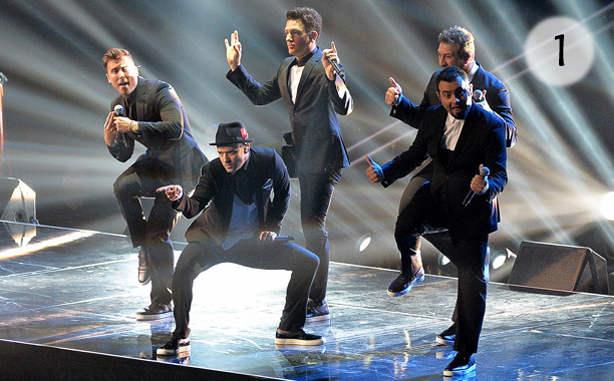 1.) A Reunion Like No Other
With rumbles and debates all week long of if N'Sync was finally going to make a reunion performance or not, all of us 80's and 90's babies were BEYOND ecstatic to see that finally our wishes were being granted. A bigger reunion than Destiny's Child's at the Super Bowl, I (as I'm sure every other girl in the world) was sitting on the edge of my seat the whole time watching the biggest tease and shortest reunion known to mankind. Seeing our favorite boy banders JC, Joey, Lance, and Chris come together with Mr JT again, we all remembered where Justin started from and as he said perfectly in his performance, why he "still runs this b***h". Throwing into the reunion performance basically a sparknoted version of his Legends of Summer tour of all of his amazing hit songs since he's gone solo, it's no surprise that JT and my boys of N'Sync take the number one spot for the biggest moment at the VMAs. Now… can N'Sync get back together already?!??
And if you don't want to watch the 15 minute clip to get to the N'Sync Reunion, here it is in 18 breakdowns; DEFINITELY worth the click!
http://www.buzzfeed.com/mattbellassai/the-best-seconds-of-the-110-second-nsync-reunion
Photo Credit: Just Jared
XOXO

award shows
britney spears
danity kane
jennifer hudson
justin timberlake
katy perry
lady gaga
macklemore
miley cyrus
mtv
musicians
nsync
performance
robin thicke
TLC
vmas