Is it just me or is St Patrick's Day really like the almost forgotten holiday? I feel like Valentine's Day, Halloween, New Year's and more are just so well loved, acknowledged, and prepped for all year round. Yet when it comes to St Patty's, it becomes a last minute afterthought where you're running around to find the perfect green outfit while putting together plans to join in the Irish spirit with some green beer and green colored treats along the way.
Well, if you're anything like me, you love celebrating every holiday there is. And that obviously includes St Patrick's! And so if you're also anything like me, you just realized that we're less than a week away from the major holiday and have absolutely nothing prepared. But have no worries my Fashionlainers, because that is why I'm here. Simple yet sweet (pun intended), I've thrown down below 5 creative, fun, and easy DIYs that'll quickly help get you into the Irish spirit.
When I think St Patrick's Day, I think green filled drinks and cocktails. And this "grasshopper" creation may just be the perfect one! Mixing together some vanilla ice cream (aka what sold me on this drink) along with some different liquors including Jameson, this will instantly get you into the Irish spirit.
As my first train of thought (obviously) is asking myself "what am I going to wear?", I clearly need the perfect headpiece to go with my green filled outfit. Grabbing just a little toilet paper roll along with your green construction paper, this easy-to-do creation will help you make the perfect mini leprechaun hat that will make you the most stylish of them all (and least pinched).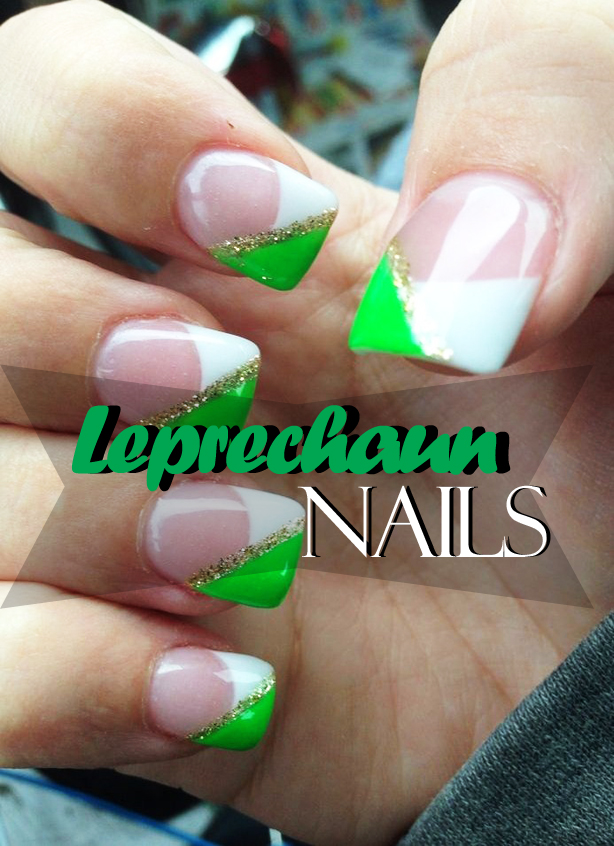 Also, let's not forget about the other essential piece to any outfit… your nails. There are so many different and fun ways to go about doing your nails in theme with this holiday depending on how crazy or all out you want to get, but I wanted to show one that's different and unique yet still simple enough to do. I'm not typically a fan of the french nail, but these criss-crossed frenches with a hint of green and gold glitter instantly screamed St Patrick's Day perfection to me.
Obviously any and every excuse to eat a tasty treat in honor of a holiday is a must. And what better concoction to make (and eat) on St Patty's Day than these green-themed Rice Krispie treats mixed with Lucky Charm marshmallows? Now you'll really be able to taste the rainbow!
Last but certainly not least– the souvenirs. The best part about St Patrick's Day to me is celebrating it with those around you and getting into the spirit all together. So whether that means celebrating it with your office mates, your classmates, or your besties, it's always nice to have a cute little souvenir to share with everyone. And this pot of gold at the end of a rainbow inspired mason jar may just be the cutest and most perfect thing I've ever seen.
XOXO

diy french nails
diy st patricks day
diy st patricks day nails
grasshopper cocktail
luck of the irish
rainbow and pot of gold
rice krispie treat diy
rice krispie treat lucky charms
skittles taste the rainbow
st patricks day class souvenirs
st patricks day desserts
st patricks day diy
st patricks day drinks
st patricks day inspiration