As everyone likes to call it, the "prom" of Hollywood happened last night. And while all of us were on the edge of our seats to see who would win Best Film, Best Actor, and so forth for the 85th Annual Academy Awards (so excited Anne Hathaway won!!!), we were all also dying to see what everyone would show up in on the red carpet. Just coming off the brink of New York Fashion Week, stylists were all hands-in on the biggest event in Hollywood, making sure their clients looked spectacular and didn't make it on Fashion Police's Worst Dressed list. Officially weighing in on last night's ensembles, Fashionlaine style, I've broken down my top 10 picks for Best Dressed, with the winners below showing you the musts of how to steal any red carpet. Do you agree with my list? Let me know!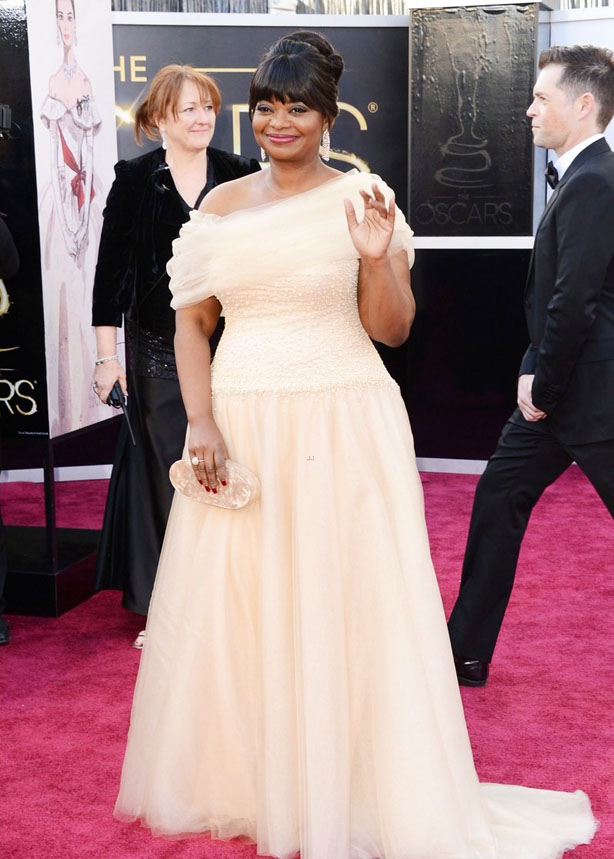 #10: Octavia Spencer– Winning last year for Best Supporting Actress in The Help, Octavia is back and looking prettier than ever! It looks like the color theme this year was light pink/ pastels and Octavia showed that she can be a leader in that pack with this beautiful custom-designed Tadashi Shoji dress.
Shoes: Prada // Jewelry: Lorraine Schwartz // Clutch: Edie Parker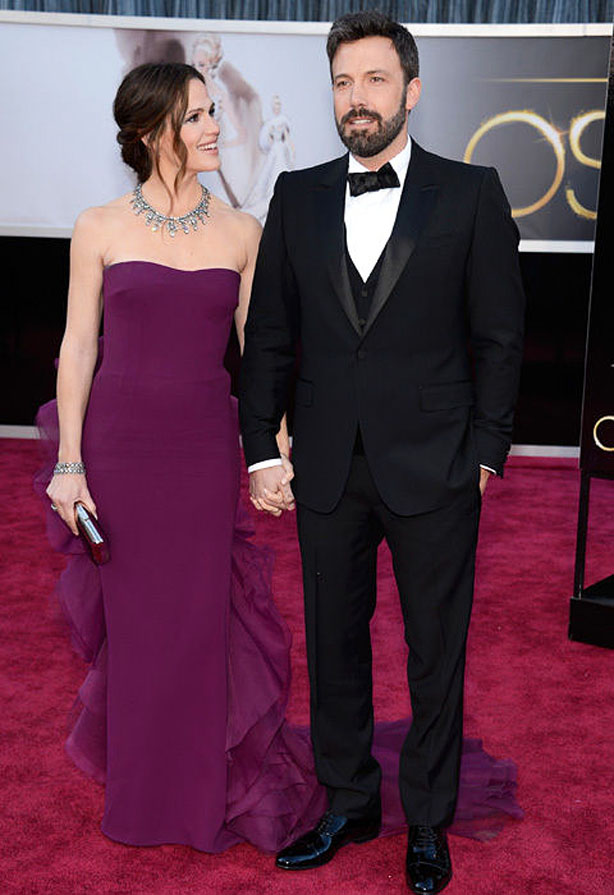 #9: Jennifer Garner & Ben Affleck: The adorable Bennifer duo had to go hand-in-hand for the number 9 spot. One of my favorite Hollywood couples of the moment, their matching Gucci outfits not only looked amazing separately, but cohesively together they made for the ultimate fashion couple in Hollywood (and not to mention, the best accessories either of them can have on the carpet). While many go for the sequins or bright/bold colors, Jen's unexpected but beautiful plum color dress worked beautifully for the evening.
On Jennifer: Jewelry: Neil Lane // Clutch: Roger Vivier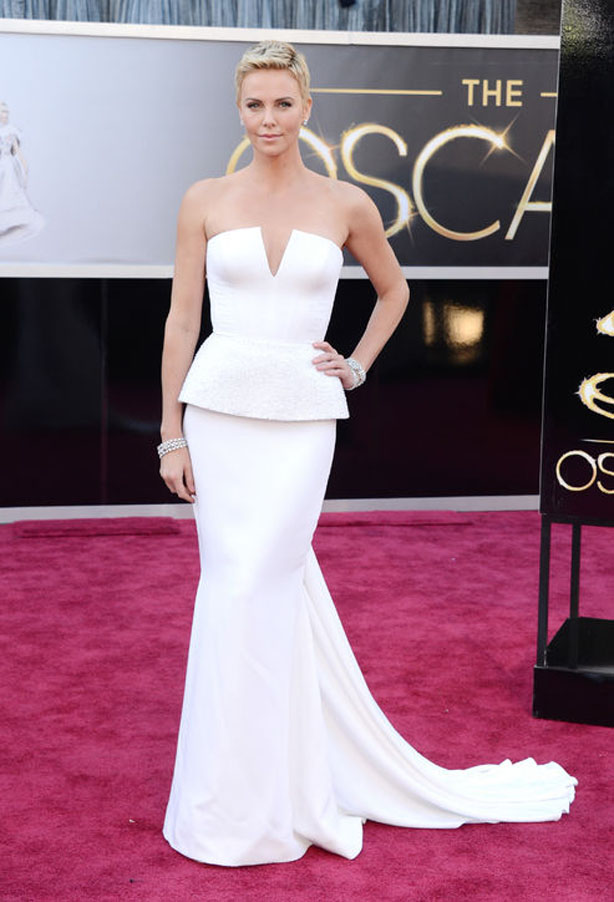 #8: Charlize Theron: When I first saw Charlize, I thought "What'd you do to your hair?!?!!" But thankfully, Charlize is so pretty that long hair or short, she always looks stunning. And it didn't hurt that she was wearing this gorgeous white Christian Dior Haute Couture dress. The geometric feel to the top portion made for, by far, the coolest and most modern looking gown of the evening.
Shoes: Roger Vivier // Jewelry: Harry Winston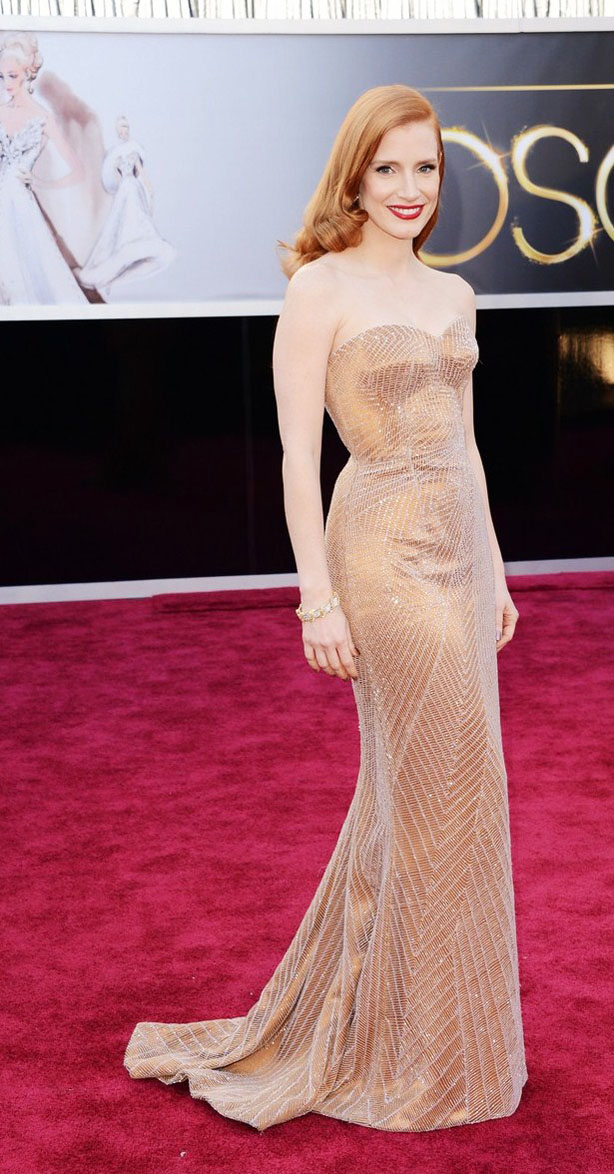 #7: Jessica Chastain: We've been seeing a lot of Jessica lately, making her awards and Oscar rounds in different outfits and gowns. So when the big day was inching nearer and all eyes were on her as one of the biggest leads to win Best Actress for Zero Dark Thirty, I was definitely wondering what Jessica was going to be wearing. Expecting a big and red dramatic gown and surprisingly in return being greeted by this beautiful simple and sleek gold/sequin custom Armani Prive dress, Jessica gave us a throwback to "old Hollywood glamour" as she had said she was aiming for, and it definitely wasn't a bad way to go.
Shoes: Christian Louboutin // Jewelry: Harry Winston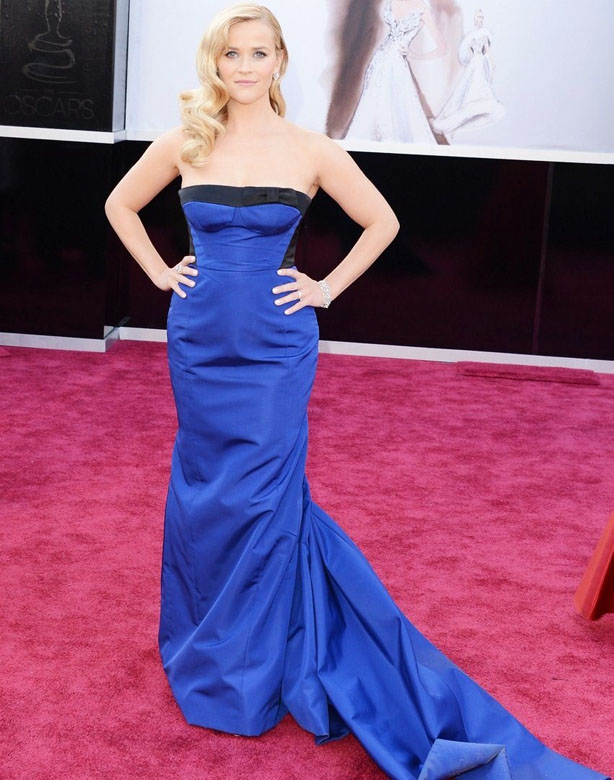 #6: Reese Witherspoon: When I first caught a glimpse of Reese and her Oscars dress, I quickly thought "Wow". Feeling like I rarely see her wear blue, this stunning Louis Vuitton dress was hands down the most perfect color on Reese. That with a combination of my all-time favorite side swept curled hairstyle, Reese showed that you don't have to be nominated to look award-winning.
Jewelry: Louis Vuitton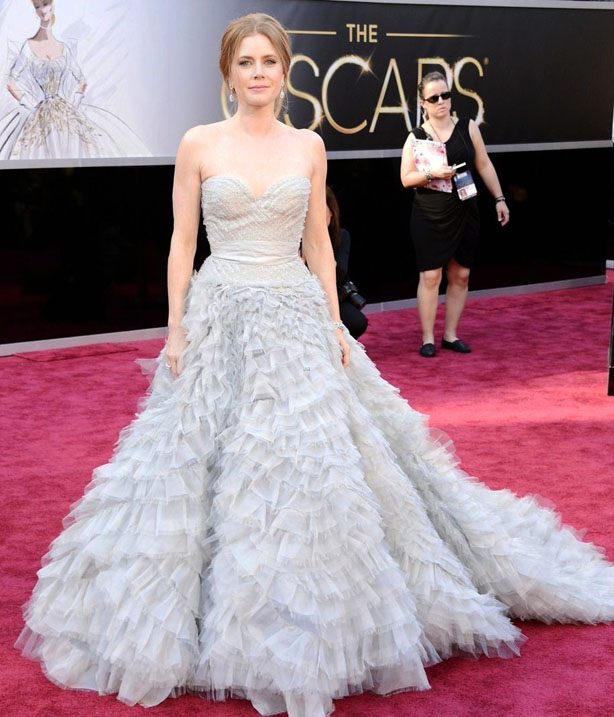 #5: Amy Adams: Amy always hits it right on the nail with her outfits and looks, and the Oscars was no exception. Fulfilling my wishes of seeing the pretty and big gowns at the Oscars, Amy did it right with this Oscar de la Renta gown, looking the part of someone deserving to be nominated.
Jewelry: Moa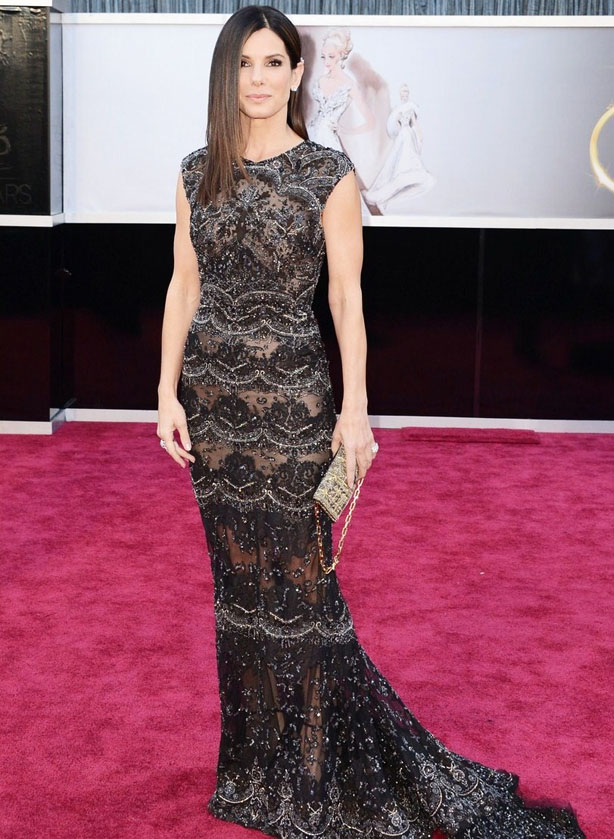 #4: Sandra Bullock: I really feel like once Sandra started making her Oscar rounds when she was nominated and won for Best Actress in The Blind Side, she has really stepped up her game in wardrobe, always being one of the best dressed of the evenings. Elie Saab, who has over the years become one of my favorite designers, truly creates beautiful detailed pieces that always look so stunning on people, and this dress was no exception.
Clutch: Daniel Swarovski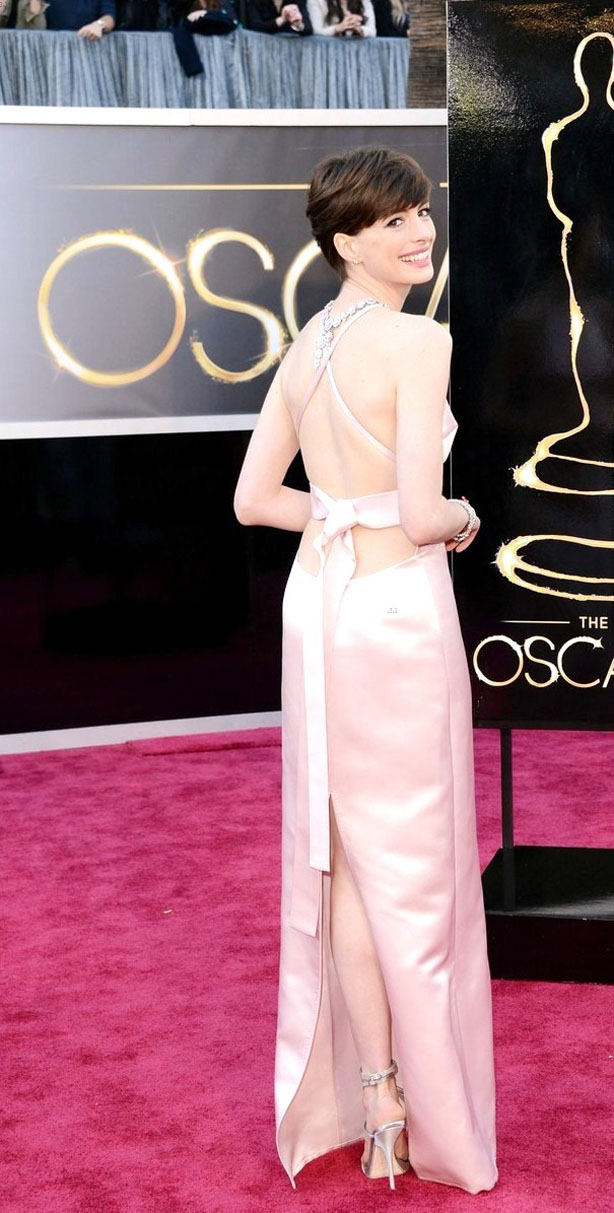 #3: Anne Hathaway: My all-time favorite actress EVER, Anne Hathaway, can pretty much do no wrong. When I first saw this Prada dress, I was wondering what on earth Anne was thinking. Wanting to see Anne really knock it out of the park with one of her many amazing stunner ensembles, I originally thought this was too simple and plain for the Oscars. But then, as I kept seeing Anne over and over again, I kind of got obsessed with the hair, the pastels, the open back… the whole look together. Kind of an ode to the 90's and for me, a throwback to a Princess Diana feel, Anne has definitely elevated from a Disney Princess to an Oscars Princess.
Shoes: Giuseppe Zanotti // Clutch: Roger Vivier // Jewelry: Tiffany and Co.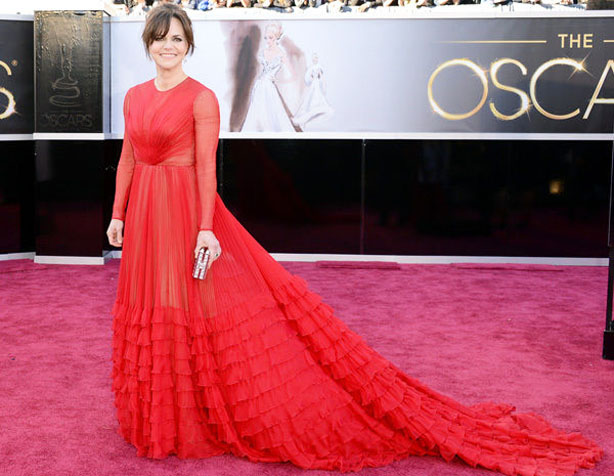 #2: Sally Field: Showing that you don't always have to wear strapless gowns to kill the show, this beautiful red long sleeve vintage Valentino really won me over, wanting this dress in my own wardrobe ASAP. The long train and simplicity to this dress showed Sally's continual classiness and taught newcomers a thing or two about how to steal an Oscars show.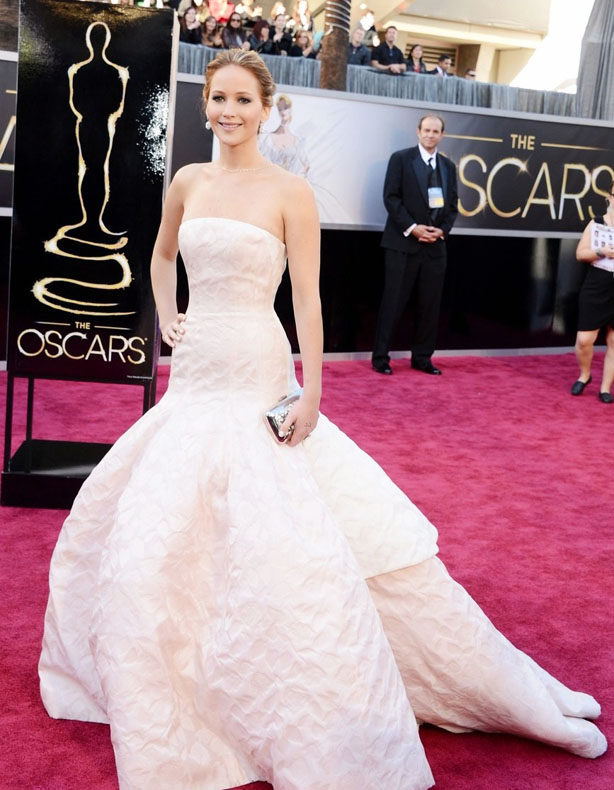 #1: Jennifer Lawrence: Of course, it goes with no surprise that my choice for Best Dressed of the evening goes to the Best Actress of the evening, Jennifer Lawrence. In this Dior Haute Couture gown, J.Law dressed and looked the part of the Cinderella of the Oscars ball and especially as a winner even before she won. This was the kind of dress I was waiting for from every arrival on the carpet and I'm glad that Jennifer was able to deliver it to us.
Shoes: Brian Atwood // Clutch: Roger Vivier // Jewelry: Chopard
Photo Credit: Just Jared
XOXO

award show
celebrities
ceremony
gowns
oscars
red carpet