Last night marked the annual Costume Institute Gala Benefit aka the Met Ball where the biggest and best names of Hollywood in TV, Film, and Music congregate in New York every year to glam up the red carpet. And the theme to this year? Punk. Celebrating the opening of the Punk: Chaos to Couture exhibition, the stars came out (for the better or worse), to show off their take on the theme. I always love checking out everyone's ensembles because I always see people literally owning it on the red carpet in some of the most stunning dresses. Yet this year, instead of me continually going "OMG, she looks amazing!", I many of times saw myself instead saying "WTF was she thinking??" Some people really took this punk theme to heart, sporting makeup in combos that should never been adjoined in that manner (i.e. Ginnifer Goodwin) and rocking hairdos that should be left for actual costume events (i.e. Nicole Richie… no Nicole nooo!! :[ ). So many more baffling moments than successful hits (I'm still trying to forget Kim Kardashian, Kim Kardashian, Miley Cyrus, Katy Perry, and Madonna's ensembles…), thankfully someee people still brought their A-games to the red carpet and got the memo though that you don't have to look horrendous in punk– giving me a glimpse of hope for the fashion world. Below are my top picks and breakdowns of the cutest punks in NYC.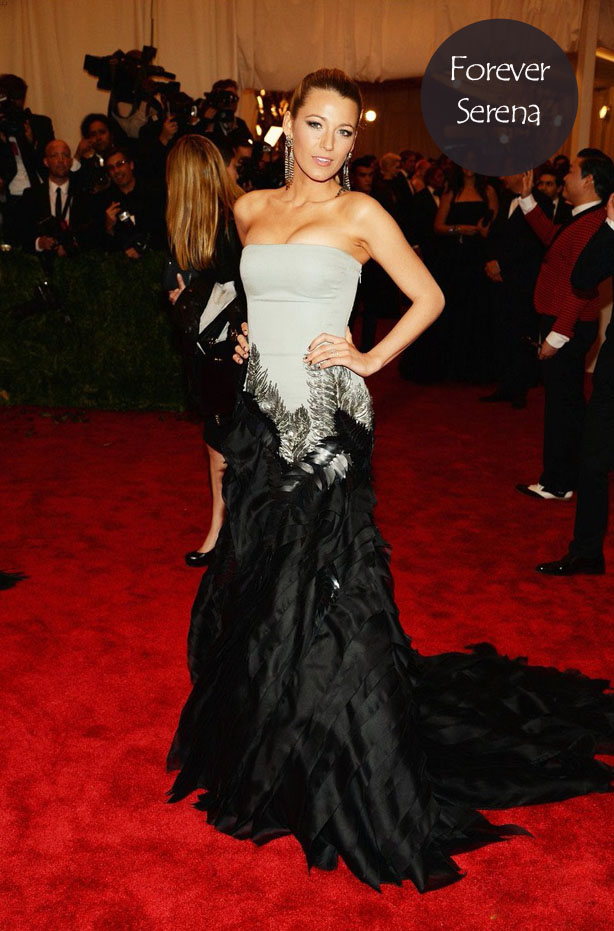 Mrs. Ryan Reynolds (sigh) or aka Blake Lively seems to never go wrong when she hits the red carpet. Always capturing the allure and beauty that Serena van der Woodsen brought to each episode of Gossip Girl, Blake always kills it in the most stunning gowns and outfits, truly marking her name as a continual top contender in the fashion world these days.
Dress: Gucci Première // Shoes: Christian Louboutin // Jewelry: Lorraine Schwartz
If Arial from the Little Mermaid was real and could walk, she would walk straight to the Met Gala as Brooklyn Decker in this ensemble. Like a modern-day gothic chic little mermaid, Brooklyn looks adorable in her red hair and stoned dress with a little bit of a peplum botton.
Dress: Peter Pilotto // Shoes: Sergio Rossi // Clutch: Valentino // Jewelry: Repossi (ear cuff), Lynn Ban (earrings and cuff), Dannijo (rings), Bijules (half ring)
I instantly died when I saw Carey Mulligan's outfit. Killing and nailing it on the spot, Carey goes for the theme of the evening with this black dress, but doesn't go crazy and over the top as many others decided to do. Seeing pictures from The Great Gatsby coming out this week, I already know that Carey is someone I, and the rest of the fashion world, will be keeping a close eye on this year in fashion. Thank goodness she came to the Met and reminded everyone else how to dress.
Dress: Balenciaga // Jewelry: Tiffany & Co.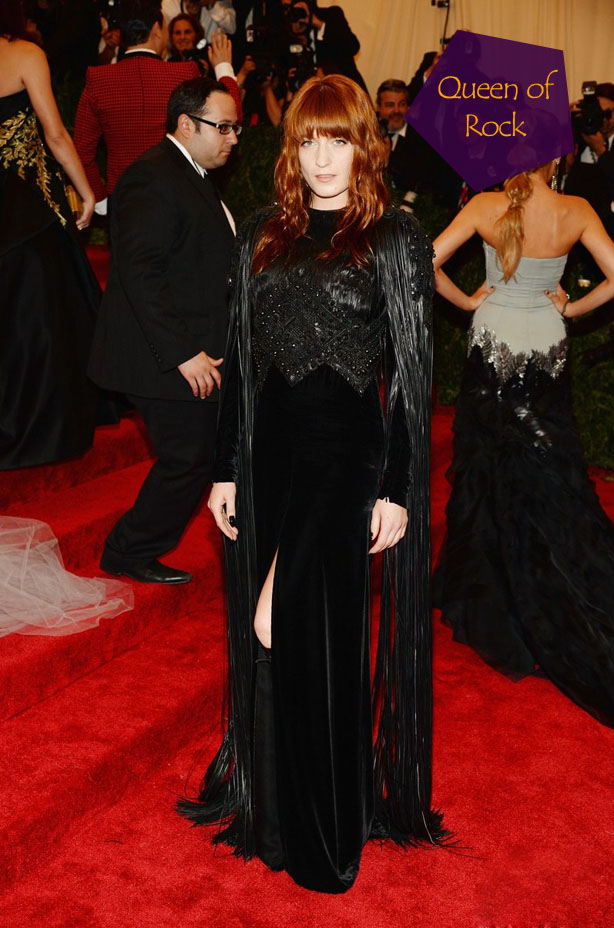 Florence Welch doesn't need a punk theme to be perfectly in tune with what to wear to the Met gala. While others went out of their comfort zones to make a statement, Florence looked natural, at ease, and as always, a fashionista beauty in this long threaded fringe black dress.
Dress: Givenchy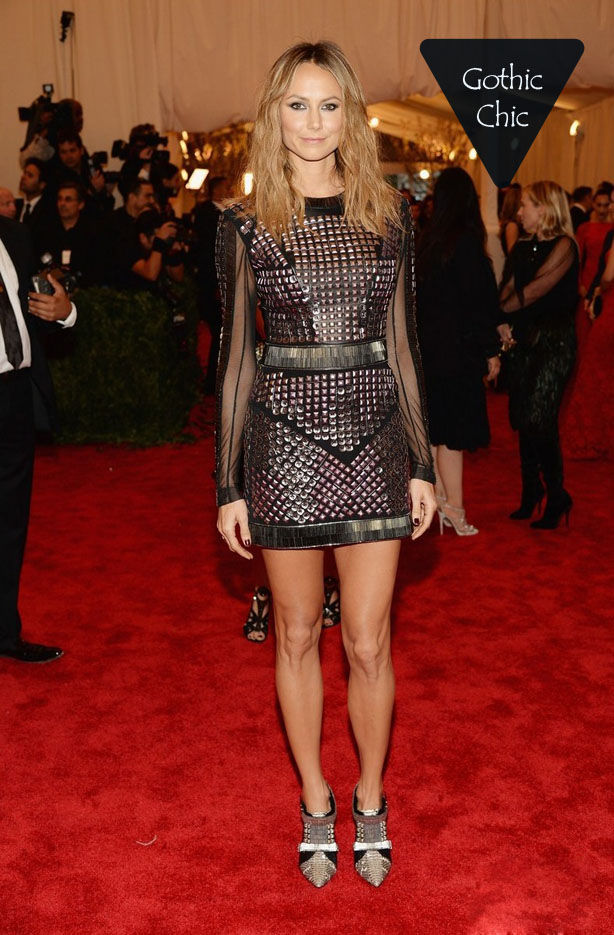 Obviously styled by the genius and ever so amazing Brad Goreski, Stacy Keibler was able to remain absolutely beautiful, as always, on the red carpet. Going for that gothic/ rocker look, but still staying true to her glam and stunning style, Stacy (with the help of Brad), showed that you can go outside your comfort zone and style without looking costumeish.
Dress: Rachel Roy // Jewelry: Jacob & Co.
As much as Tay Tay has been getting a lot of flack for her personal life in the media lately, no one can disagree that she always looks beyond gorgeous when she steps out onto a red carpet. I've taken notice that Taylor Swift's signature look for big events is some form of a crystallized/ sequined beautiful gown… and ones that I always want to own in my personal collection. And the Met's dress is no exception. Somehow being able to find yet another fabulous dress (in black this time instead of her normal pastel shades) that fits in perfectly with the theme of the night, Taylor comes full force to the punk party, sequins and all.
Dress: J Mendel // Shoes: Givenchy // Clutch: J Mendel // Jewelry: Lorraine Schwartz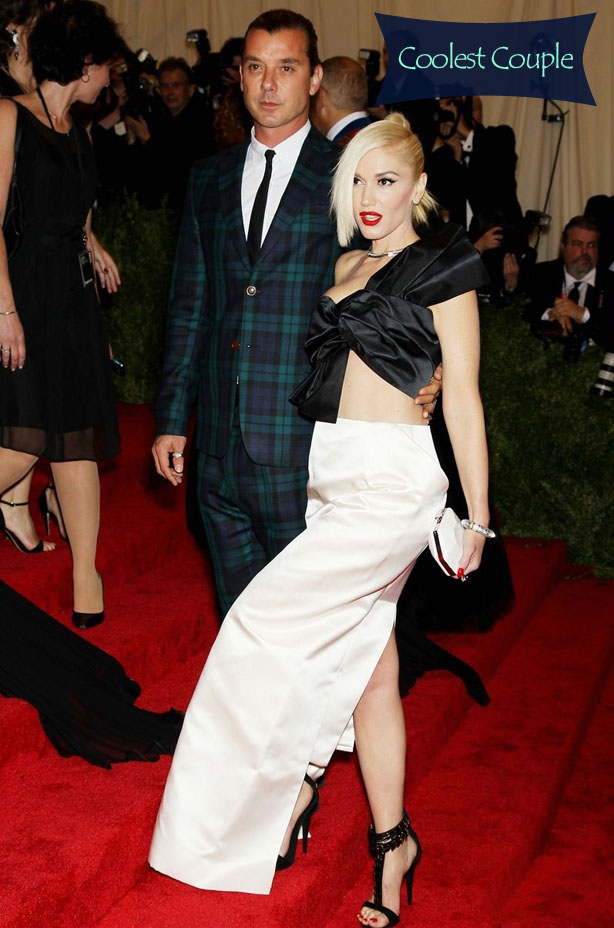 It's as if the theme and this year's gala was created for them– as the poster couple for punk, Gwen Stefani and Gavin Rossdale had to make an appearance to the gala. Stepping onto the carpet as if they were just going out for another night on the town, this powerhouse couple educated everyone else in NYC what it means to be "punky" yet classy.
Gwen: Dress: Maison Martin Margiela // Jewelry: Fred Leighton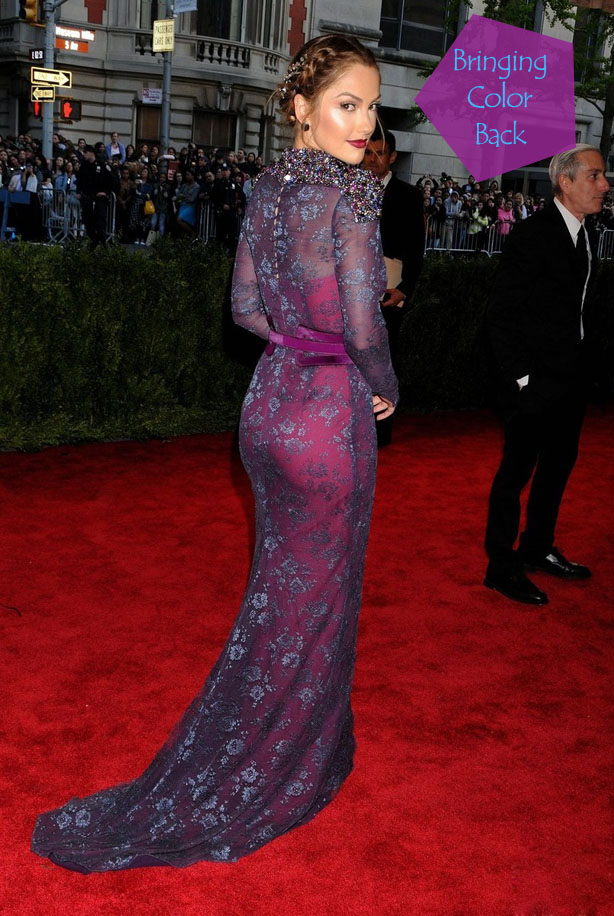 Finally! One person who stepped outside of the black and white color frame. Minka Kelly looked stunning in this magenta and blue number, casually showing everyone that you can still look killer (and punk) in color. Definitely one of my favorite gowns of the evening.
Dress: Carolina Herrera // Shoes: Monolo Blahnik // Earrings: Lorraine Schwartz // Hair Accessory: Fallon hair // Purse: Fendi
Photo Credit: Just Jared
XOXO

celebrities
costume
dress up
gowns
inspiration
met gala
punk
red carpet
theme