What I think is so special about the Primetime Emmys and makes it stand out amongst the other award shows of its kind (like the Golden Globes), is that the Emmys is dedicated to solely bringing together all of your favorite TV stars. Unlike musicians and actors in movies, us fans and audience members have a different connection with TV actors. Guaranteed to come back again and again each week, our fave TV stars become like family to us, welcoming us into their lives and in return us welcoming them into our homes week after week; always knowing we can count on them to give us a good story line that we can bond over with our friends afterwards. You simply feel like you know them– like these characters are your true friends, boyfriends, girlfriends, and arch nemeses. So when the Primetime Emmys roll around, everyone crosses their fingers for their faves to win the coveted golden statue, while peering closely at the red carpet to see what stylish outfit they decided to strut down in. And as I do with every major award show, I have once again broken down my top 10 picks for my favorite outfits from this year's 65th Annual Primetime Emmys.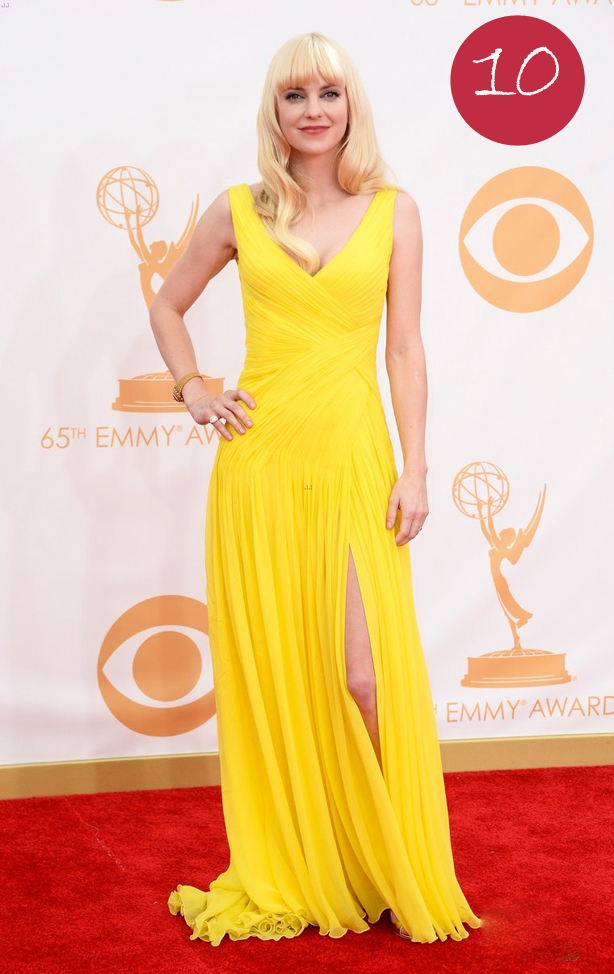 So excited that super cute and hilarious Anna Farris is going to be heading to the TV world with her new show "Mom", she shows us that you don't need a bunch of frills and sequins to look spectacular. The yellow color and slight slit worked perfectly with her bobbin bangs.
Dress: Monique Lhuillier // Shoes: Jimmy Choo // Jewelry: Fred Leighton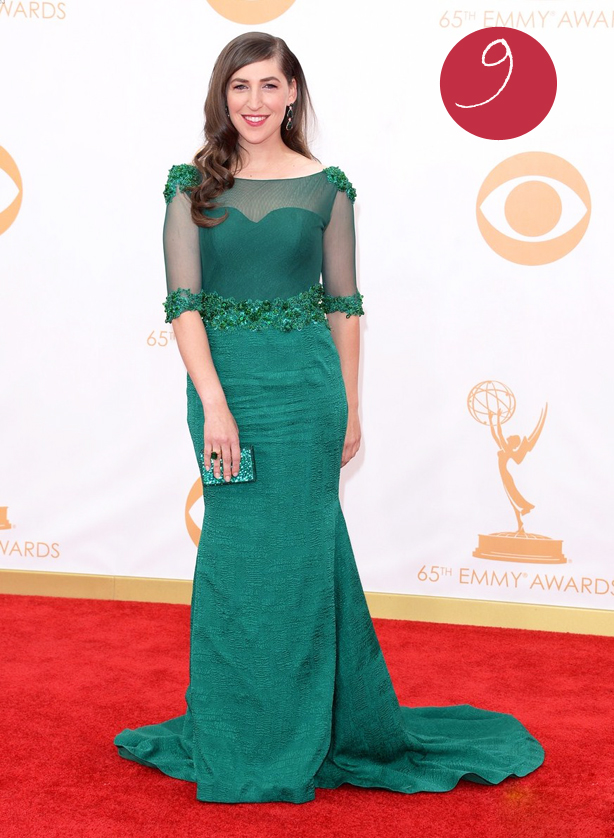 Coming a long way from her Blossom days (is it weird that I could so see myself wearing the clothes Blossom wore?…), "The Big Bang Theory" star Mayim Bialick looked gorg in this sheer long sleeve emerald number. The hint of embellished sequins on the shoulders, elbows and waist gave this outfit that little extra umph that made it go all the way.
Dress: Oliver Tolentino // Shoes: Oliver Tolentino // Clutch: Swarovski // Jewelry: Takat (ring), Bellarri (earrings)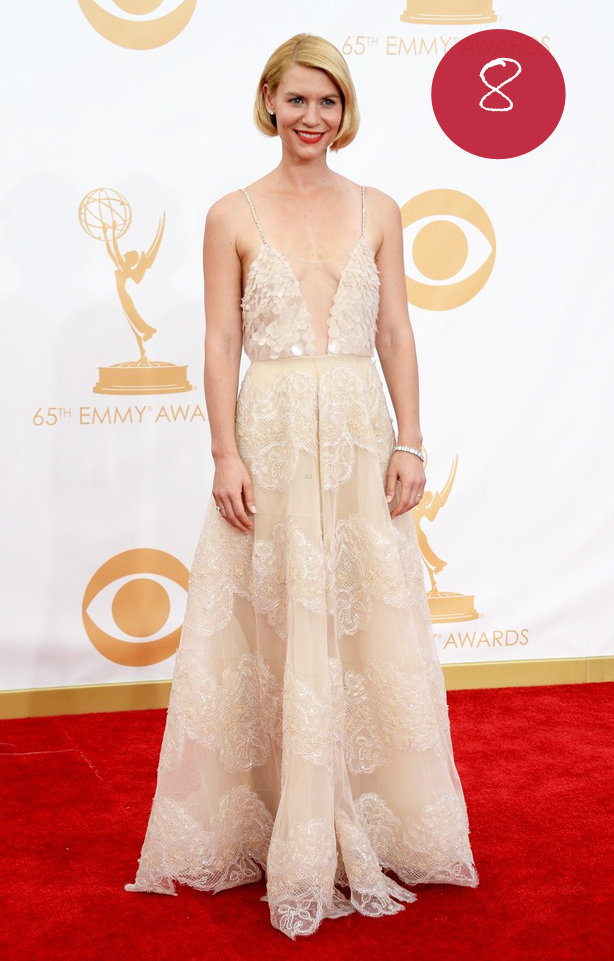 Big time winner "Homeland" star Claire Danes was definitely one that people were excited and waiting to see walk down the red carpet. This low-rimmed sequined spaghetti top which was paired with this beautiful laced bottom was nothing short of another Armani masterpiece.
Dress: Armani Prive // Shoes: Christian Louboutin // Cluth: Tods // Jewelry: Neil Lane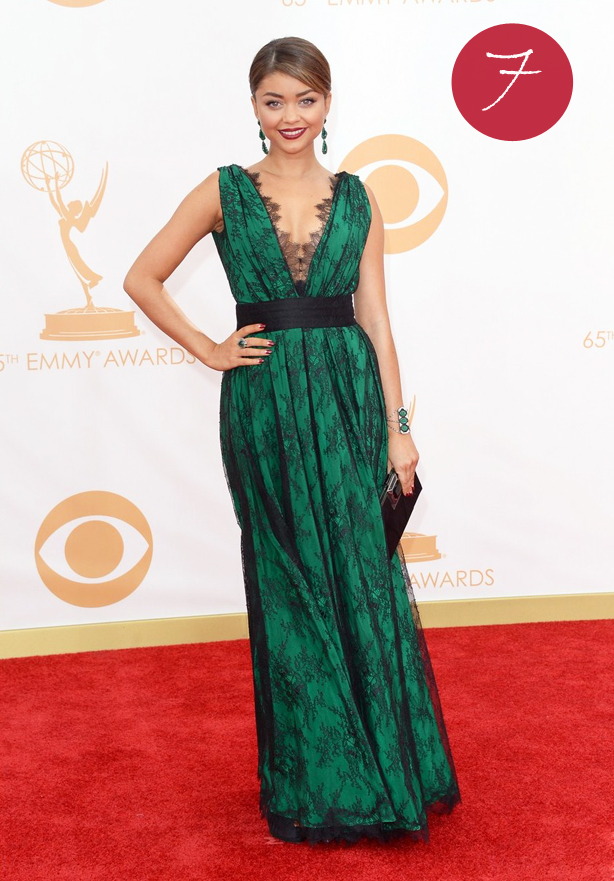 I freakin love Sarah Hyland. She always takes the cake as one of the best dressed girls on any red carpet. Being to me the best dressed "Modern Family" co-star from yesterday (she's the only one that made it onto this list), this beautiful emerald & black lace dress combined with that dark red lipstick made for the perfect combination and the perfect fall look.
Dress: CH Carolina Herrera // Shoes: Giuseppe Zanotti // Clutch: Swarovski // Jewelry: Lorraine Schwartz
Unlike Julianne Hough's way too short and way too see through body suit leotard dress that she rolled up in on the red carpet, Leslie Mann showed how to tastefully do a see-through look. The black zig-zagged styled combined with the white slip made this dress go from simple to chic.
Dress: J Mendel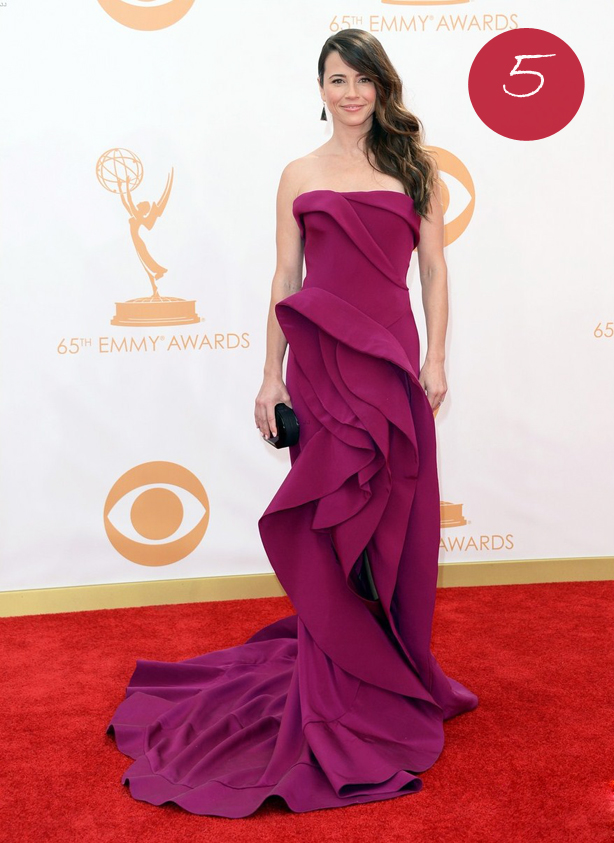 Not really knowing "Mad Men" star Linda Cardellini too well prior to this past Emmys, she definitely caught my attention with this stunning dress. Feeling like award shows like these are the only times throughout the year that people can get completely dressed up, I love it when I see people fulfill my dreams and wear gowns on the carpet. So when I laid my eyes on this one that Linda rocked, I instantly fell in love with the intricate yet beautiful designs of the fabric and dress.
Dress: Donna Karan Atelier // Shoes: Jimmy Choo // Clutch: Rauwolf // Jewelry: Irene Neuwirth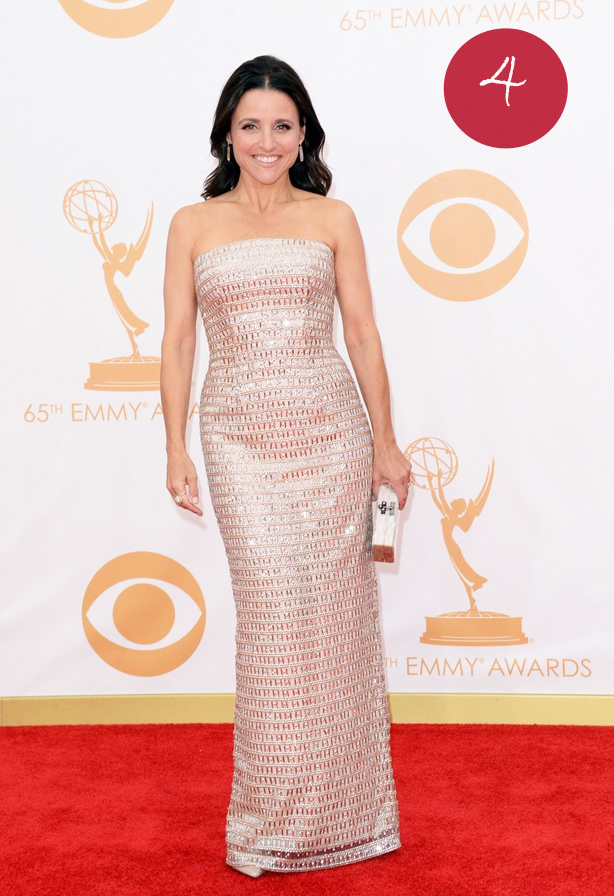 I'm probably 100% biased for my feelings towards Julia Louis- Dreyfus because she represented the most epic name on her days on "Seinfeld" (ehm ehm Elaine ehm ehm). But since leaving that show, I think Julia has grown even more and has become even more of a talented actress on her show "Veep" ….and looking stunning while doing it. This outstanding Monique dress made for yet just another to add to her best dressed list.
Dress: Monique Lhuillier // Shoes: Christian Louboutin // Cluth: Edie Parker // Jewelry: Martin Katz (earrings), Lorraine Schwartz (ring)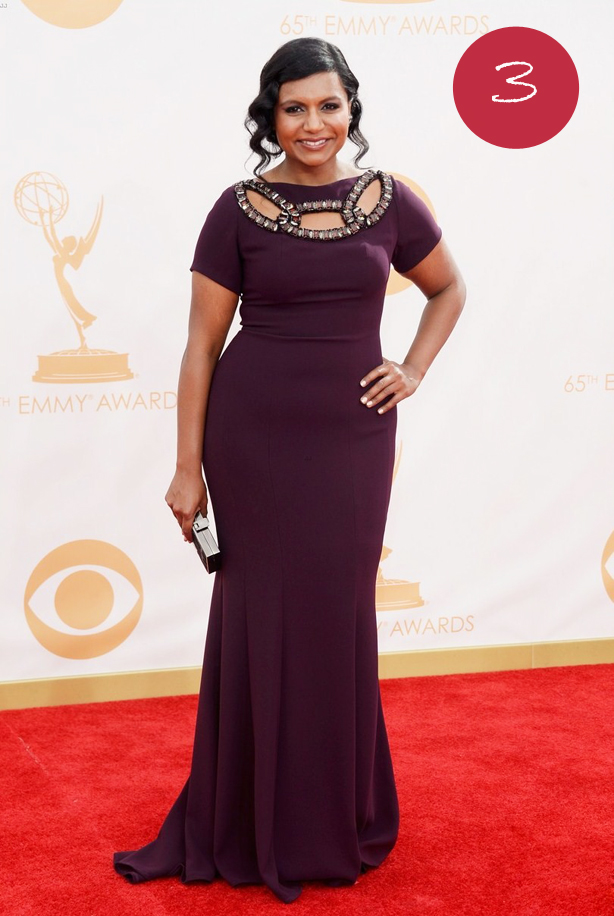 Mindy Kaling is the best and definitely one of the latest comedians heading into the spotlight in a major way with her hit show "The Mindy Kaling Project". And what better way to celebrate all of the success than by completely killing it on the red carpet? Simple yet glamorous, with a stoned cut out design at the top, Mindy stood out against the clutter on the red carpet looking like a true star.
Dress: Edition by Georges Chakra // Clutch: Jerome C. Rousseau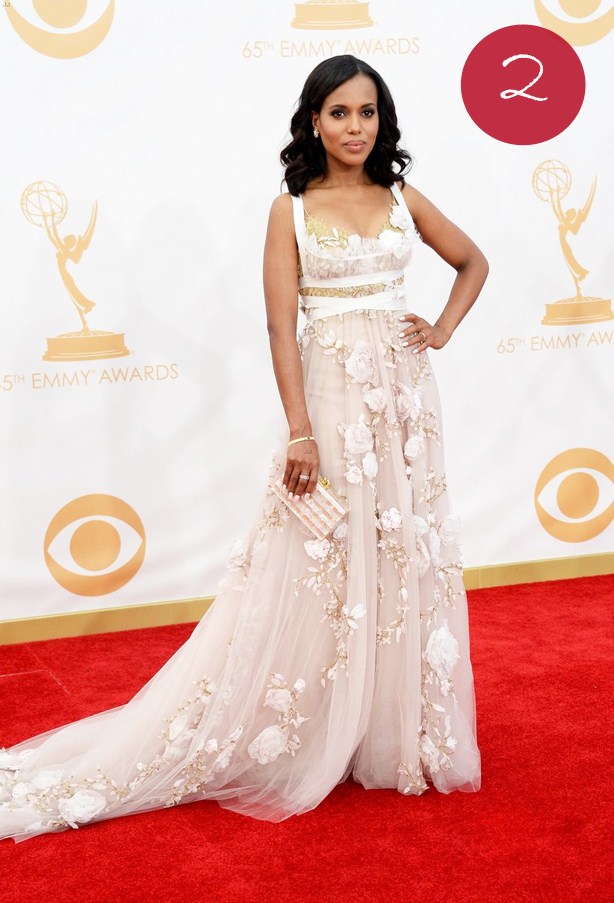 Just recently being dubbed as the world's best dressed woman in People Magazine, "Scandal" star Kerry Washington reminded everyone exactly why that was. Seeing this dress, no extra explanation is really necessary. With a beautiful floral pattern throughout the gown and the cutest white clutch to match, it was easy to see why Kerry probably made it on every best dressed list.
Dress: Marchesa // Shoes: Christian Louboutin // Clutch: Edie Parker clutch // Jewelry: Moavdo (watch), Fred Leighton (jewelry)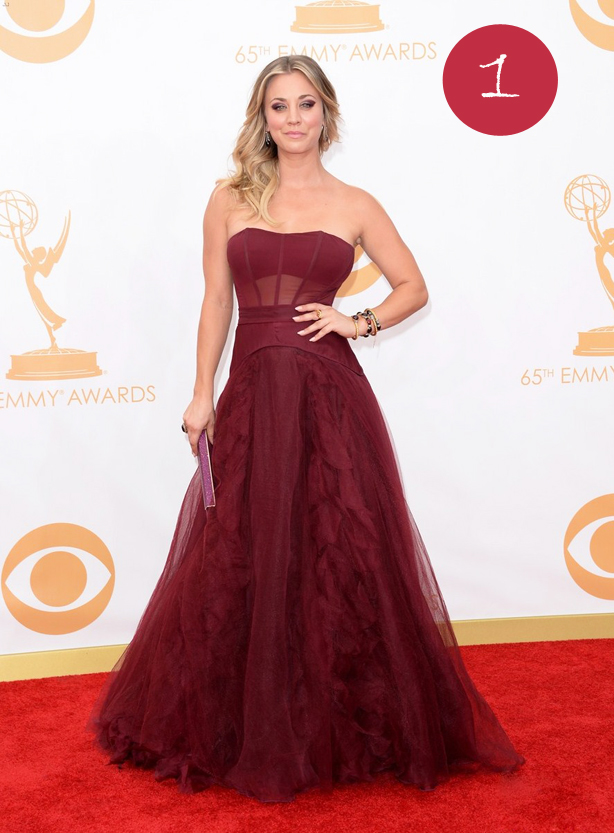 Through all the gowns, styles, and looks that hit the red carpet yesterday, there was one that automatically stole my heart the second I laid eyes on it. Making her way to becoming one of TV's royalties and princesses, "The Big Bang Theory" star Kaley Cuoco slayed it on the carpet once again with this Vera Wang number. Showing us that she's not only hilarious, but an incredibly gorgeous girl with incredibly amazing style and taste, it's easy to see why Kaley deserved the best dressed award of the evening. (And her shoes are from Aldo?! I instantly love her that much more.)
Dress: Vera Wang // Shoes: Aldo // Clutch: Jimmy Choo // Jewelry: Neil Lane
XOXO

actors
actresses
celebrities
emmys
primetime emmys 2013
red carpet
tv