"I'm obsessed." It's a phrase I'm constantly saying on the daily. There are a lot of things that I quickly and passionately get obsessed with and always want to share with my friends, family, and anyone else that will listen. So when I was first creating this blog, I wanted to figure out a way that I would be able to successfully share all of those with the world– and hence, my "must haves" and "inspirations" were born. For today's post, I'm so excited to be able to share with you a company that is not only a complete obsession of mine but one that has become an inspiration– 214 Graffiti.
With the likes of people like Banksy and Mr. Brainwash taking over the world, I think it's safe to say that graffiti is sooo "in" right now. With a slogan "graffiti you can take home to your mom", what makes 214 Graffiti stand out amongst the rest of the graffiti artists on this planet is their innovative and unique ability to create thought-provoking and eye capturing sprays that are fun, relatable, and instantly something that no matter what your taste or preference is, you can agree on loving. Being able to take any old picture from self portraits to your favorite landmarks, Justin Nanfelt and Taylor Calmus (the masterminds behind 214 Graffiti) are able to creatively create a layered spray that makes any boring picture look completely modern and hip. But on top of just any old spray, these two boys can whip up anything and everything. Want a table that looks like a cassette tape? Handled. Want a spray not on a canvas, but on a mirror or on actual cassette tapes? Don't worry, they've got you too. (pics below)
With only 3 ½ years under their belt, 214 Graffiti has already sold 200 paintings, gotten the attention and admiration of people like Donnie Wahlberg, and have been hired to create pieces for anything from red carpet events to TV set designs. Getting love from customers all over the world including Singapore, Australia, Israel, France, Spain, England, Scotland, Germany, and the United States, 214 Graffiti is slowly taking over the world… one spray at a time.
I got the lucky privilege and opportunity (one that many have not received) to go behind the scenes with Justin and Taylor and see them work their magic on an upcoming spray while getting more insider deetz below on 214 Graffiti.
Fashionlaine: How did you guys meet and start 214 Graffiti?
Justin: We met through a mutual friend when Taylor was looking for a new roommate (all his roommates had gotten married) and I was looking to fill one last spot in our apartment. One weekend, Taylor's girlfriend (now wife) was flying in to visit him and he didn't have a present for her. I told him I had a can of spray paint and an extra canvas lying around so we decided to make a stenciled painting for her. It turned out pretty cool and the next day I was at work at a talent agency and was talking to an agent who moved into a new office and needed art for his wall. I showed him a photo of the painting we had just completed on my phone and the business was born. He bought a set of four paintings and we haven't looked back since.
FL: What does 214 Graffiti stand for?
Taylor: We lived in Apartment #214 when we started our business. When we were creating our website, a lot of the URL's we wanted were taken and our website designer said, "What about 214 Graffiti?" It stuck.
FL: Where do you guys get your inspiration from for the pieces you do?
T: We get really inspired by a lot of other art, and photography. A lot of times we work from photos, so we are constantly looking for shots that have great personality and then try to find a way to add to it with different colors, patterns or textures.
J: We are really into the collaboration aspect in our art too. It really helps having two of us working on the painting together. It gives an added perspective to the piece and helps us to think beyond what may be a one-sided viewpoint.
FL: What are each of your favorite pieces you've ever done?
T: 'Soccer Mom'- It's a portrait of this super badass tank that has a license plate that read's 'Princess'
J: 'Afronaut' – It's pretty much our trademark painting I think. It's a little boy with a rocket coming out of his afro. It's all about thinking big and the power of imagination. There's just something about his face that's so captivating to me.
FL: What has been your favorite/ most memorable part with 214 Graffiti thus far?
T: Mixtape Fest 2012 was pretty awesome. We painted a 25 foot mural for the New Kids on the Block. Pretty much any time you get flown somewhere to do what you love is a win in my book. Plus we got to meet and see the NKOTB, The Backstreet Boys and 98 Degrees. I was smiling the whole time thinking, "Where ARE we!? How did this happen!?" Not my typical day.
J: We've been able to work with some pretty cool brands over the past few years. One of my favorites was for a T-Mobile launch party at Mr. Brainwash's studio. We super-imposed paintings of boom boxes onto giant phones and wheat-pasted them onto the wall in his studio. Another highlight was painting a 20 foot mural at Warner Brothers Records for their YouTube channel The Warner Sound. We pulled an all-nighter and set up GoPros to film the process. It was pretty neat watching it all come together.
FL: What's been the coolest or most interesting request you guys have gotten to spray?
T: We've been commissioned on around 200 paintings over the past 3 years, so we've seen quite a few interesting requests ranging from random pets to iPhone photos to family portraits…
J: We did one painting of a girl dressed up trying to be "gangster" but it was basically her wearing baggy pants and a Kongol bucket hat with her nickname sprayed up the side…
FL: Where do you see 214 Graffiti five years from now?
J: Celebrating the 5th Anniversary of being featured on Fashionlaine of course!
T: I'm going to have to go with that one too.
FL: You guys have made tables, sprays with mirrors, and sprays on actual cassette tapes. Do you have any other exciting ventures you hope to get into / pursue?
T: Absolutely. Trying new things is what keeps us going. It's sort of how we live though too. I personally don't have any kind of a daily routine and there is nothing predictable about my life. I like to take same approach to my art. Obviously our style comes out in each one of our pieces, but being able to take our style and constantly try new things with it keeps our creativity alive.
J: We've been trying to mix mediums a little more lately. We've started creating our own canvasses out of wooden pallets and cassette tapes. The expansion into furniture creating the Cassette Tape Tables has been a lot of fun, and I think there's a lot of potential to make some new designs there. We already have a few new designs we are working with Zach (co-creator and builder) to produce in 2014. So watch this space!
FL: How would you describe the evolution of 214 Graffiti over the past few years?
J: We've come a long way over the past three years since our first spray together. We evolved from single layer stencils to multi-layered stencils (some have upwards to 8 layers!). We also have started experimenting with new canvas mediums: mirrors, cassette tapes, wood etc. I think more thought goes into our work now as well. We've wanted to be renegade in our ideas but meticulous in our approach, and I think it's been working out.
T: We also launched TAYBLE – our Custom Cassette Table line with my brother Zach. This brought us from the 2-D design world into 3-D. It's been so much fun creating custom nostalgic furniture that's also a work of art.
FL: What advice do you give to others who have a passion for something outside of their typical jobs but may not know how to go about and do it?
J: Having a creative outlet is essential. Seriously. A lot of times, it's just a matter of going out and doing it. We both liked playing with paint cans, so we decided to do something about it. I don't think we ever would have dreamed of the opportunities we have been able to see through this when we started.
With such achievements already underway, what's probably most impressive of all is that this isn't even their day jobs! And I for one can't wait to see where the future takes them.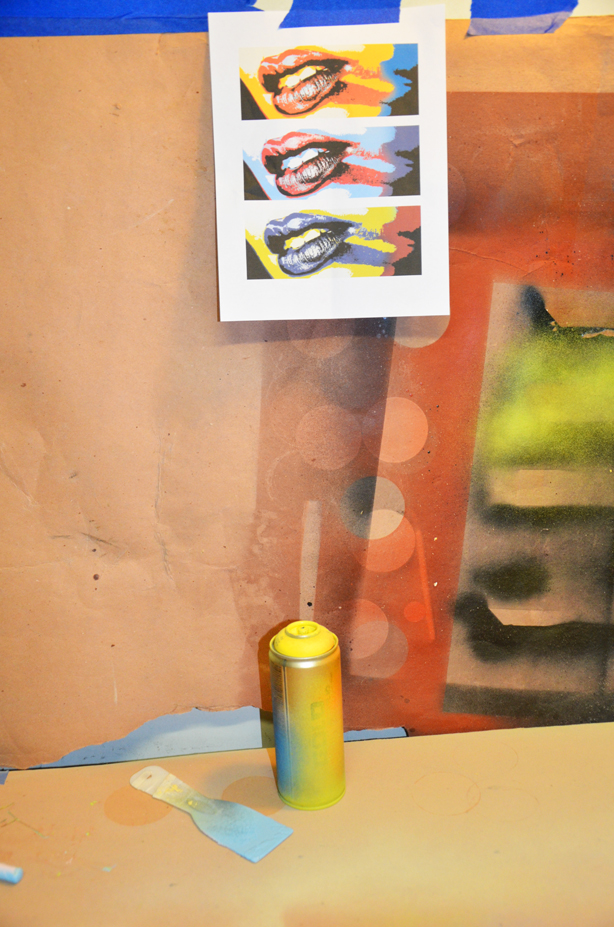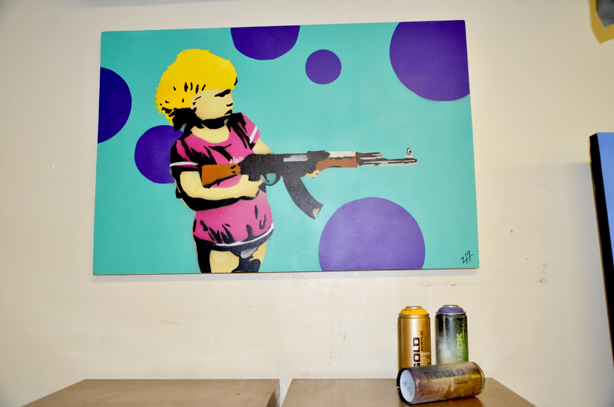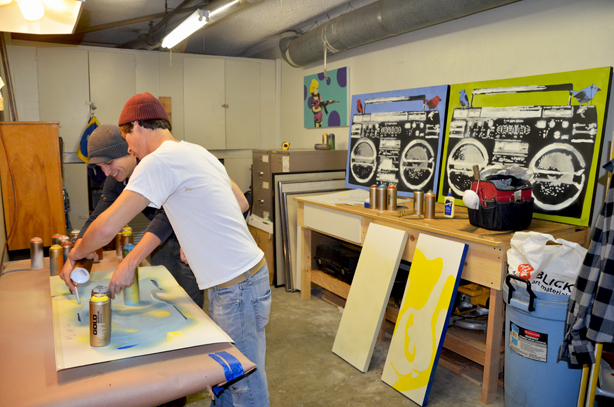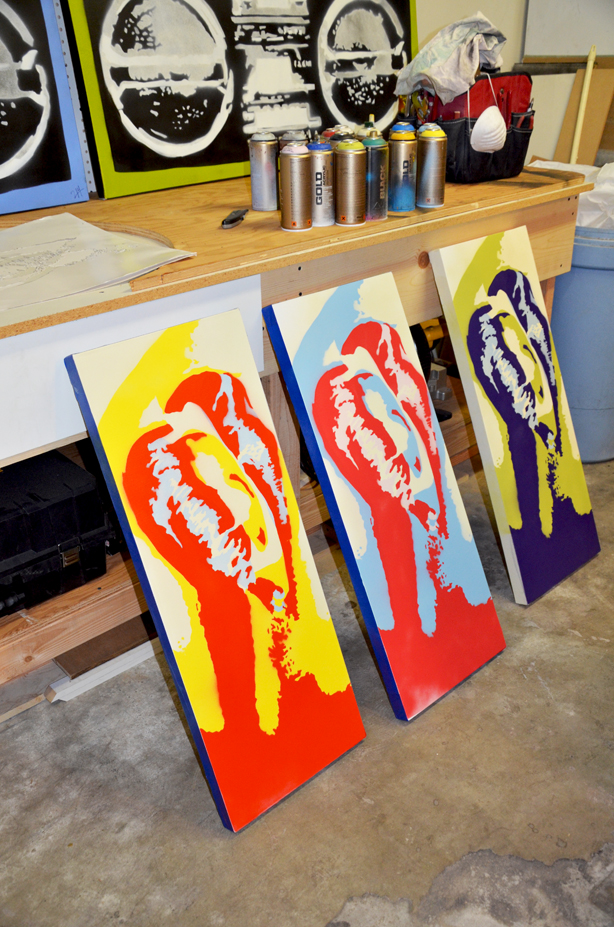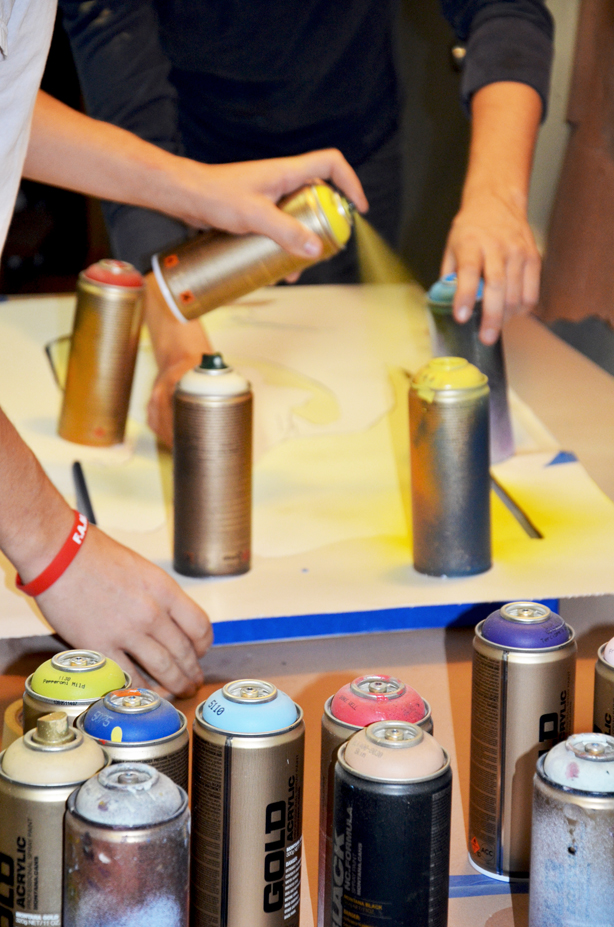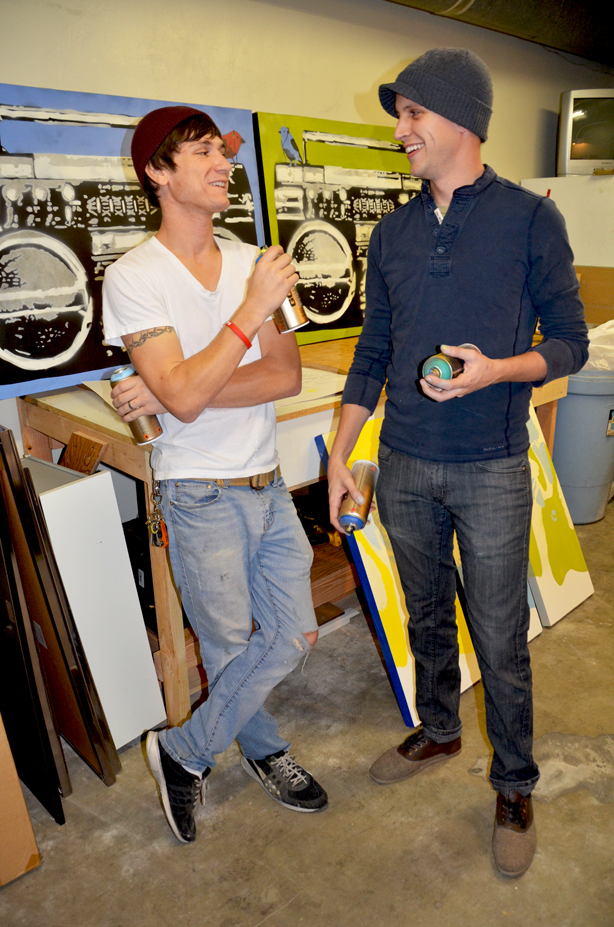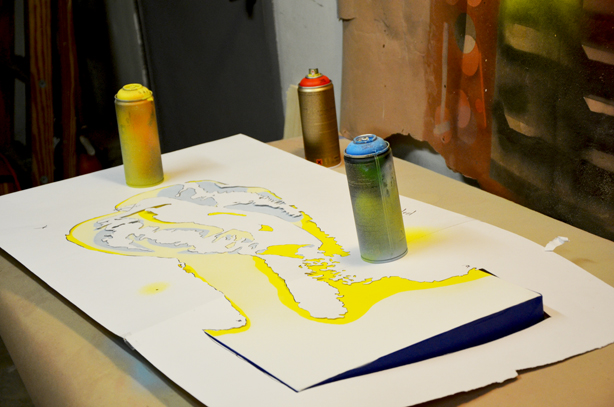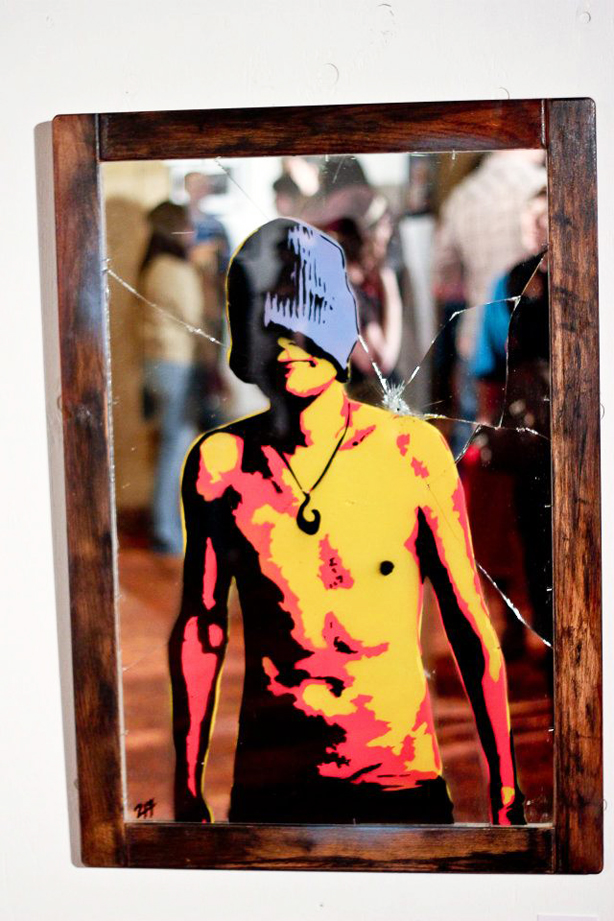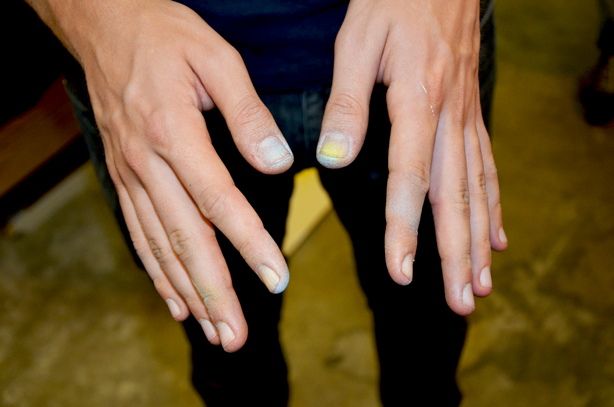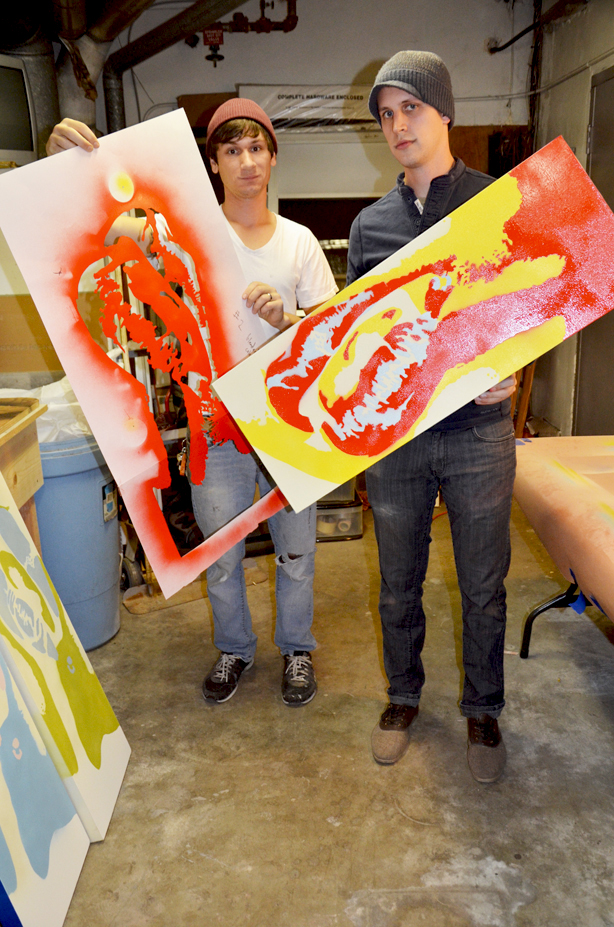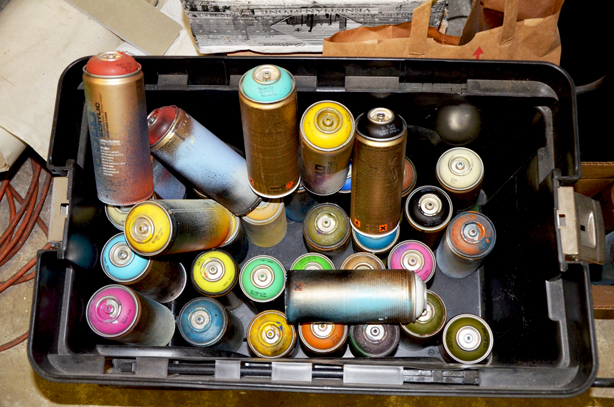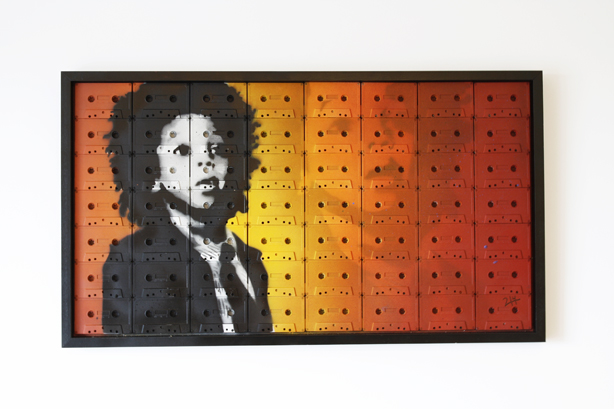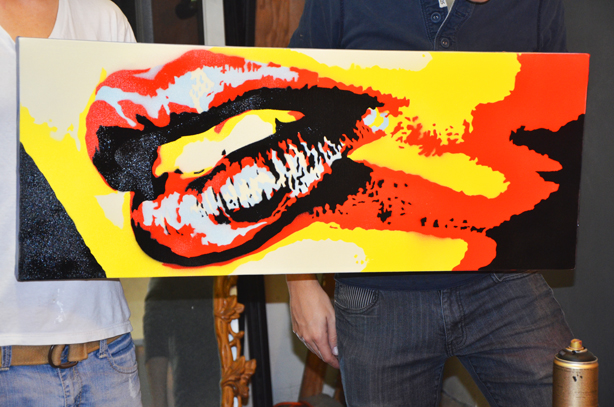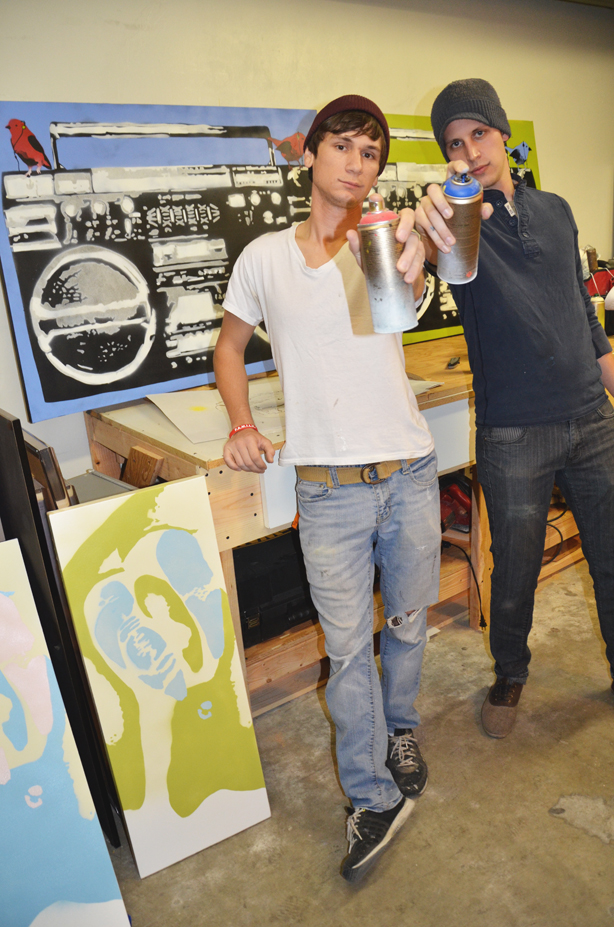 XOXO

214 graffiti
art
backstreet boys
cassette tapes
donnie wahlberg
graffiti artist
mixtape festival
new kids on the block
spray paints