I don't know about you, but last night for me, my social media world of Instagram wasn't filled with tacos, sombreros, and margaritas like I had forseen to be the case. Instead, it was filled with stunning dresses, glamorous red carpet poses, and my favorite celebs doing selfies upon selfies together with their other celeb friends at this year's Met Ball. Jealous and in awe of (mostly) every outfit and wishing that I was there myself, I decided, hey, if I can't be with them, I can at least join them and be apart of the convo. So as everyone is chiming in and giving their takes on their top fave looks from the evening, I thought it was only suitable for me to do the same. So as you'll have it, below's my list for the Top 10 Best Dressed from the Met Ball 2014. (And sorry Bey, you didn't make my list).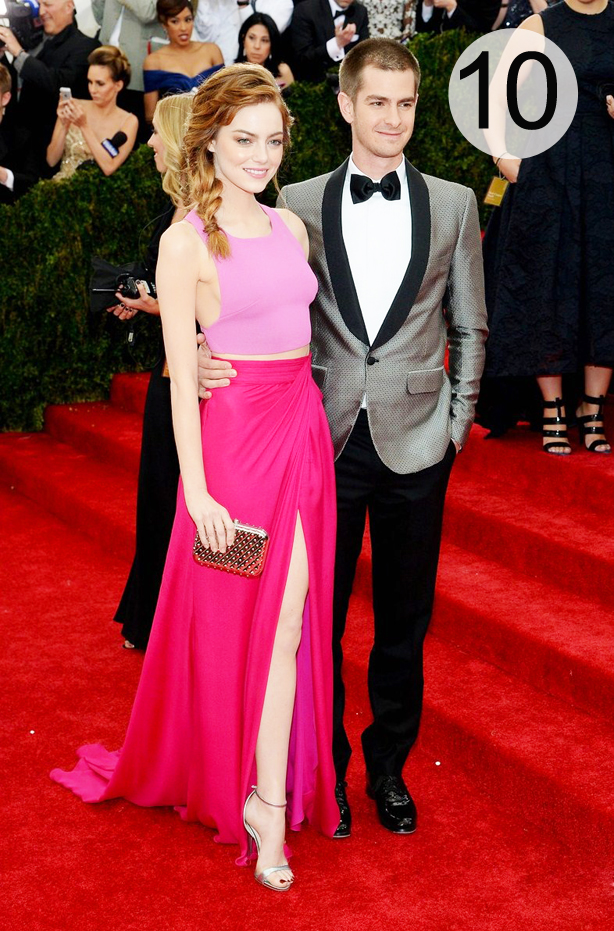 It may be because I just have a soft spot for these two as a couple so I instantly love anything and everything that they do (together). But I instantly fell in love with Emma's colorful vibe and Andrew's unique grey suit jacket. And pair those two looks together on the carpet…. this couple can do no wrong.
Emma Stone: Dress: Thakoon// Shoes: Miu Miu // Clutch: Tod's // Jewelry: Graziela Gems, EF Collection
Andrew Garfield: Suit: Band of Outsiders
Following Kendall on Instagram, I saw some sneak peeks of her outfit as she was riding to the Ball. This dress (by Tophsop, say what?!) was absolutely stunning on her. I loved the subtle champagne color paired with the tight fitting top and mermaid bottom. Perfection per usual Kendall.
Kendall Jenner: Dress: Topshop // Shoes: Tabitha Simmons // Jewelry: Chopard
Suki definitely brought it to the red carpet last night. As her boyf Bradley Cooper was one of the hosts of the evening, she definitely dressed to impress as his counterpart. I'm always all for trains and puffy fairtyale-esque dresses and I'm glad she brought this on last night for us.
Suki Waterhouse: Dress: Burberry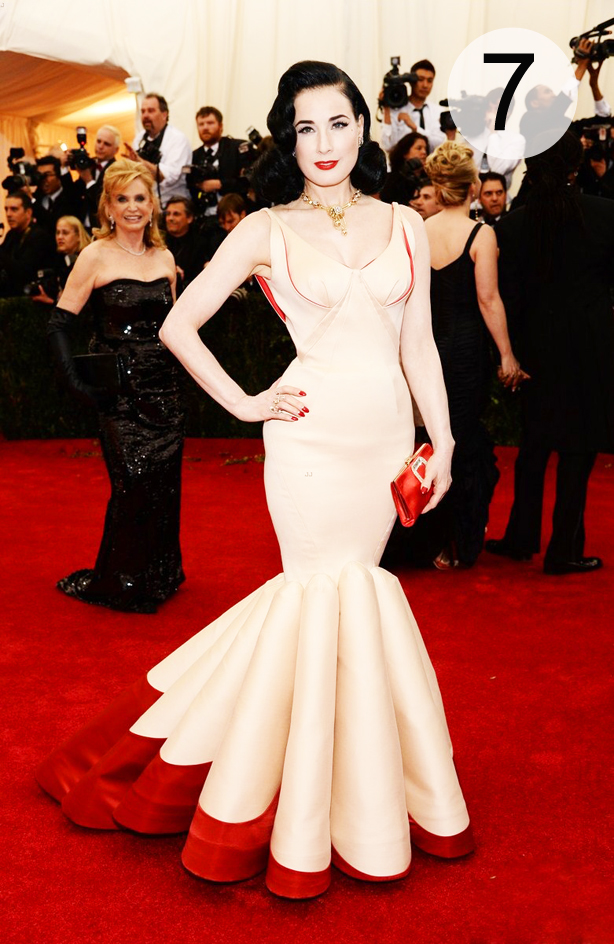 When I saw Dita in this outfit, all I could instantly think of was "YES!!!". Zac Posen really did it with this dress making something that I feel like I've never seen before. Glamorous and gorgeous yet still funky, fun, and very Dita, it would've been any plain old dress until you hit the bottom which really does it all.
Dita Von Teese: Dress: Zac Posen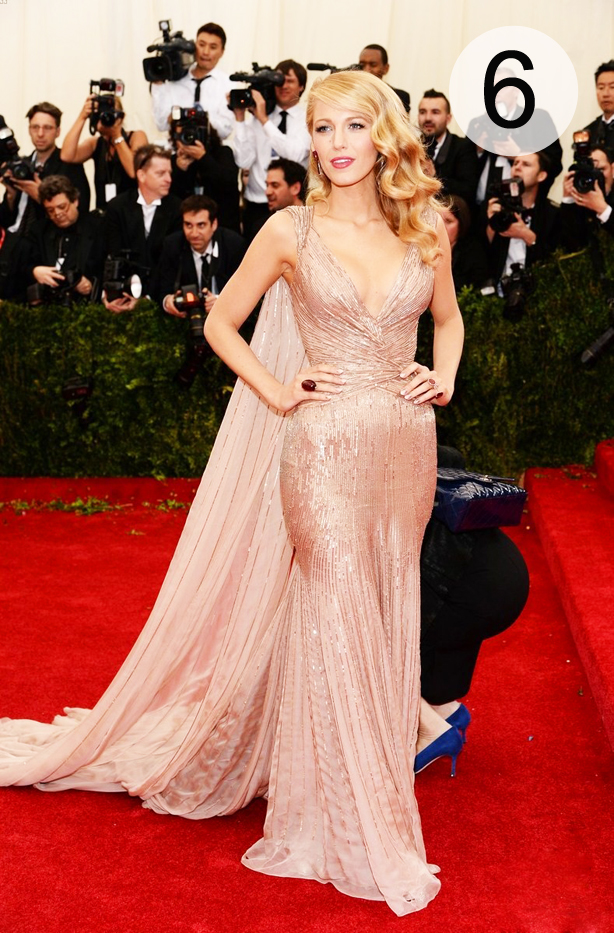 Serena van der Woodsen aka Mrs. Reynolds, where have you been?!?! Maybe it's because I miss the "Gossip Girl" days way too much, or maybe it's because she actually always dresses like a stunner whenever she shows up at any event, but whatever it is, Blake reminds us that even though we haven't seen her around for a while, she is still just as fashionable as ever.

Blake Lively: Dress: Gucci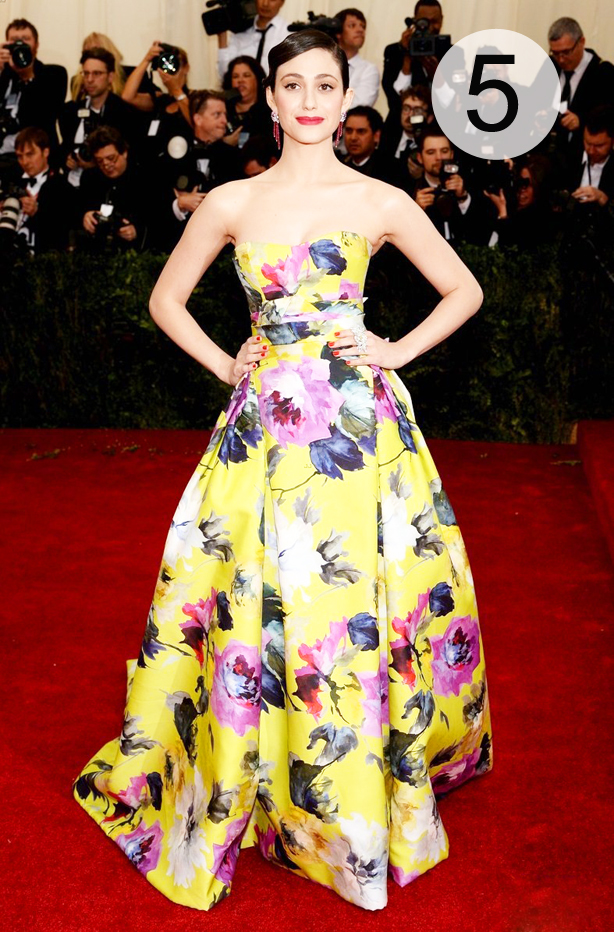 Someone who wore some color on this carpet! I feel like people may be feeling very hit or miss about this dress, but to me, Emmy was everything and more in this with the perfect florals and springy colors. Well done Emmy, well done!
Emmy Rossum: Dress: Carolina Herrera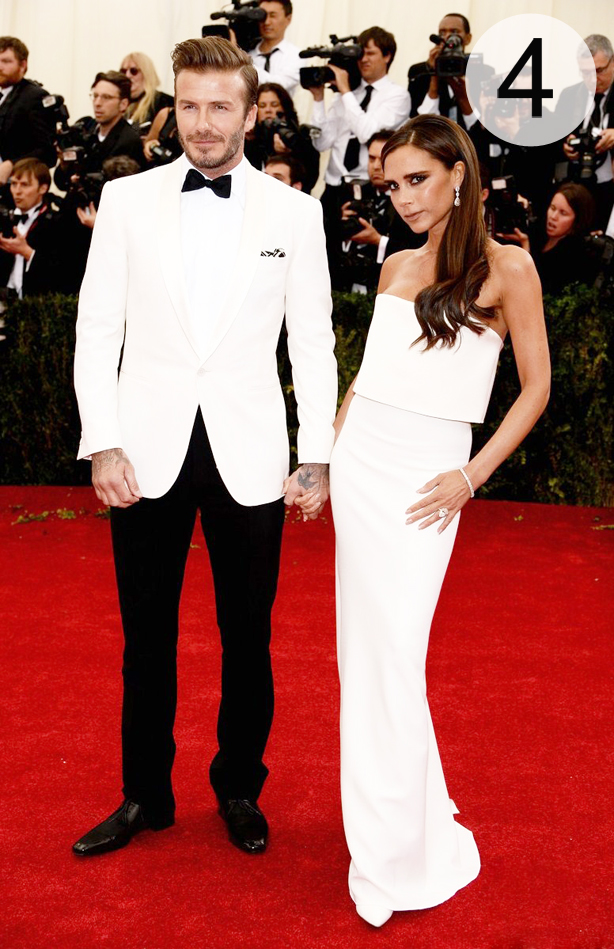 Ummm… hi!! Where have you two been in my life?! I almost forgot about the real King and Queen of England, but when I saw this pic, it was so obvious that one can never forget them. Killing it both in adorably matching white ensembles, these two are without a doubt always perfection.
Victoria Beckham: Dress: Victoria Beckham
David Beckham: Suit: Ralph Lauren Black Label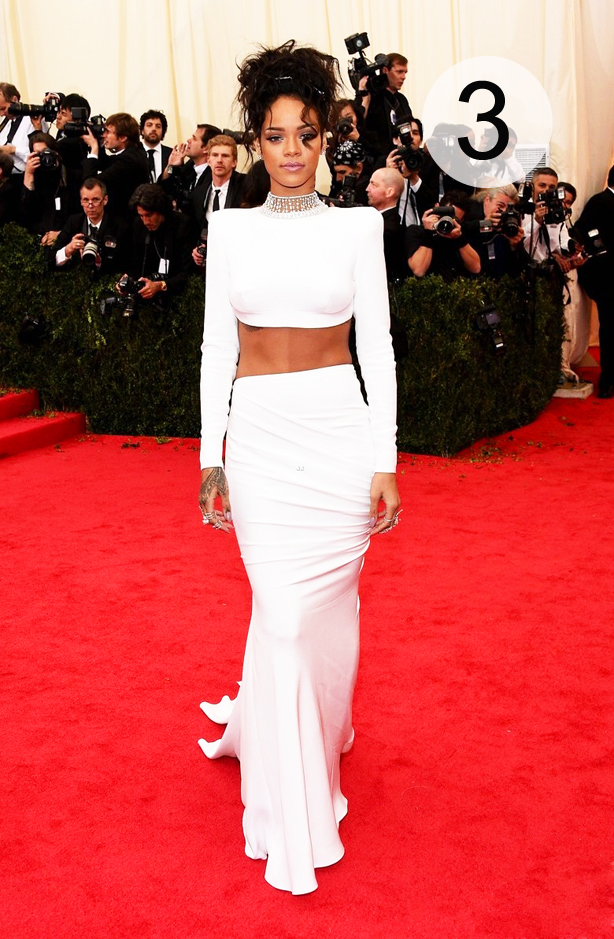 Well all I can say is I'm happy that RiRi didn't decide to look like a crazy again like she did at the iHeartRadio Awards. While her hair is still a little cray and can use some brushing, she did indeed bring back the fab taste (in Stella McCartney of course) and worked it in this beautiful shoulder padded crop top and matching skirt. Simple and clean, RiRi is best when she doesn't do much at all.
Rihanna: Outfit: Stella McCartney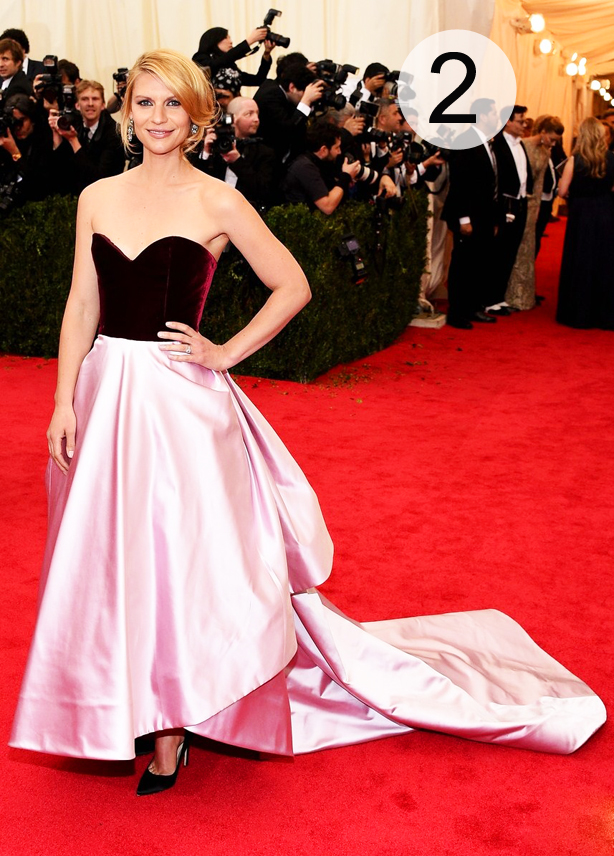 Thank goodness Claire Danes was there to show everyone how it's really done! Looking like the only true princess at the Ball, this Oscar de la Renta dress that had the perfect colors paired together was stunning on so many levels.
Claire Danes: Dress: Oscar de la Renta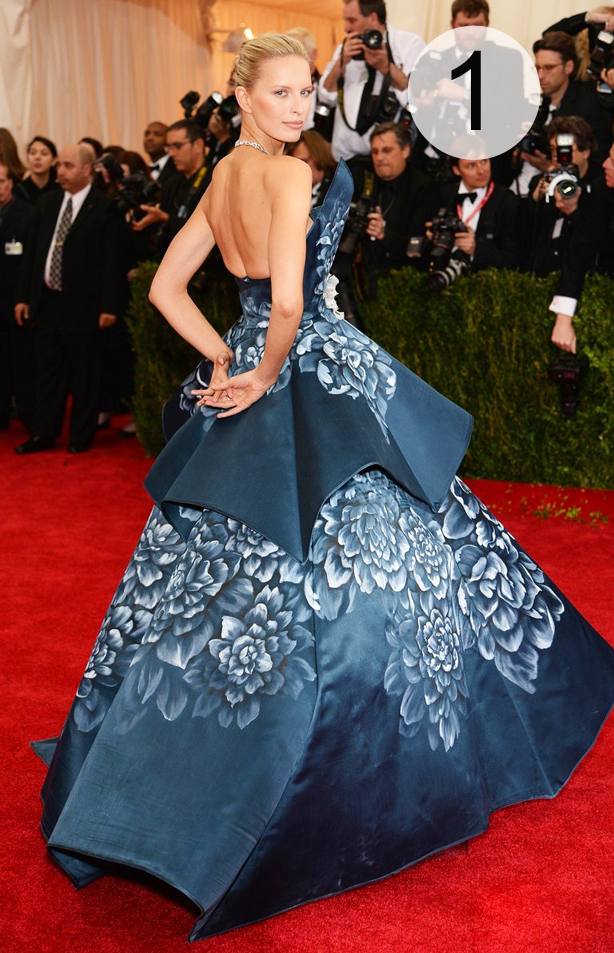 Maybe I'm biased because I love and have a totally new respect for Karolina after I heard her speak at the Lucky Fabb Conference a month back, but Karolina completely won me over with her dress last night. At first I wasn't sure how I felt about the flower power going on all over her dress, but after looking at it a second time, the unique shapes and cuts of the gown didn't only make me become completely obsessed, but clearly won me over so much that she became my best dressed.
Karolina Kurkova: Dress: Marchesa // Jewelry: Harry Winston
XOXO

andrew garfield emma stone amazing spiderman 2 pictures
andrew garfield emma stone couple
andrew garfield emma stone met ball 2014
andrew garfield met ball 2014
beyonce met ball 2014
beyonce veil met ball 2014
blake lively met ball 2014
blake lively met gala 2014
claire danes met ball 2014
claire danes met gala 2014
claire danes red carpet
david beckham met ball 2014
dita von teese met ball 2014
dita von teese met gala 2014
dita von teese zac posen
emma stone in neon
emma stone met ball 2014
emmy rossum met ball 2014
emmy rossum met gala 2014
emmy rossum spring colors
jayz beyonce met ball 2014
jayz met ball 2014
karolina kurkova met ball 2014
karolina kurkova met gala 2014
kendall jenner kim kardashian met ball 2014
kendall jenner kim kardashian met ball2 014
kendall jenner met ball 2014
kendall jenner met gala 2014
kendall jenner topshop
met ball 2014
met ball 2014 best dressed
met ball best dressed
met gala 2014
met gala 2014 best dressed
met gala best dressed list
rihanna iheartradio awards
rihanna met ball 2014
rihanna met gala 2014
rihanna stella mccartney
suki waterhouse bradley cooper met ball 2014
suki waterhouse met ball 2014
suki waterhouse met gala 2014
victoria beckham david beckham met ball 2014
victoria beckham david beckham met gala 2014
victoria beckham met gala 2014