If you're anything like me, Black Friday sales are overwhelming. The thought of going to stores, pushing through hurdles, and sifting through piles gives me anxiety. You always hear all those amazing stories about the people that get those ridiculous deals on those fabulous brands. But I'm that girl that walks into that same store and somehow manages to buy an amazing outfit… for full price. So for those of you who are as unsuccessful with Black Friday as I am, I have broken down a guide of some great deals on FULL priced items (for both the guys and girls!) from a few of my favorite stores that you can get without having to push through crowds and wait in lines.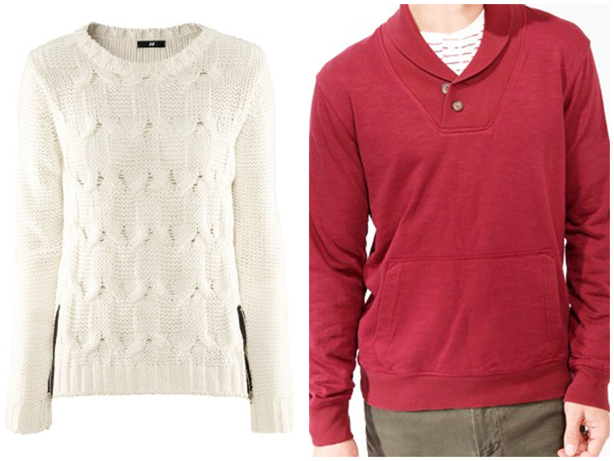 TOP: Probably the best part about winter is the fact that you get to wear sweaters. When I feel it get even the slightest bit chilly outside, the first thing I'll do is bust out the comfy sweater. For the girls, this wool sweater with black zipper details on the side (H&M,$14.95) and for the guys, this shawl collar pullover (Forever 21, $24.90) are both perfect tops to keep you warm yet stylish all winter long.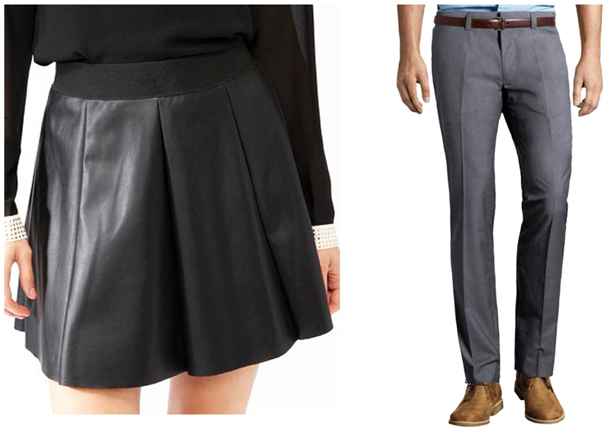 BOTTOM: For the girls, this leather skirt (Forever 21, $17.80) is literally to die for. I'm currently very into the high waisted skirts that flare and you can tuck shirts into. I recently saw a similar skirt to this at Zara for $70-80, so this deal is definitely a steal. For the guys, the fitted suit pants (H&M, $29.95) are a must. If you don't own a pair of these already, you should rethink your suit collection ASAP.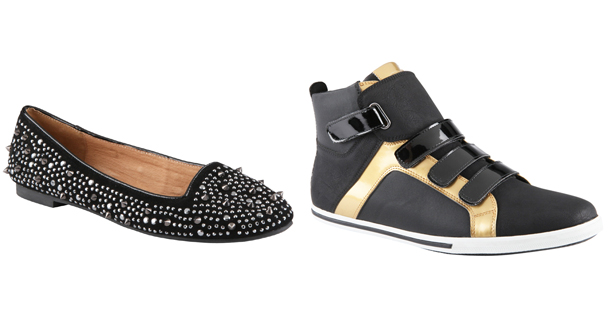 SHOES: For the girls, studs are very in right now. You'll see them on heels, combat boots, sneakers, and more and these studded flats (Aldo, $27.49) are way too perfect to pass up on. As for the guys, I love a good pair of sneakers when I see them, and when I saw these high tops (Aldo, $29.99) I couldn't stop staring at them.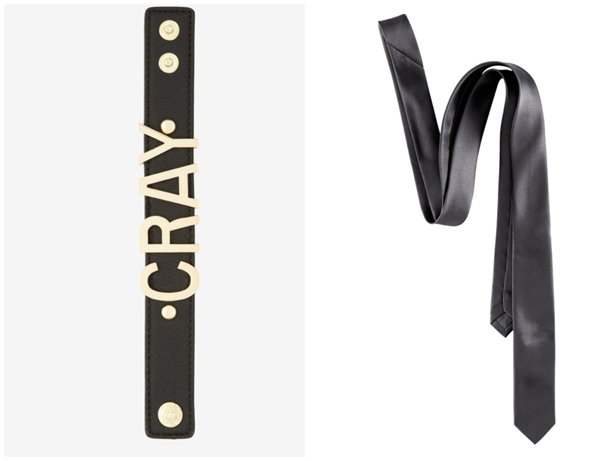 ACCESSORIES: For the girls, I'm currently obsessed with these statement bracelets (BCBG, $26) with super cute sayings like "Cray" and "Boss". I bought a pair of the smaller version (2 for $18!) and wear them religiously every day. I'm now even contemplating going back and buying the bigger ones as well. For the guys, my all time favorite accessory has got to be the skinny tie (H&M, $12.95). It makes any outfit look crisper, any suit look more fashionable, and any guy look cuter. If you don't have the skinny in your tie collection, this deal is worth it while it lasts.
XOXO

bracelets
flats
jewelry
men's fashion
pants
shoes
skirt
sneakers
studs
sweater
tie
top