"You don't know the EC Twins?!" as I would begin to say in utter shock which would then be followed by a monologue to my uneducated friend about what they're really missing out on, which I would then follow by saying that they would never truly understand it until they experienced the EC Twins in person… and then to that, they did.
Well, that was 4 years ago when house music was just getting on the rise and when the EC Twins were just locally known as the little DJs who played weekly at the epic XIV Summer Sessions (when it was still at XIV) and which was near and far the highlight of LA summers. Now, skip to the present 2014 where the EC Twins have taken over festivals, the biggest nightclubs, and have become household names to all of those uneducated friends of mine and more, who now give me lectures about how great the EC Twins are. For those that know me best, they know just how much of a fan I am of theirs because of their constant ability to energize crowds, their knowledge of knowing exactly what to play and when to get the audiences going, and their clear determination and simple passion for loving their jobs which is consistently clear to see. From creating popular remixes of Adele and LMFAO songs to creating hit bangers (to which the truest of EC Twins fans would appreciate the most) like "Little White Doves" and "All Here Now", the EC Twins have stepped it up from their XIV days and have made a name for themselves all over the world. I had the pleasure of sitting down with the Twins, Marc and Allister Blackham, a few weeks back, to get the inside scoop and deetz on all things EC.
Fashionlaine: How did you two get into the music scene?
EC Twins: We were "flyer boys" working in Burger King and then got hired by nightclubs to hand out flyers and were really really good at it. We were heavily into the house music scene because when we went to the house music clubs there were no boundaries between race, religion, class, or sexuality. So we soon became promoters and took over a club. We also loved the music– we were always producing music under different names, but it was never out intentions to be DJs. When we came to America though, we saw that the house music scene wasn't doing too well over here so we decided to move here and help it along. So from there, fortunately or rather unfortunately, we had to become the DJs because we couldn't find any DJs here that really understood where house music had evolved. Now it's evolved into this big stage and big room sound, but we came in at a time where we were here to help it move along.
FL: How is it to be brothers and do this together? Do you find it more helpful or more challenging?
EC: It's always a challenge working with other people because everyone has an opinion and say. But working with your brother, you don't have to be as diplomatic about your opinions and you both know roughly where you're trying to get to. With other people, they may have a different agenda than you or different path where they want something to go, so working with your brother can actually be easier.
Marc: And see the thing about my brother is that he knows everything and he's so damn brilliant so good luck to me if I have an opinion.
Allister: See he's halfway there which makes it easier for him since he knows the truth! I'm always right and most of the time he's wrong. Unless he agrees with me… which then of course he's right.
FL: Was there a time where you had that moment where you felt like you made it?
EC: There has never been a moment where we've felt like we've made it. Probably because we don't feel like we've made it yet. We're still trying to make it. I guess by some people's standards we've made… stuff, so to some extent we've made it. We've had a lot of bookings and contracts and thank the lord this is a job for us know, we get money doing it, and we're able to make a living off of it. But we haven't become everything we want to be. Not even 10% of that.
Marc: I think I would realize I made it when I have like three different records that I've made being played on three different radio stations. But so far I'm just excited when they play one on any station. So you know, I don't think we've made it yet.
FL: Who do you look to as musical inspirations?
EC: Well actually, when we look to inspirations for our music we actually look back. It's not that we don't like any of our contemporaries, of course we do, we're inspired by their music. If somebody has a hit or has something that we like, we try to take elements of that. But for our natural inspirations and what we want to be like, we tend to go back to disco or 80's producers. You know, guys that really started it and were the roots of all of this. For electronic music, we've always liked Giorgio Moroder who just produced with Daft Punk, Vangelis who's another electronic producer and composer from back in the day, Vince Clarke, Depeche Mode, and some more in between there. These producers that are just really solid and just produce great music. With Giorgio Moroder for example, we love him because he's produced so many different songs from Donna Summers' disco music to soundtracks like Flashdance and Top Gun. Back in the day when we look at record sleeves, you have the singer who you watch on television now, but we always wondered what was more important– the singer or the music? We never really knew what that title was for the person who made the music, but of course, that's the producer which is really what DJs are nowadays– they are the producers. Except now, with the name that used to be on the back of the album in small letters is on the front. Whether it's Calvin Harris, us, Zedd, or whoever else, the producers names are now promoted alongside the big talent singing the song which didn't happen back in the day.
FL: You guys have collaborated, worked and produced with a lot of different people. Do you have a favorite story, time, or song?
EC: That would be impossible to say because every project we've done from the LMFAO and Adele remixes to our own stuff at the time are our favorite moments and projects. We always put 100% into every project we do, and it seems like the next project is our most important and favorite project yet. We even called one of our songs "The Best Song In The World… Ever" just to make a parody of the fact that every time we're working on a song we're like "aw man, this is the best song in the world ever". And then it's always a joke because people like yourself are forced to write things like "EC Twins created 'The Best Song In The World…Ever'" and that's a fact, whether you agree with the sentiment or not!….because we literally made "The Best Song In The World… Ever".
FL: You guys have traveled the world and played in so many different places. Do you have a favorite moment or place?
EC: They always ask that question to name a moment, but it's really just whenever we connect with the crowd and everyone's going off, that's the moment. But that moment happens, hopefully, if you're doing your job right, several times in one night wherever you are. So that's the same feeling. And it's not even a feeling of "alright, I'm brilliant", but it's more of a feeling of "thank God, thank God they're coming with us". But that's a moment that happens several times a night which doesn't matter if it's for a crowd of some of our old gigs of 50-100 people or to some of our more recent gigs of 15,000 people in front of us at a festival because it's the same feeling. Some people say "being on the main stage at Tomorrowland or being on the big stage at EDC or Coachella or etc must feel amazing!" But you know, it's the exact same feeling wherever we are– as long as you're connecting with the crowd. If you're a DJ and your heart is in the right place, the best moment is when you feel that connection with the crowd and everyone in the room with their hands in the air. We don't even look at each of our performances as separate events. We're playing every night so we've come to look at it all as one big night out that we've been on for a decade. And it's been a great night out!
Sometimes we even turn up at cities where we think we may not have fans and we walk on stage and the crowd goes insane and we get shocked. That actually happened to us recently in Montreal. We were doing a show with people including Ellie Goulding and The Cure and so if you had seen us and not known we were the EC Twins, you would have thought we were the janitors because we literally walked onto the stage with our heads down, almost humiliated with our presence on this big stage. We were literally almost apologetic to be there and then were instantly in shock when we heard a crowd of tens of thousands of people cheering for us. We literally had to do a double take because we honestly thought Ellie Goulding or someone had walked on behind us on stage. It took us like ten minutes to address what had just happened.
FL: You guys have great style! Do you think it has translated over to your persona and performances?
EC: Actually, to be perfectly frank, our style had to be toned down a little bit because in the beginning we came from Europe where was very fashion based and people were encouraged to dress very eccentrically or to just make an effort. So before walking out the door we would always wear suits. But then when we became DJs, a lot of people started to talk more about what we were or weren't wearing on stage than about our music. And after a while since we got so many comments about it, we decided to dress down in tshirts like everybody else so that they would stop focusing on our clothes and focus more on our music. But to us, fashion was always something fun and something that we loved. We are working class boys that come from a background where we didn't have nice clothes or nice sneakers when we were little kids. So when we earned money, the first thing that we wanted to do was go out and buy a bunch of clothes that would make us look great. So yeah, we do put a lot of emphasis on fashion. One time we did this photoshoot in Memphis where we literally wore jeans and tshirts because were told that Memphis wouldn't get our style and fashion. It was literally the most boring and most disconnected photoshoot from who we really are. And then we got on a plane that night and we were listening to everything from Fleetwood Mac to Rolling Stones to Prince to Michael Jackson. And we were thinking, all these great and successful performers didn't care about what other people said about their clothes, they just wore what they wanted! But we truly believe that by making yourself look good, you can achieve a lot. We actually think we got our first nightclub gig just based on the fact that we used to go out in really nice suits that we would buy with our paychecks from Burger King. Our suits were so nice that people in the clubs thought we were something important, where in reality we were probably homeless at the time. But by making ourselves look in a particular way, it helped make people view us in a particular way.
FL: You guys post hilarious stuff on Facebook and Instagram and I just need to know… do you guys really post and come up with all of those yourselves?
EC: Absolutely, are you kidding me?! Our management tells us to stop! We just don't really take ourselves that seriously. We spend a lot of time in airports, a lot of time flying, there's two of us, and we just mess around and create stuff that we think is funny. Honestly, we should probably concentrate on the music more because the truth is, all that kind of behavior… the joke is really on us. It doesn't really matter if we're making fun of Justin Bieber or Miley Cyrus (four people literally had to sit us down to play "Wrecking Ball" because we had never heard it before), because really the joke is at our expense because we come out looking like the villains. But to put it into context, there are certain websites that make fun of us. But we think it's funny! And in actuality, we're laughing harder than anyone else. But people have to just know that our jokes are really just jokes, and we never really mean to offend anybody. We put up this post recently that had reached over 13.5 million people in less than 24 hours! But that post got flagged and deleted off Facebook because it was marked as offensive by 4 people– 4 out of 13.5 million. But in all honesty, we're sorry if our jokes ever offend people, they really aren't meant to ever offend. It's just at a certain point, you have to wake up and realize that there are people out there that get up in the mornings to go out of their ways to devoting their lives to doing something moral and important like finding a cure for cancer, AIDs, paralysis or standing up against a dictator, or saving animals or something. Yet when kids nowadays are asked who their heroes are, 99% of them would say a celebrity with no basis. And at what point is that acceptable? What are we looking up to? We are in a position where we can go on stage every night, and we have girls and guys screaming at us, and we play music that we love. And then people from the crowd come up to us saying things like "thanks for everything you do" like we're curing cancer. We love our job, we love music– it means more to us than just the job. But realistically at the end of the day, it's just music isn't it? And that's why we make fun of a lot of popular culture people, we just want to put it all into perspective.
FL: What can fans look forward to from you guys in 2014?
EC: We've got a collaboration at the beginning of this year coming out with Plastik Funk and another with a guy called Bass Kleph. Right now we've just been through a period of collaborating because it's come to a stage where The EC Twins are a very successful act in terms of revenue and ticket sales and touring. But we're a so-called "act". We start to feel like we're on our own really, we don't belong to a crew of people like the Swedish DJs where you've got the Swedish House Mafia, Avicii, Antoine, Dada Life, Alesso. And then you look at the Dutch, you've got Chuckie, Tiesto, Hardwell, Afrojack, Laidback Luke. And then you've got us… these LA guys. Even though we're British, which is ironic, we've been casted as these LA guys. We know everybody in the industry, we're friends with them all and so this year we're going to collaborate with them. It's probably because of the way we dress and the jokes that we tell, our music is the last thing that people talk about. Which is actually unfair because if you look at it, you'd probably see that our music is probably better than our jokes. But because of all of that, people may overlook our music. But by collaborating now, it will bring other audiences to us and have people that will view us in different ways. And then hopefully, maybe our music will start to take a head lead. We've been in the studio for a solid year working on music and have like twelve songs done that are really really good from the big room bangers to the dirty electro stuff. And we, our management, and our label are all really excited and can't wait to share them with everyone.
Stylish, funny, entertaining, humble and overall talented, if there was something I instantly took away after meeting and chatting with Marc and Allister, it's that they're more than just the Eye Candy they've been dubbed as (which is what EC stands for). And I for one can't wait to see what they bring to the table in 2014. *Check out their latest and greatest song "Set The World On Fire" below.*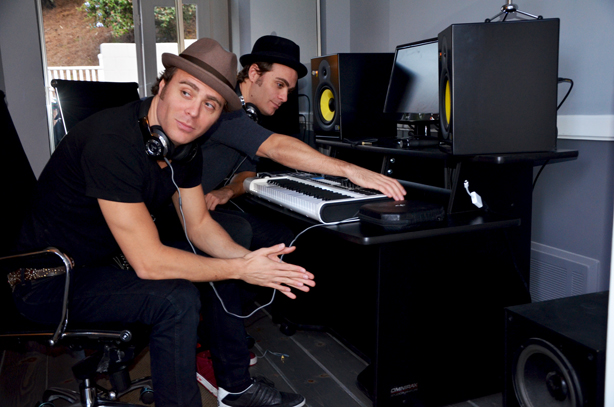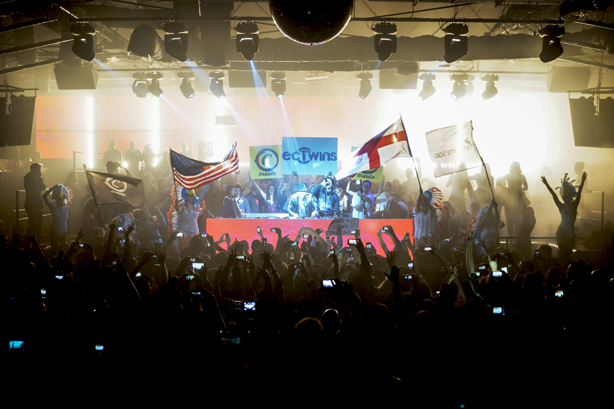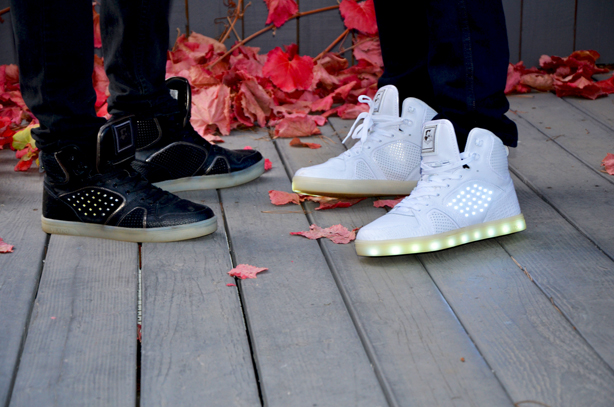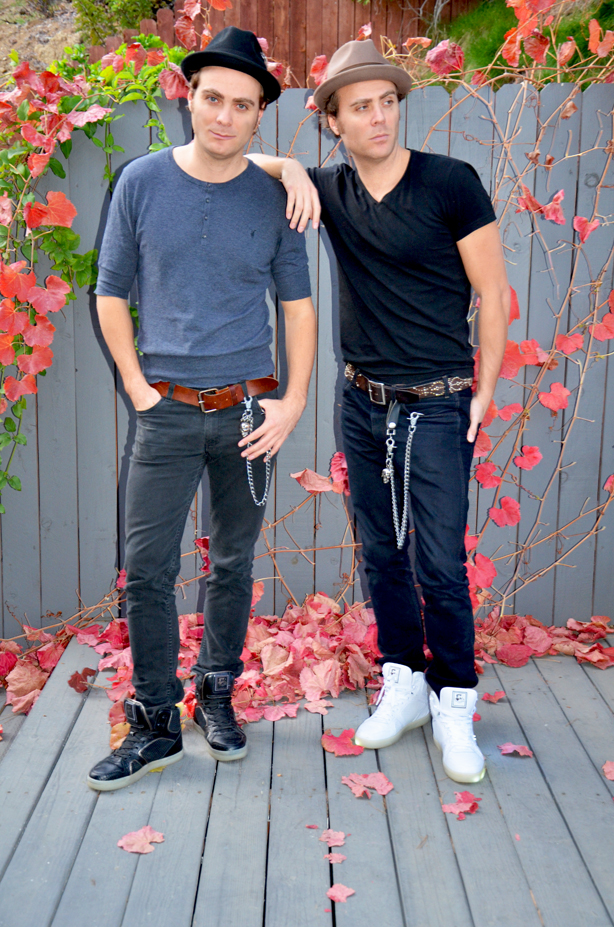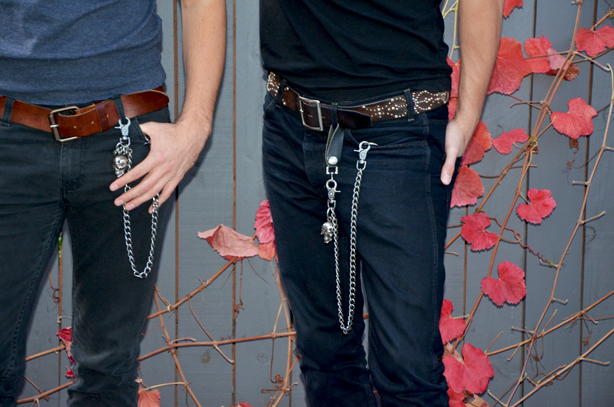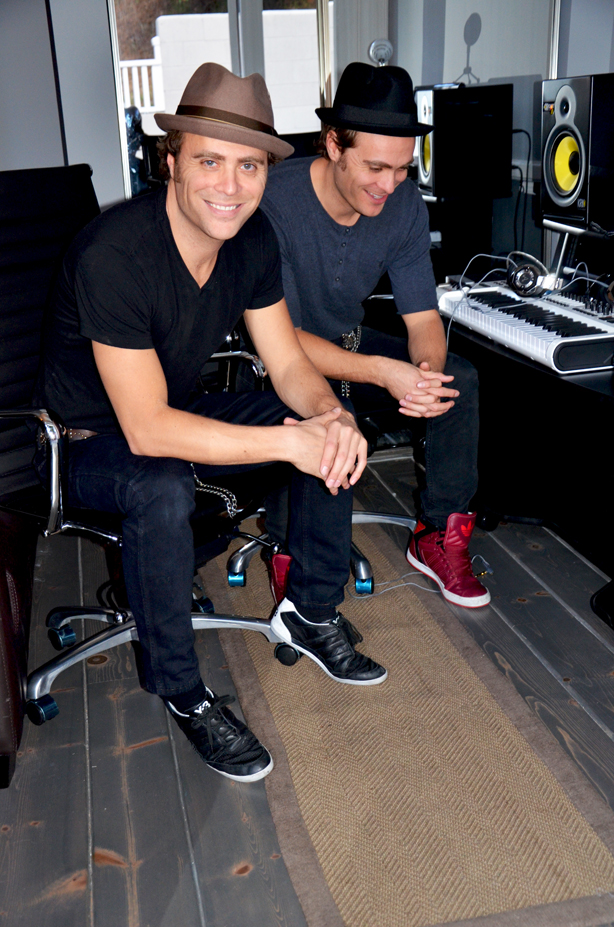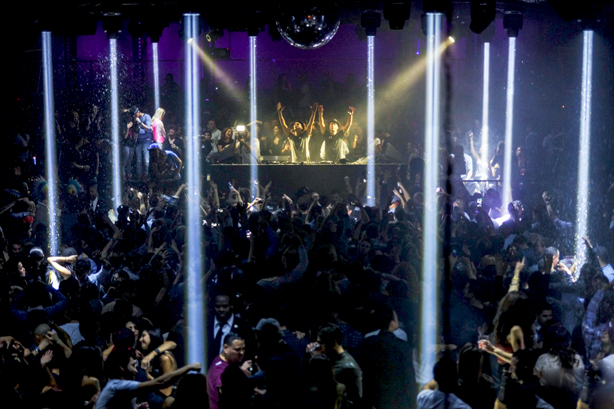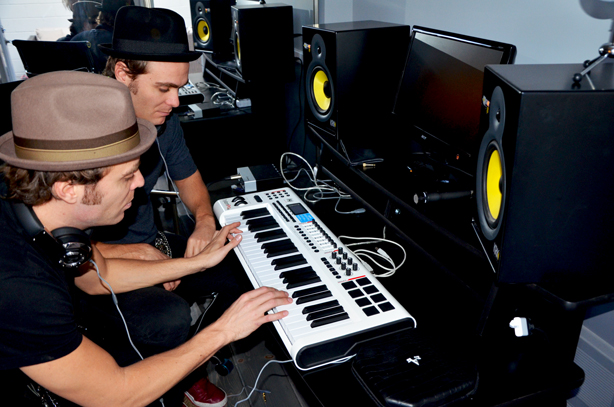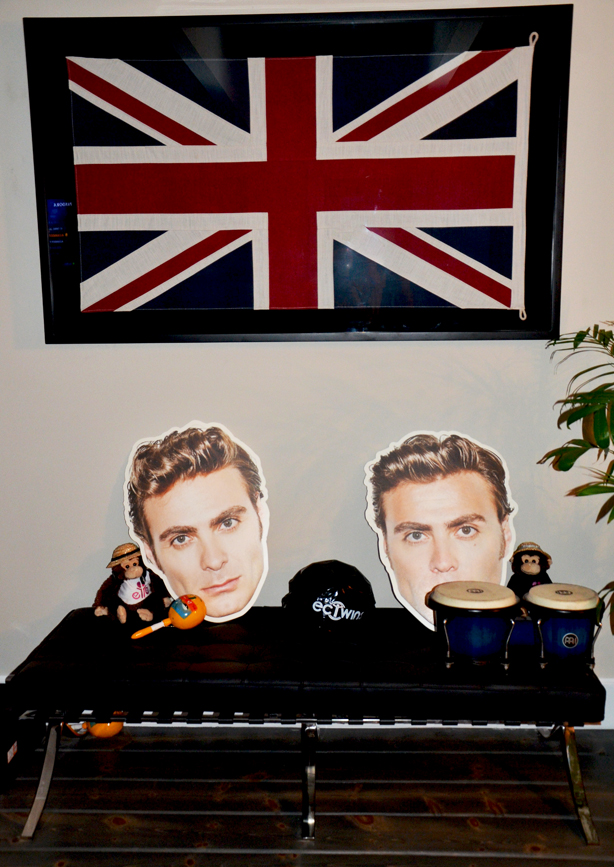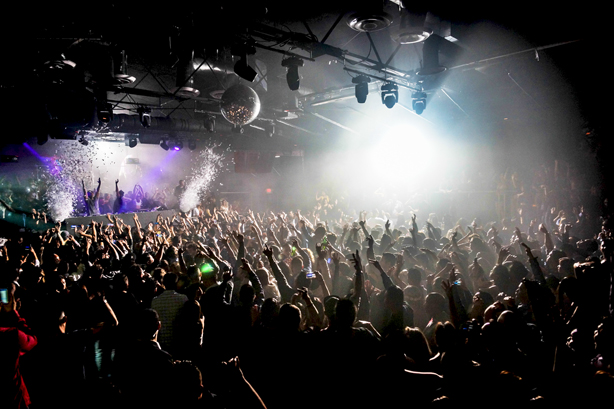 XOXO

all here now
allister blackham
brother musicians
burger king flyer boys
calvin harris
club promoters
coachella
create nightclub
daft punk
depeche mode
dj interview
donna summers
ec twins
ec twins xiv
edc main stage
ellie goulding
england club promoters
eye candy club
eye candy twins
fame soundtrack
flashdance soundtrack
giorgio moroder
giorgio moroder daft punk
hollywood djs
house music interview
la djs
little white doves
los angeles djs
marc and allister
marc and allister blackham
marc blackham
redfoo lmfao remix
sbe djs
sbe nightclubs
sbe xiv
the best song in the world ever
the cure
tomorrowland
top gun soundtrack
vince clarke
xiv summer sessions
zedd