It seems like award season is back to back this year with red carpet after red carpet (I guess we can thank the Winter Olympics for speeding up this process). So as we go from Globes to Grammys, the Kings and Queens of music all came out to play both on the stage and on the red carpet last night. Always excited to see what our fave performers are not only going to bring to the show but also wear on the red carpet, I break down my picks for the top 10 best dressed celebs on the Grammys 2014 Red Carpet.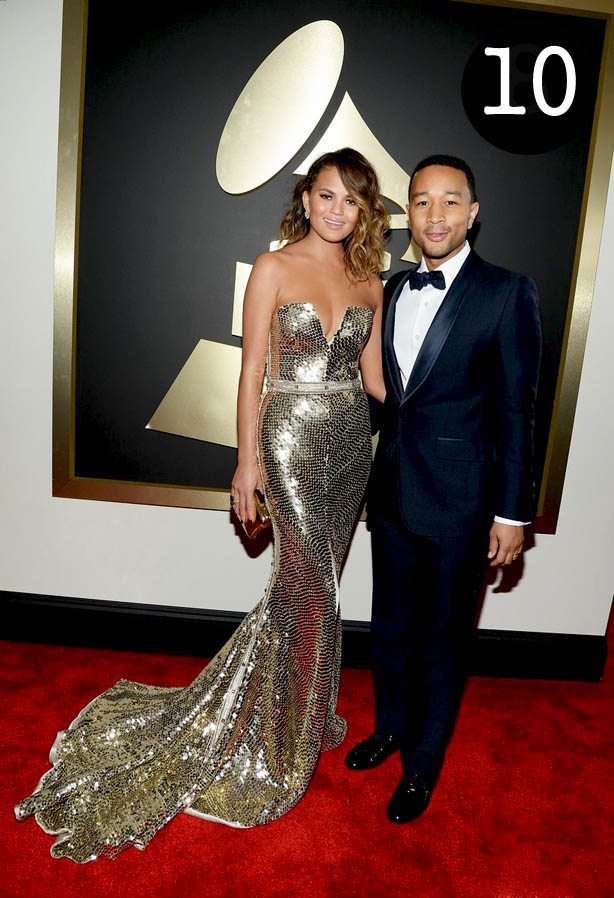 If one wants to know what the secret is to having the best outfit on the red carpet, it's really to have the best date to be with. And lucky enough for John Legend and Chrissy Teigen, they're blessed with a guarantee amazing accessory at all times– each other. Yet, in addition to being the most amazing plus ones to each other, they both always know how to handle an amazing sense of style all on their own. This gold number by Chrissy and this classic tux by John kinda makes them and their ensembles easily amazing.
Chrissy Teigen: Diress: Johanna Johnson, Shoes: Casadei // ClutchL Kotur // Jewelry: Neil Lane
John Legend: Tuxedo: Gucci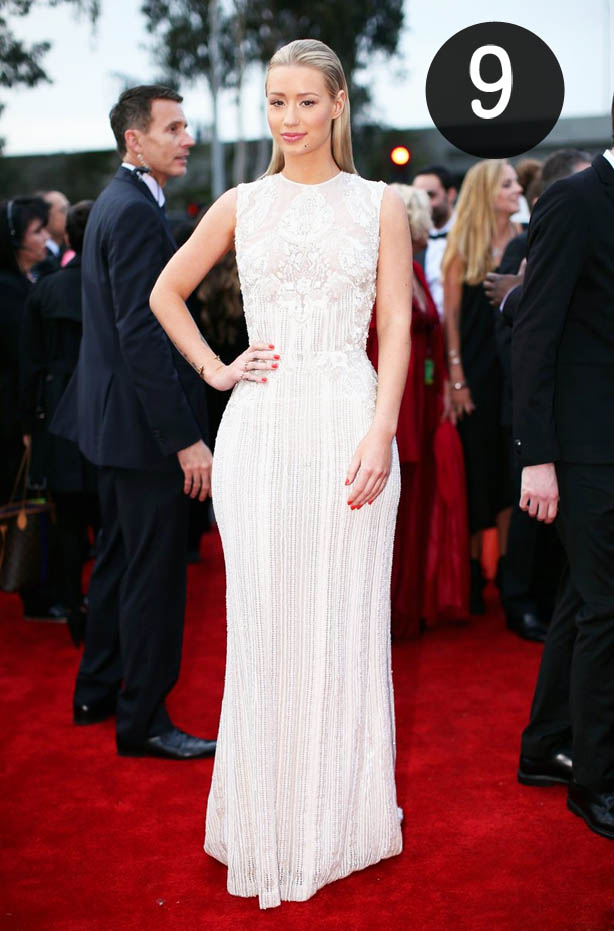 Simple yet stunning, detailed yet not over the top, Iggy Azalea's white number by, of course, the genius Elie Saab makes her easily jump onto my best dressed list.
Dress: Elie Saab // Bracelet: Jennifer Fisher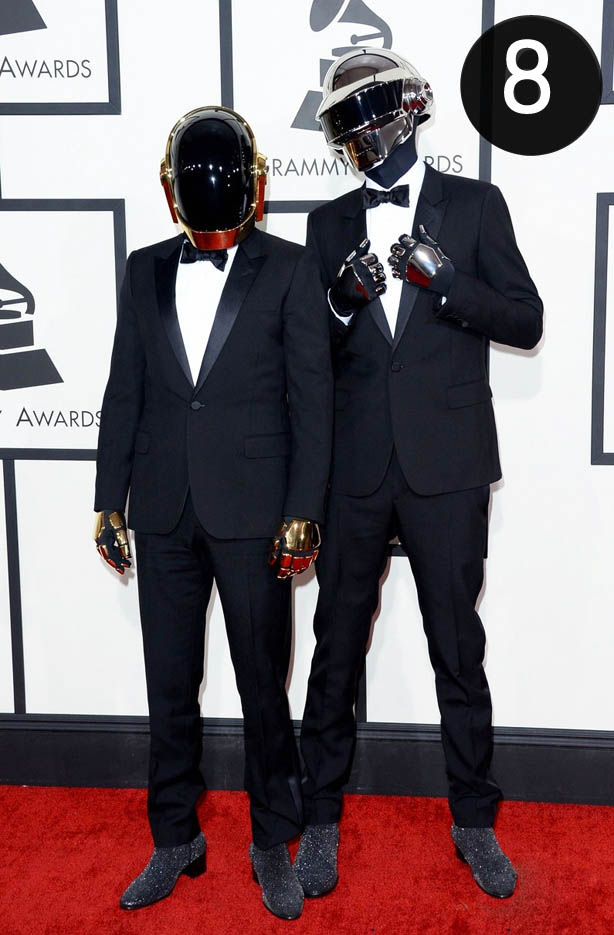 Who said robots can't be stylish? Well, Daft Punk shows us just how not true that is. With their amazing and flashy signature helmets, they knew how to perfectly dress up their look with these matching futuristic gloves, the perfect suits, and cool shoes.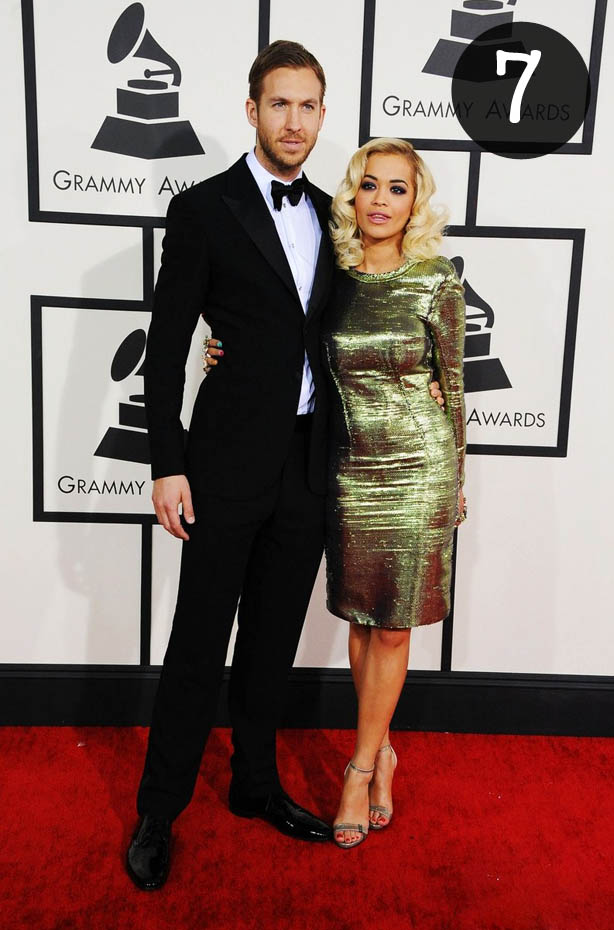 Ugh, can a couple get better looking than this?! Per comment made about Chrissy and John, this applies to Calvin Harris and Rita Ora as well. With two super stylish performers like Rita and Calvin, their styles allow them to be amazing on their own, yet put them together on a red carpet and they just kill it.
Calvin Harris: Suit: David Thomas X JBH
Rita Ora: Dress: Lanvin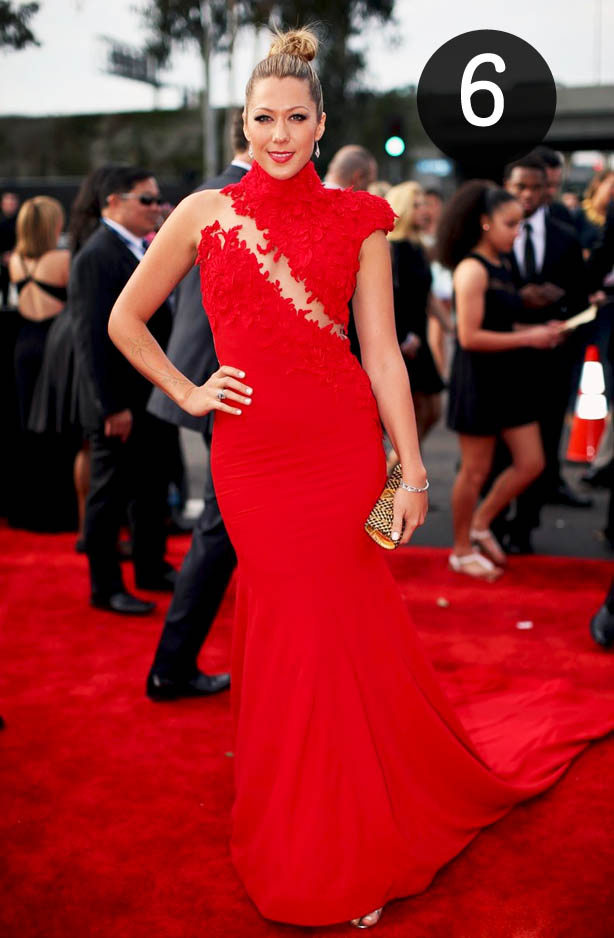 When I think big award shows like the Grammys, I think of amazing detailed dresses that are only worthy of big red carpet moments. Yet surprisingly, not everyone was able to do that this year, but I'm so happy that Colbie Caillat got that memo because this dress is to die for!
Dress: Ezra Santos // Jewelry: Claude Morady // Shoes: Jimmy Choo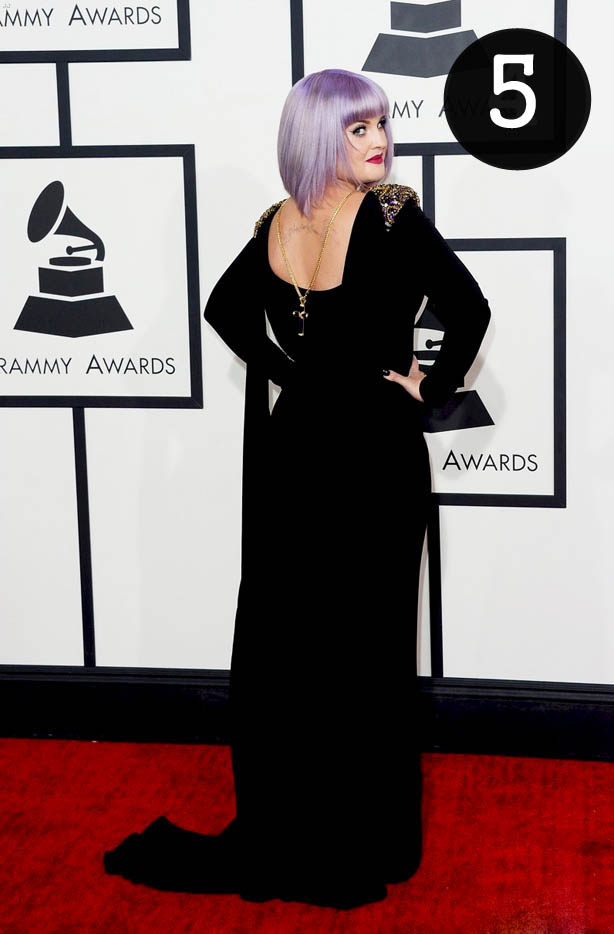 True Life: I want to be Kelly Osbourne. One of my ultimate fashion icons of the moment, she just always knows what to wear to make a statement (and her lavender hair doesn't hurt the situation either). Wearing this amazingly sleek Badgley dress and throwing on a cute touch with her dad's vintage cross necklace hanging from her back, Kelly just proves that she's always got it.
Dress: Badgley Mischka // Jewelry: Loree Rodkin and vintage cross necklace from Ozzy Osbourne // Shoes: Brian Atwood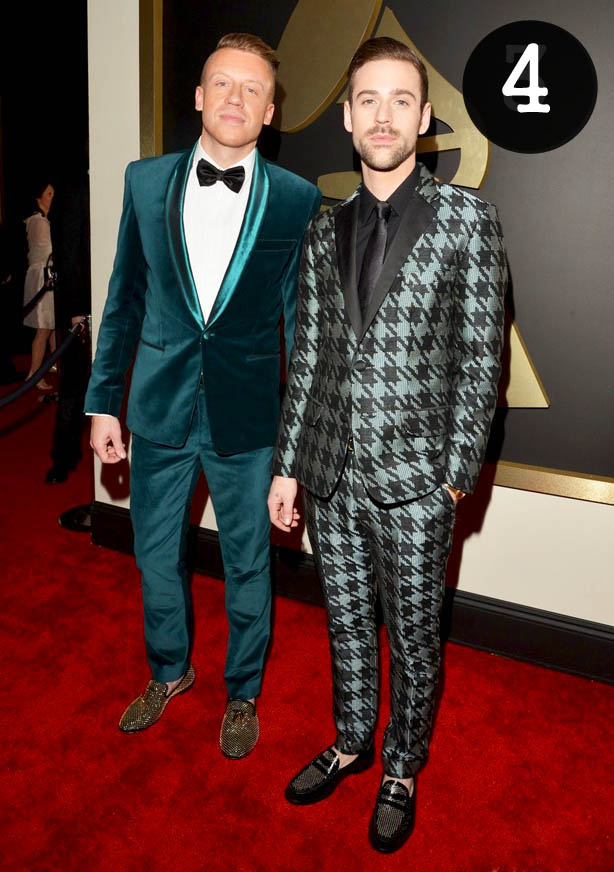 Most guys just wear the typical black and white tux on red carpets. But Macklemore and Ryan Lewis knew how to really step it up! Not only making a big commotion this year in the music biz and last night on stage with their performance, Macklemore and Ryan's unique ensembles worked to make them have a big and great commotion on the red carpet as well.
Ryan Lewis: Tuxedo: Mr Turk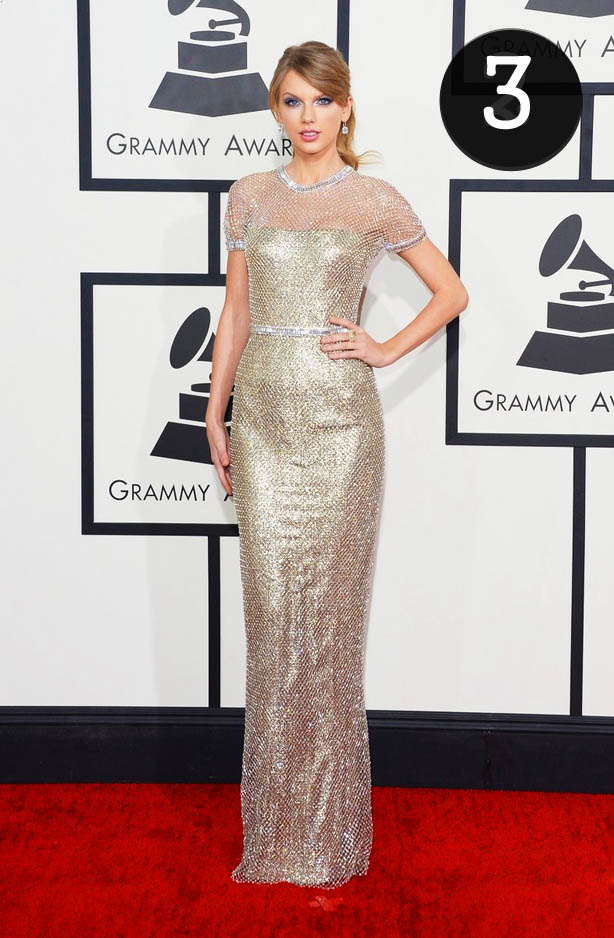 Can Taylor Swift NOT look good even once? Always a killer on the red carpet (and of every sequin dress known to mankind), Taylor is not only one of the best dressed people of the evening, but one of the best dressed people in life.
Dress: Gucci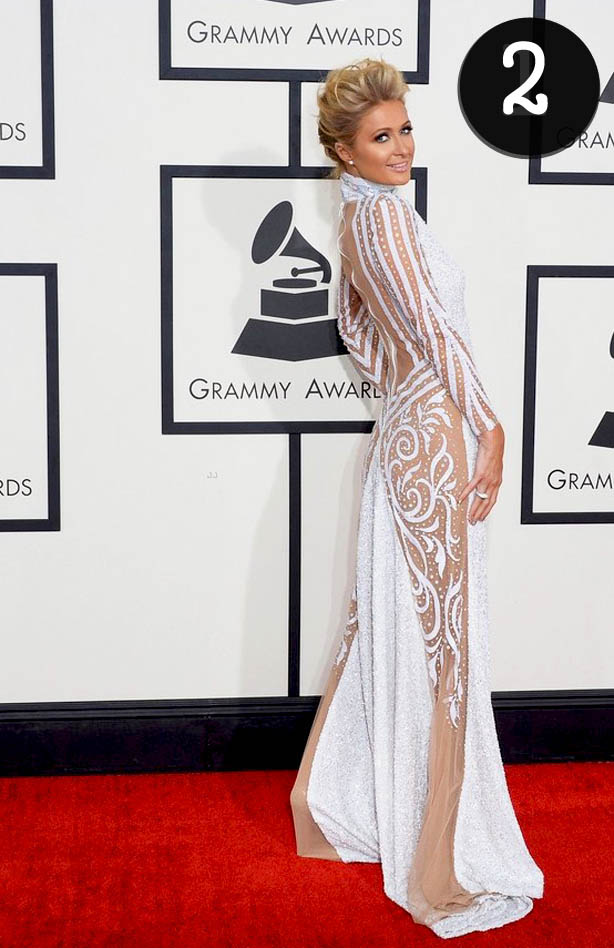 I love funky, unique and detailed dresses and Paris Hilton's dressed had that covered (or not covered). This gorgeous white ensemble automatically jumped her to my #2 spot.
Dress: Haus of Milani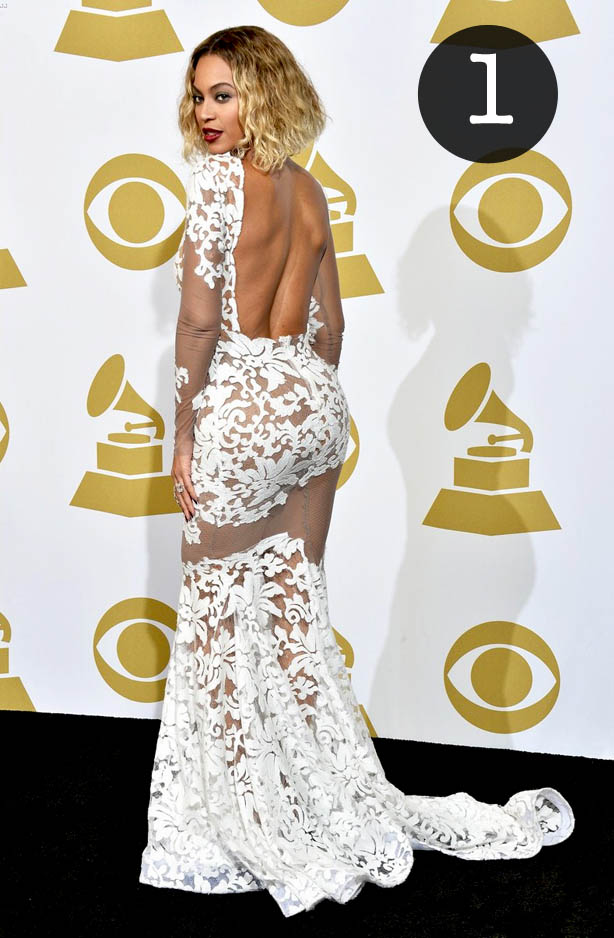 But of course, when there's a Grammys, there's a Beyonce. And Beyonce slays EVERYTHING she's at. Like is this dress for real?! Considering the fact that I don't even think Beyonce is for real, this whole thing is overwhelming because she literally kills it with this look, knocking it all out of the park and reigning her the Queen of last night's show both on the stage and on the carpet. And with that, I also of course have to insert her performance with Jay Z of "Drunk In Love" from last night below. #QueenBey4theWin
Dress: Michael Costello // Shoes: Christian Louboutin // Jewelry: Lorraine Schwartz
XOXO

56th annual grammy awards
beyonce grammys
beyonce press room
beyonce red carpet
calvin harris red carpet
colbie caillat grammys
colbie caillat red carpet
daft punk grammys 2014
daft punk red carpet
grammys 2014
grammys 2014 red carpet
iggy azalea grammys
iggy azalea red carpet
jay z beyonce drunk in love
jay z beyonce drunk in love performance
jay z beyonce grammys
jay z beyonce on stage
jay z beyonce performance grammys
kelly osbourne grammys
kelly osbourne red carpet
macklemore grammys
macklemore red carpet
macklemore ryan lewis grammys
macklemore ryan lewis red carpet
paris hilton grammys
paris hilton red carpet
rita ora calvin harris grammys
rita ora calvin harris pictures
rita ora calvin harris red carpet
rita ora red carpet
ryan lewis grammys
ryan lewis red carpet
taylor swift grammys
taylor swift red carpet