Yesterday was the Teen Choice Awards and seeing a bunch of statuses, hashtags, and excitement built around the award show that I used to devotedly be in love and obsessed with took me back to my teen youth days when the pages of YM, Teen People, and J-14 covered my walls (…and if you don't recall any of these magazines, then MAN do I feel old). But why did I love this award show so much? It definitely wasn't anything as big as the Oscars, Grammys or even the VMAs. Yet, seeing things like (what was for me) iconic clips such as the one above of Britney and Justin winning Hottest Male and Female, the Teen Choice Awards always had a special place in my heart. Watching last night's show with the incredibly adorable Darren Criss and Lucy Hale, I quickly soon realized what it was about the show that made it so special. Other than the incredible excitement of seeing your fave celebs take the stage which has gone from my days of N*Sync to One Direction, Britney Spears to Selena Gomez, 7th Heaven to Glee, and Charmed to Pretty Little Liars, what's the true heart and soul of this award show is the strong connection us past and present teens feel with everyone in attendance. I remember when I would avidly count down the days until the Teen Choice Awards (even taking on the role as a Seatfiller a few times). I would really take in every single word that my favorite celebs would say, admiring everything about them and the messages that they were trying to push through. And it's evident to see how the Teen Choice Awards still remains the same. Whether we all cried along with our Glee family and Lea Michele as she was talking about Cory Monteith or if we were jotting down mental notes and getting inspired by Ashton Kutcher's motivational speech, the Teen Choice Awards reminds us of a time when it was ok to open our hearts, dream big, and be open to the endless possibilities that the world has to offer. As we grow older and enter the real world, we forget about our careless and stress-free days and worry too much about the present and the future. So today's post is dedicated to inspiring us once again to remember those much simpler times in life and remember to "work hard, be smart, and live life" as the wise Ashton Kutcher just said last night.
And of course, this would be no proper post without giving my breakdown of my top fashion picks of the most fashionable teens that werqed yesterday's blue carpet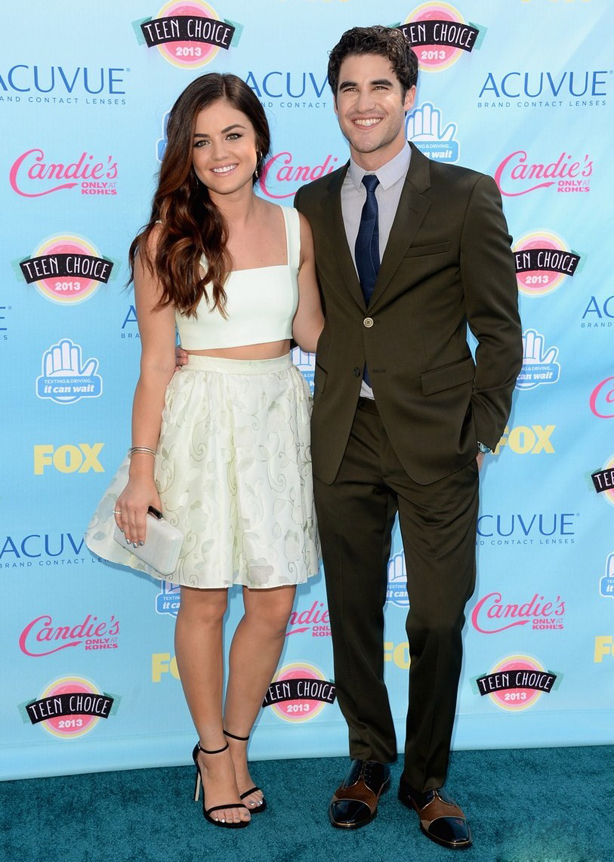 Obviously I have to start out with the Prince and Princess of yesterday's show, the co-hosts Lucy Hale and Darren Criss. I think what I love most about their styles is that they always manage to look so amazing, yet it always comes off as no effort at all was put into looking like such flawless stunners. With Darren's dapper suit and tie and with Lucy's shout out to my crop top/high waisted skirt obsession combo, these two definitely were dressed to run the show.
Lucy: Top: Houghton // Skirt: Houghton // Shoes: Stuart Weitzman // /Earrings: Topshop // Jewelry: Sophie Hughes // Clutch: Kotur
Darren: Suit: Emporio Armani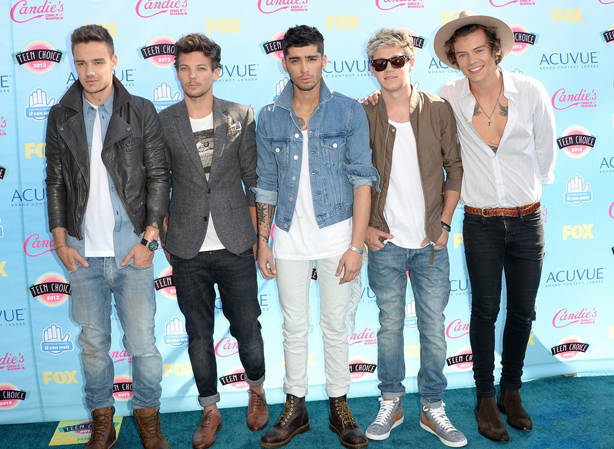 It would be no fashion breakdown if I didn't include the dreamy One Direction boys or (1D as many people like to abbrev). What's perfect about this to-die-for boy band, is that they not only have the talent and looks, but they all collectively know how to always kill it with their style.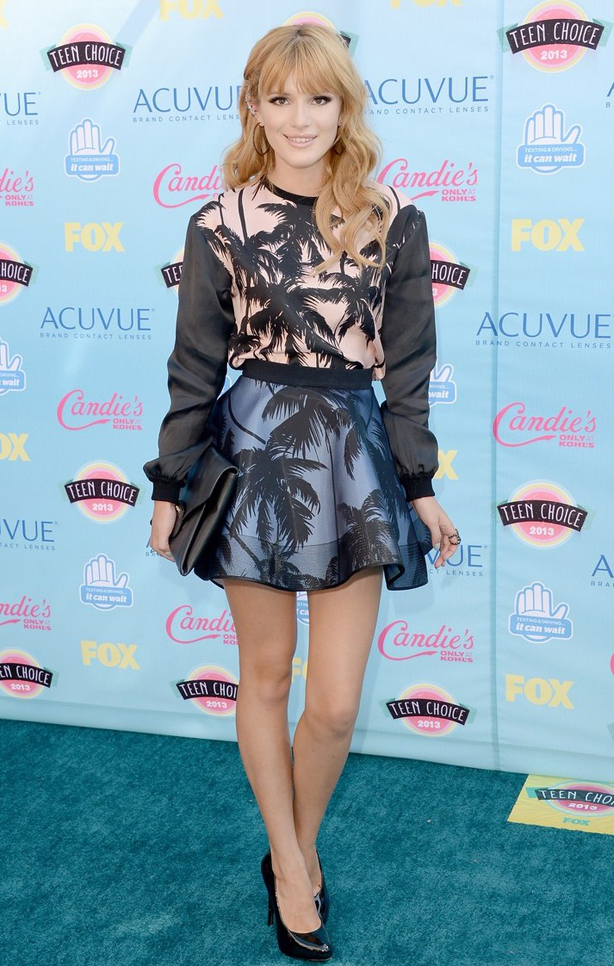 Shake It Up's Bella Thorne definitely worked it yesterday with this cute palm tree dreamy look. Not typically a fan of prints, she 100% won me over with this adorable getup.
Top: Fausto Puglisi // Skirt: Fausto Puglisi // Shoes: Candie's // Clutch: DvF // Jewelry: XIV Karats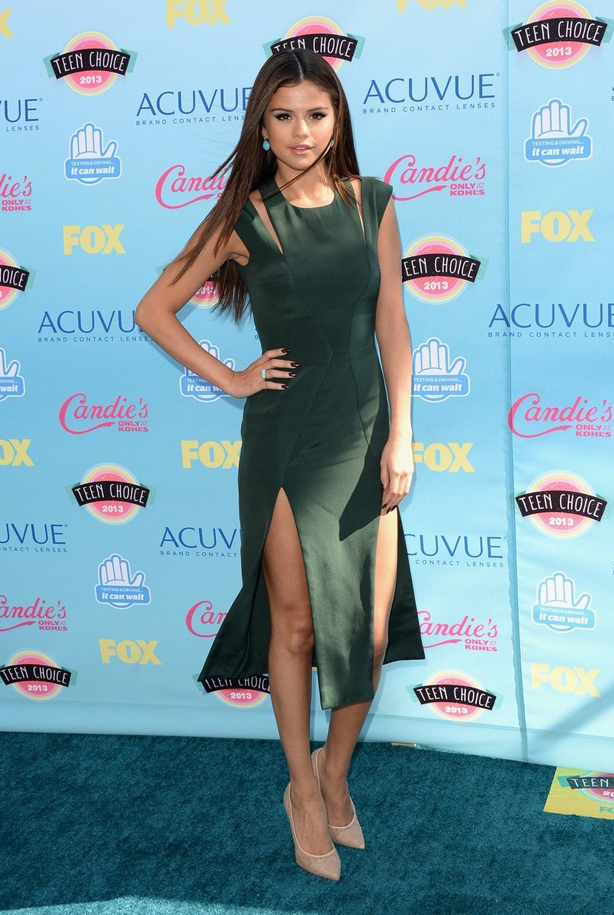 Selena Gomez without a doubt always brings it to the red carpet. A huge personal daily fashionista favorite of mine, I'm always excited to see what she's going to wear next because I know without a doubt that I'm going to quickly obsess over everything she wears.
Dress: Cushnie et Ochs// Shoes: Nicholas Kirkwood // Jewelry: Neil Lane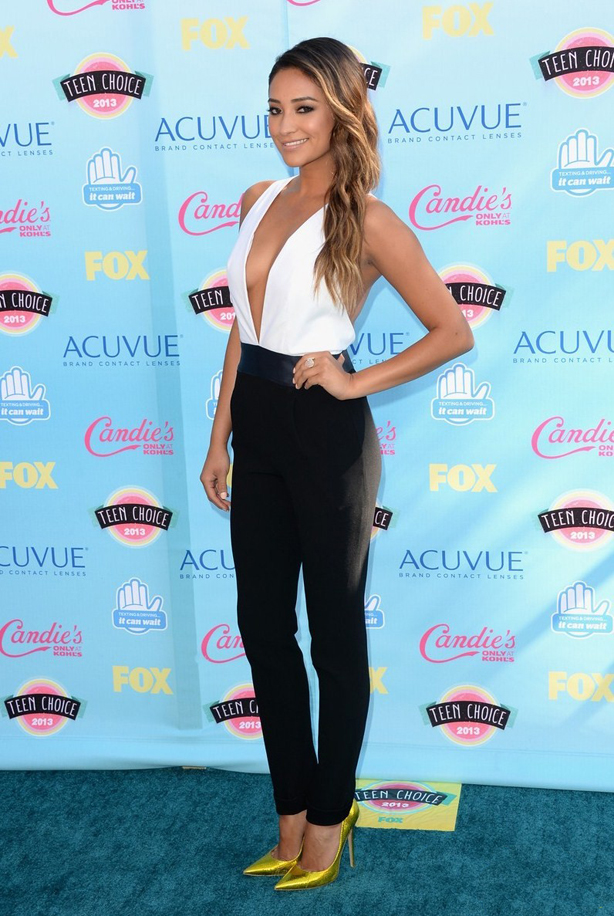 The cast of one of my all-time favorite shows right now , Pretty Little Liars, (actually, I'm pretty sure that's the only show I watch right now) was definitely part of the royalty on the blue carpet yesterday. So excited to see what each of these super popular fashionistas were going to roll up with on the carpet, I must say, Shay Mitchell definitely won me over the most with this fabulous romper and gold metallic heels.
Jumpsuit: Jenni Kayne // Shoes: Jimmy Choo // Jewelry: Kimberly McDonald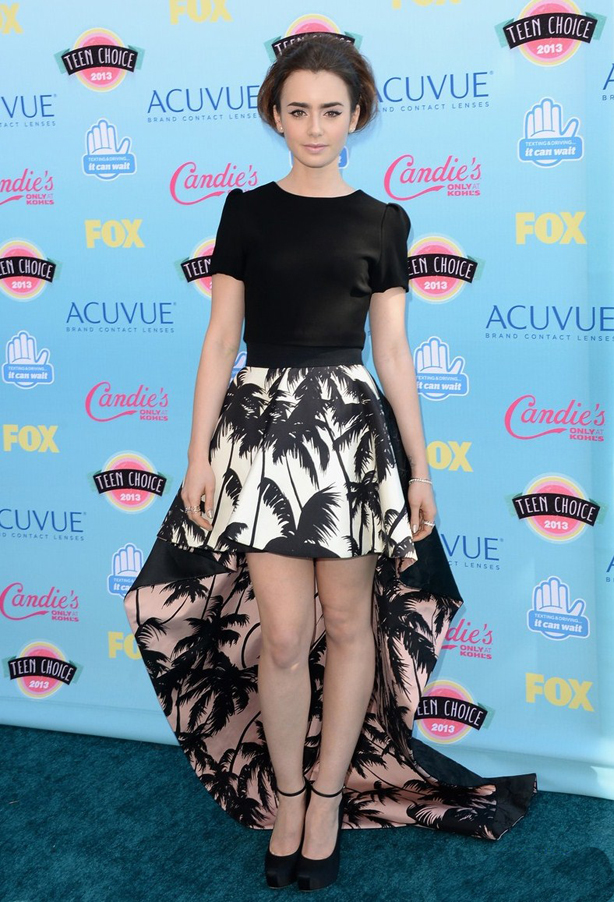 Last but certainly not least, I couldn't leave out Lily Collins. This outfit was wayyy to die for to not include in my roundup. An ode to Bella Thorne's palm trees print, this different take with the top and high to low skirt resulted in probably hands down being my favorite outfit of the evening. Lily knows how to own it every time I've seen her on a carpet, and this time was definitely no exception.
Shirt: Houghton // Skirt: Fausto Puglisi // Shoes: Brian Atwood
XOXO

award show
celebrities
fashion
red carpet
teen choice awards
teens