It's December! In honor of Winter amongst, today we're doing some fun arts & crafts with this snowflake pipe cleaner! Every activity I try out is a test run with my kids to see if they'll love or hate it. They were OBSESSED with this activity, so if you wanna ace being your own child's homeschool teacher, try this out!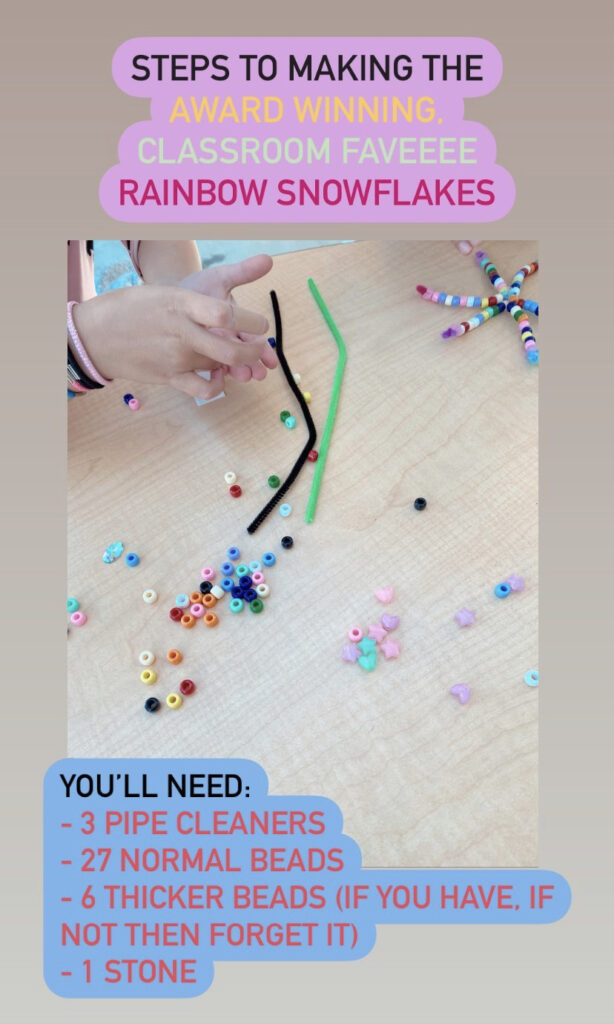 What you'll need for this snowflake pipe cleaner craft:
– 3 Pipe Cleaners
– 27 Normal Beads
– 6 Thicker Beds (optional, but highly recommended)
– 1 Gem Stone
Once you have also those: Get Ready, Get Set, Let's Go!!
Step 1: Grab two pipe cleaners and cross them
Step 2: Twist one pipe cleaner across & under (see pictures below)
Step 3: Add your 3rd pipe cleaner and twist it over the other two just like before
Step 4: Add 9 beads to each pipe cleaner (less beads if you want the snowflakes to be smaller)

**The bead counting was a GREAT way to incorporate counting (and following rules!)
Step 5: After you're doing adding the 9 beads to one side, twist the end in a loop (as seen on left). Then add a bigger bead as your stopper. I like using a bigger bead so it really gives it that snowflake feel at the end.
Repeat the above steps for each side of the pipe cleaner.
Step 7: When you're all down, add the gem stone in the middle with glue! (you may need hot glue for this so parents / teachers, I trust you'll take on that task!)
And then when you're all down, VOILA! It'll turn out like this!
XOXO

snowflake art ideas
snowflake bead counting
snowflake diy
winter activities
winter arts and crafts
winter kindergarten activities