The Oscars had so many high moments this year… but would else would you expect when Ellen Degeneres is the host? Everyone knows that the Oscars really has two shows. The actual award show and that of the red carpet. So what did people wear and more importantly who wore it best? Today I lay it all out and break down my take on the top ten best dressed women of the Oscars 2014 red carpet.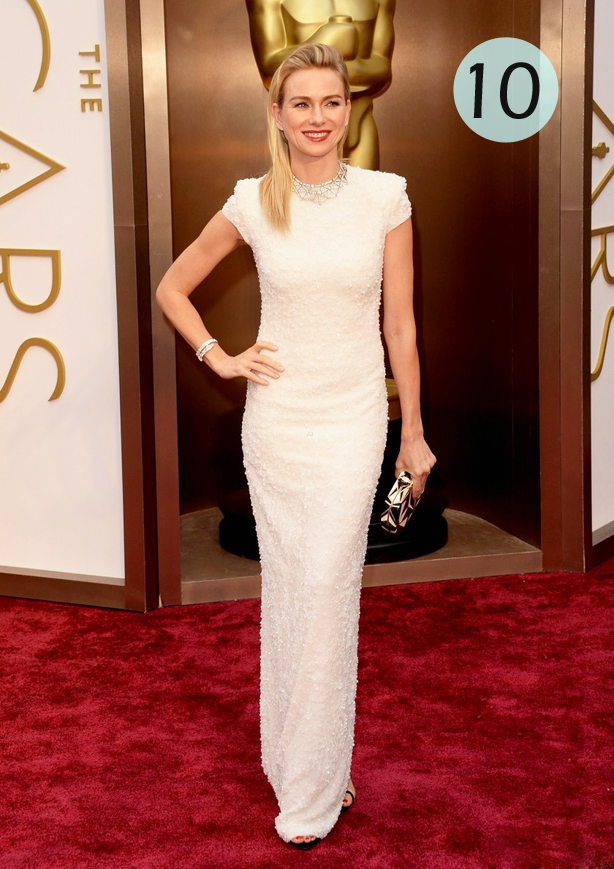 Metallics, whites, and beaded details hit the carpet major this year and Naomi Watts represented it extremely well. Simple yet chic, I instantly loved the short sleeve look to this dress and the most stunning bejeweled necklace that Naomi perfectly noted as a "spiderweb-like" design.
Dress: Calvin Klein Collection // Shoes: Bulgari // Jewelry: Bulgari
All eyes were on Jennifer Lawrence not only when she fell yet again at the Oscars (this time on the red carpet), but also all eyes were on her to see if she would win another Academy Award. Being really the only one who wore red this year I think, she definitely looked stunning (especially with the little necklace in the back detail). As pretty as she always looks though, I'm not going to lie that I was a little disappointed that this dress was so simple that it was, I feel like she could have came with a bigger showstopper than this.
Dress: Dior // Shoes: Brian Atwood // Purse: Ferragamo // Jewlery: Neil Lane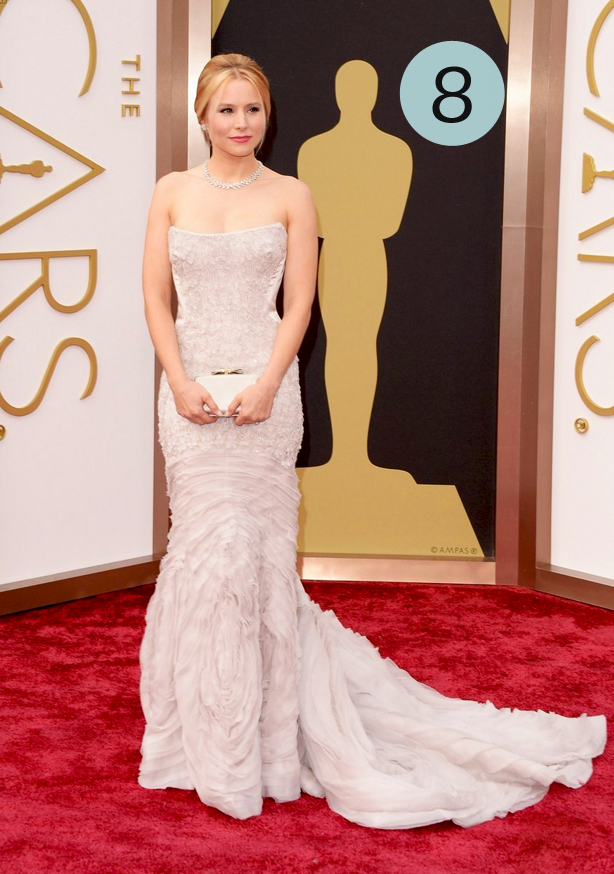 Kristen Bell was one of the first people I saw hit the red carpet and I then instantly knew there was definitely going to be a spot for her on my Best Dressed list. Can we talk about how she just had a baby and still looks like perfection?! Wearing this pretty white dress to symbolize her nomination for "Frozen" as she had mentioned, this was definitely the look of an ice princess.
Dress: Roberto Cavalli // Shoes: Brian Atwood //Purse: Salvatore Ferragamo // Jewelry: Piaget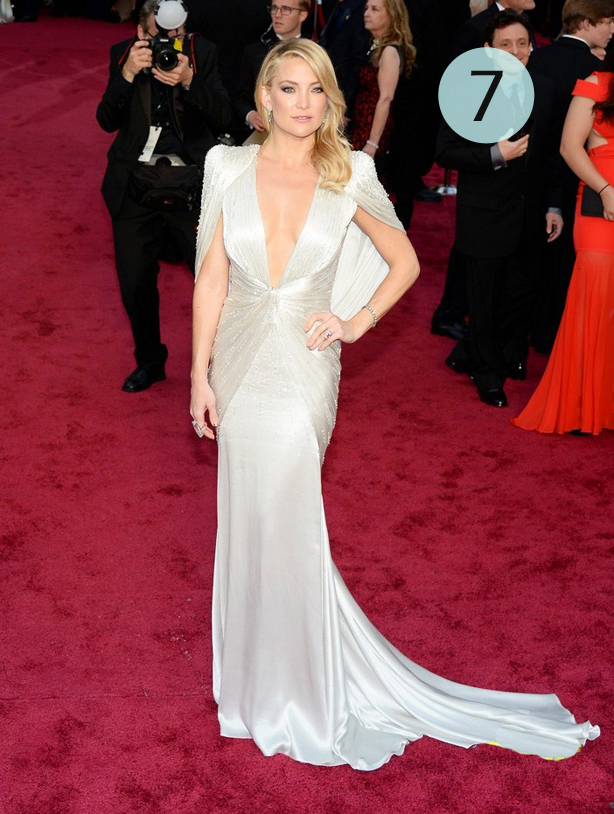 Ummm…. hi Kate Hudson! Can you ever not look freaking amazing?! And throwing on a blazer on top of it? I don't think anyone can have as much swag as her with a white silk blazer shawl on an Oscars red carpet.
Dress: Atelier Versace // Jewelry: Neil Lane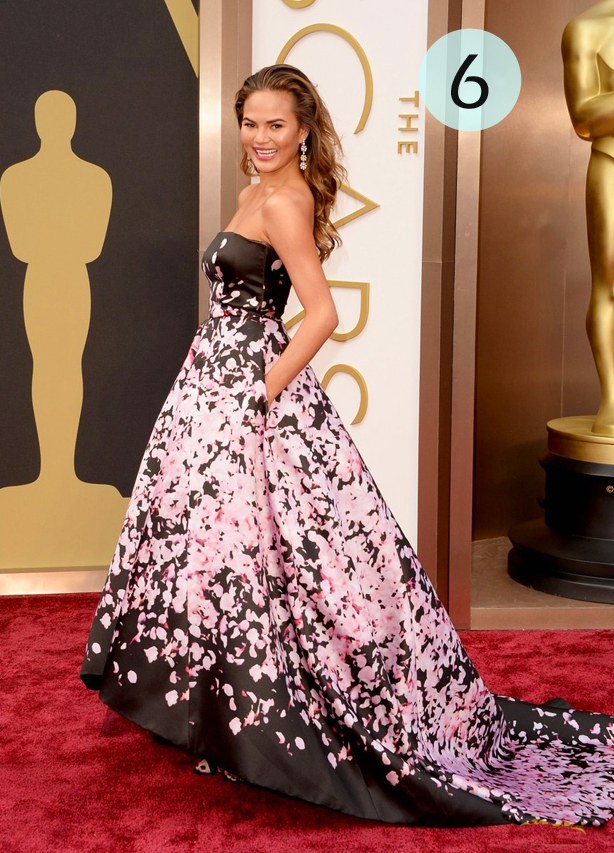 Chrissy Teigen always looks amazing. But I'm not going to lie, it took me a second to assess how I felt about her and this dress. The more and more I saw it though, I fell more and more in love. The combo of the secret pockets along with the beautiful design of the falling flowers/leaves… Chrissy 100% killed it.
Dress: Monique Lhuillier // Shoes: Jimmy Choo // Purse: Jimmy Choo // Jewelry: Lorraine Schwartz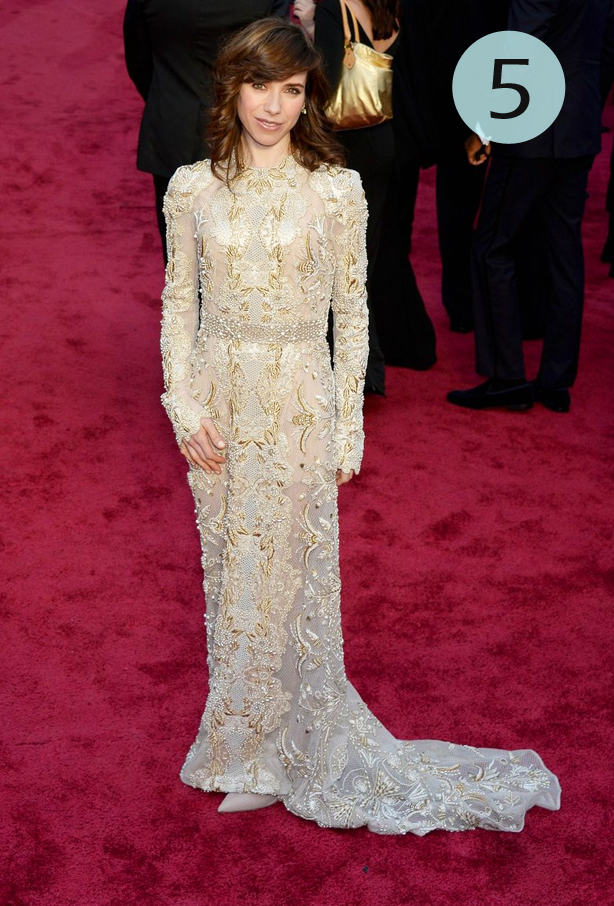 This dress is amazing. Period. I really don't think there's more to say than that. As I had mentioned re: Naomi Watts, metallics and beads were big this year, and this one really stole my heart. I love how this dress is long sleeve and I love the intricate beaded designs. Win all the way.
Dress: Valentino // Jewelry: Fred Leighton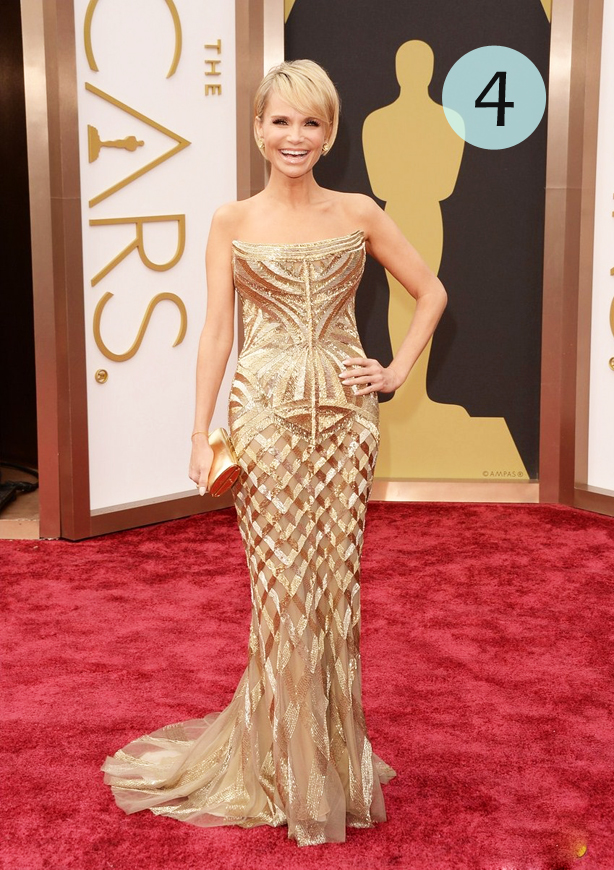 How much does Kristin Chenoweth kill it in this dress? The snug tight fit look combined with the perfect intricate details that fall throughout the dress make this a red carpet winner.
Dress: Roberto Cavalli // Shoes: Jimmy Choo // Shoes: Jimmy Choo // Jewelry: Neil Lane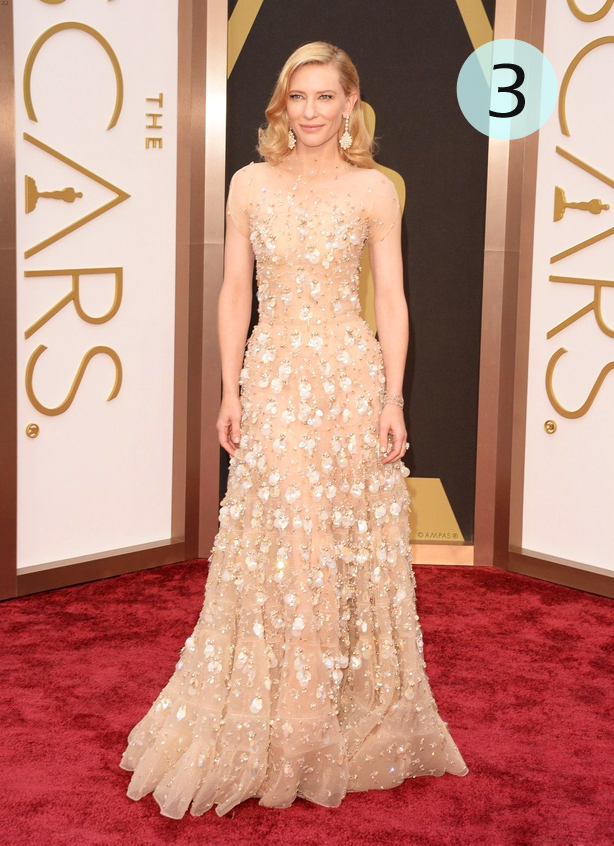 Everyone was wondering what Cate Blanchett would wear on the red carpet and she definitely did not disappoint. Looking like the definition of Hollywood glam, Cate's interestingly unique dress definitely set the tone for being an Oscar winner.
Dress: Roberto Cavalli // Shoes: Jimmy Choo // Purse: Jimmy Choo // Jewelry: Neil Lane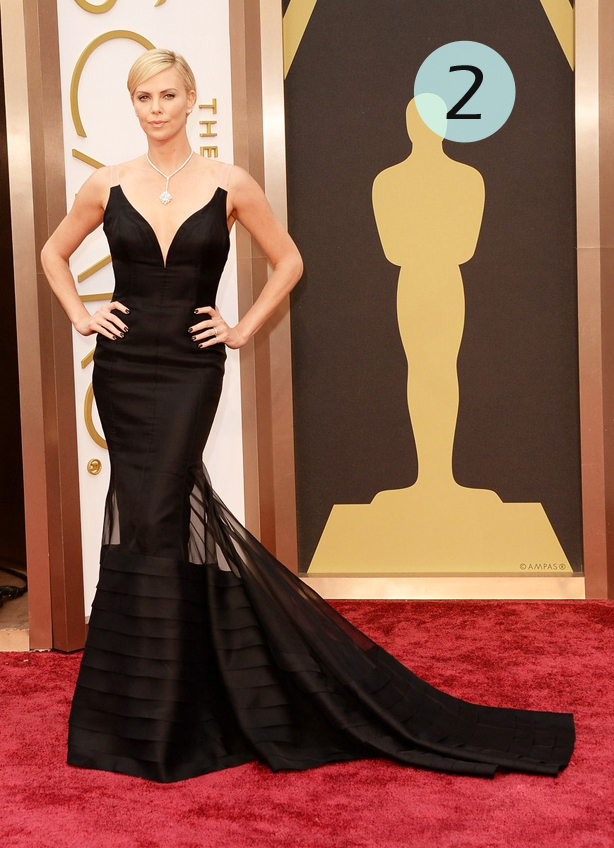 What I love about Charlize Theron is that she is not afraid to try out different and unique shapes and styles in her dresses. And I for one am so glad that she does because she makes these red carpets so interesting and worth looking forward to because she comes up with major hits like this one.
Dress: Dior // Jewelry: Harry Winston // Shoes: Christian Louboutin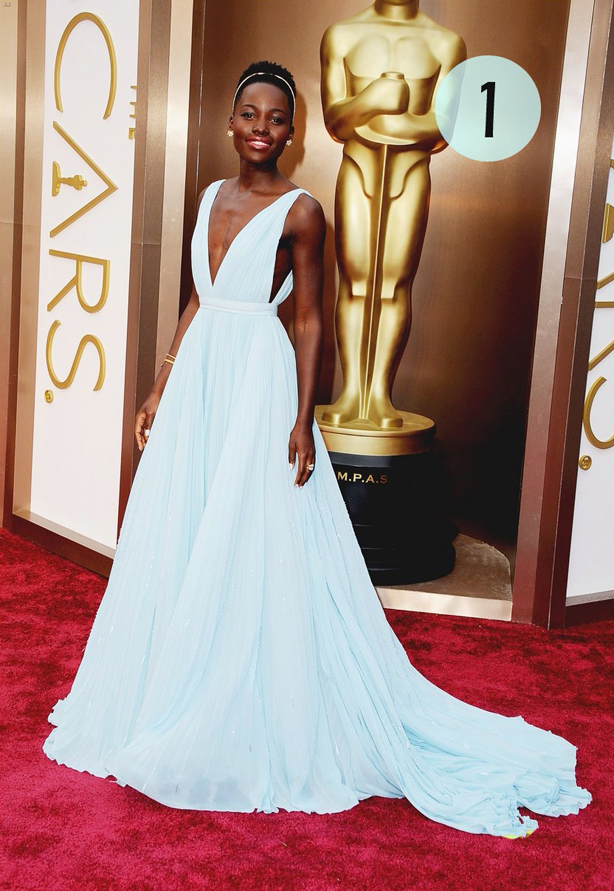 I mean. Just come on. Shut. It. Down. Everyone was obsessed with Lupita Nyong'o and her orange-red Golden Globes dress in January but this one is just as killer… and might even be more amazing. Super super simple, but what's so great about this though is that it actually didn't need anything at all (other than a headband… obvi). The perfect drop down v-neck and back, this light blue shade worked beyond perfectly on Lupita, making her the best dressed girl in my book (and I'm pretty sure everyone elses).
Dress: Prada // Jewelry: Fred Leighton
XOXO

academy awards 2014
oscars 2014
oscars 2014 best dressed
oscars best dressed
oscars best dressed 2014