I've been counting down the days, hours, and minutes for "The Great Gatsby" to hit movie theaters. And for someone who barely has time to see movies these days, it means a lot that I want to go see this one. Not only excited to see one of my all-time faves, Leo Dicap, play the role from one of my favorite books (or I think it was from what I can remember from high school), but as you can imagine, I've been dying to see all of the amazing outfits that will be featured which might even be competing with Leo as the star of the movie. As I mentioned in last week's post about my roundup of the Met Gala, Carey Mulligan has been lately doing an incredible job working events in some of the most amazing outfits and styles, which has in return all of a sudden intensified my love and interest in her. So you can imagine my excitement to see how she will play and take on the role of the beautiful Daisy Buchanan in the new movie. Maybe it's because I've always dreamed of having a Roaring 20's/ Great Gatsby themed party of my own where I'm surrounded by boys that dress up full on and where I can wear a million sequins and an extravagant headband and not get judged. But whatever it is, the style of "The Great Gatsby" is one that's intrigued me forever and it's an ageless style that should be replicated time and time again. Getting inspired by the movie and my dream party theme, if you ever see yourself needing to prepare for a Gatsby party of your own, first: invite me, second: see below for some quick, easy, and affordable ways in which you too can be the smashing Daisy & Jay.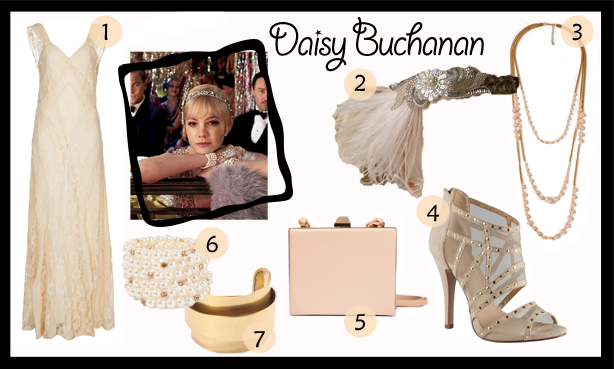 Daisy's elegant and glamourous style needs to be matched and reflected in the wardrobe that you wear. Don't take on this look with a stereotypical flapper fringe dress and cheesy feather headband. Everything should be subtle, but make a statement, gorgeous, but not over the top. Since the dress is the main attraction for the ensemble, that was the only portion of the look where I felt like it was ok and worth it to splurge. With a color that can be worn time and time again, this Topshop dress is worth the purchase.
1. Dress: Topshop, $200
2. Headband: Etsy, $39
3. Necklace: Forever 21, $6.80
4. Shoes: Aldo, $90
5. Clutch: Forever 21, $24.80
6. Bracelet: Forever 21, $6.80
7. Bracelet: Forever 21, $6.80
Jay Gatsby. Every girl is in love with him, and every guy wants to look like him. What I love about Gatsby's style is that while he wears the typical black bow tie/ black suit, he's also fashion forwad and not afraid to mix and match colors. So I decided to pull an outfit together that was a little more creative than your typical getup. With a gray Zara suit, that again is worth the purchase, and then followed by a blue theme that is seen throughout the rest of the ensemble with the bow tie and vest, I thought it would be cute to add that pop of color with the red pocket square– making you stand out while not getting too crazy.
1. Suit: Zara, Jacket, $159, Pants $79
2. Vest: Topman, $80
3. Bow Tie, Zara, $19.90
4. Shirt: Forever 21, $24.90
5. Shoes: Topman, $60
6. Pocket Square: Asos, $8.49
XOXO

1920s
costumes
female
flapper
great gatsby
inspiration
male
movies