New York Fashion Week just came and went and there was a lot to see and talk about. Wishing I was there with every Instagram I saw or article I read, it seems like other than people having to sift through the snow and play a game of Finding Nemo, Fashion Week went off without a hitch. Keeping up with all of my favorite designers and the looks that they have revealed as apart of their Fall 2013 collections, below is a brief rundown of a few of my favorite designers and highlight pieces that you should make sure to keep an eye out for because you'll definitely being seeing these pieces again very soon.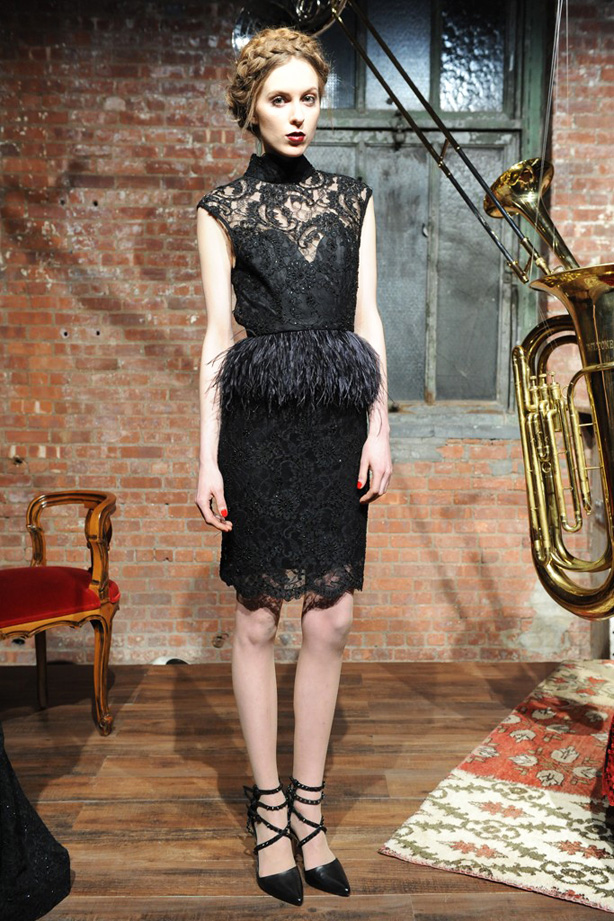 The Unexpected Little Black Dress- Everyone's favorite wardrobe must-have is some version of a "Little Black Dress". So Alice + Olivia brought it full force for onlookers, giving their interpretation of the beloved style. I'm not sure if it's the turtle neck collar or the hint of black feathers or the lace theme of the dress that has made me automatically fall in love, but whatever it is, this dress is beyond words. And the braided hair? It just adds to the perfection of making this outfit stand out and look new and fresh. Stacey Bendet, founder of Alice + Olivia, described her collection as "fantasy street style, starting on the streets of Paris with girls in really cool daytime layered looks filled with the unexpected." And that's exactly what you get with this outfit.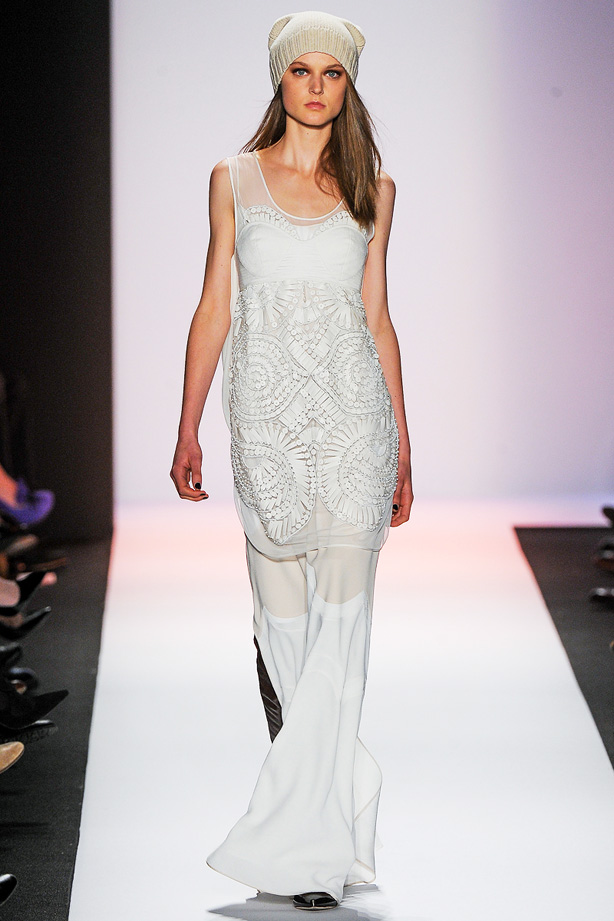 Bohemian In White- BCBG is one of my all time favorite lines and brands, never seeming to ever do anything wrong. So when their fall preview consisted of each model wearing a beanie down the runway (aka my current absolute obsession), making us feel like we were getting ready for fall, I felt like they just got me and knew how to speak to my heart. Always consistently bringing beautiful pieces to the table, with the intricate details and white sheer fabric of this all white ensemble WITH the beanie, BCBG proves time and time again that they know how to speak to their audience. Don't be surprised if you see me wearing some version of this exact outfit very soon.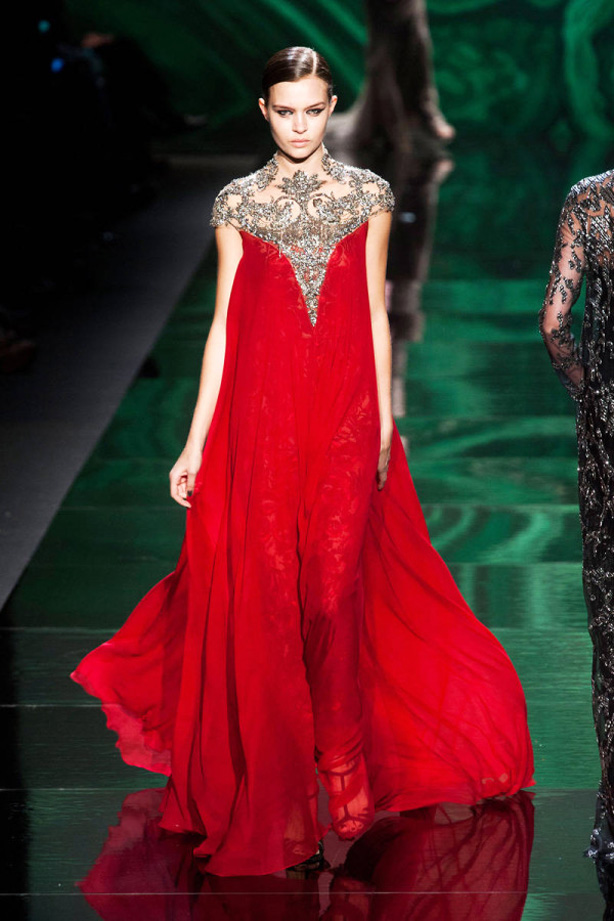 Falling For Red- With each fashion show, you're never going to like the full collection. There are pieces that stand and stick out, but then there are always some pieces that you'll be wondering to yourself "what was the designer thinking?" But when I was going through Monique Lhuillier's show, every.single.piece. that went down that runway I was in absolute awe of, not knowing how it was possible to have a show consisting of one gorgeous gown after another. Monique had said about her collection, "I wanted to give my women more options for evening… I introduced a new length, which is right above the ankle – you can wear it to black tie but it shows off your shoes. I think the length is newer, smarter, chicer, and younger. The ball gown is gone this season." This embellished diamond encrusted jeweled top mixed together with this beautiful red is one of many of her looks that make nothing less than the perfect gown.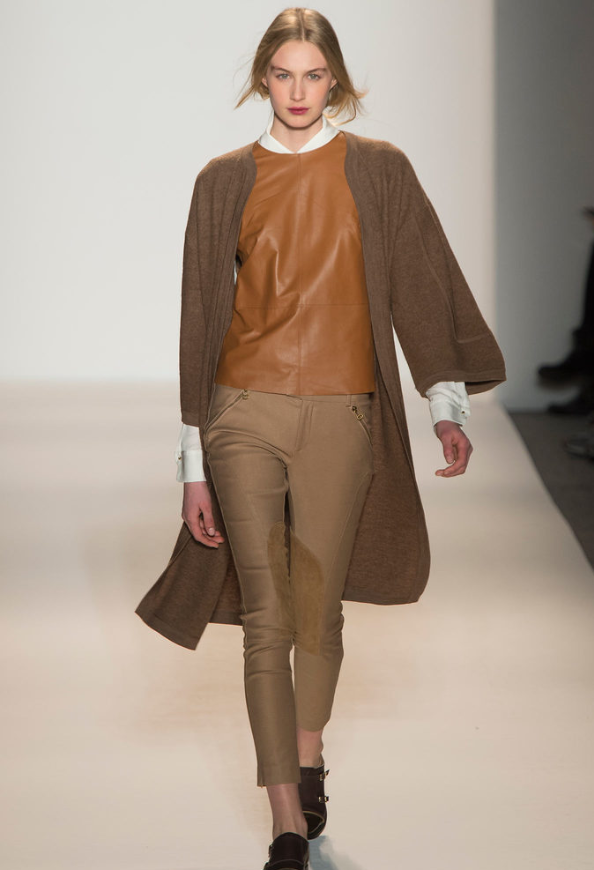 Equestrian Chic- Even though her son's appearance was probably by far the biggest hit of the show (like what? Is this kid for real??), Rachel Zoe, one of my all-time favorite stylists and now fashion designers, unsurprisingly killed it at her Fall show. She said that the inspiration for this year's line came from a "1970's equestrian lifestyle with a touch and mix of London underground rock 'n roll." This leather top, oversized jacket, fitting pants and hint of a white long sleeve shirt underneath don't only pay homage to Rachel's vision, but also pay homage to everything that I want and need in my own wardrobe ASAP.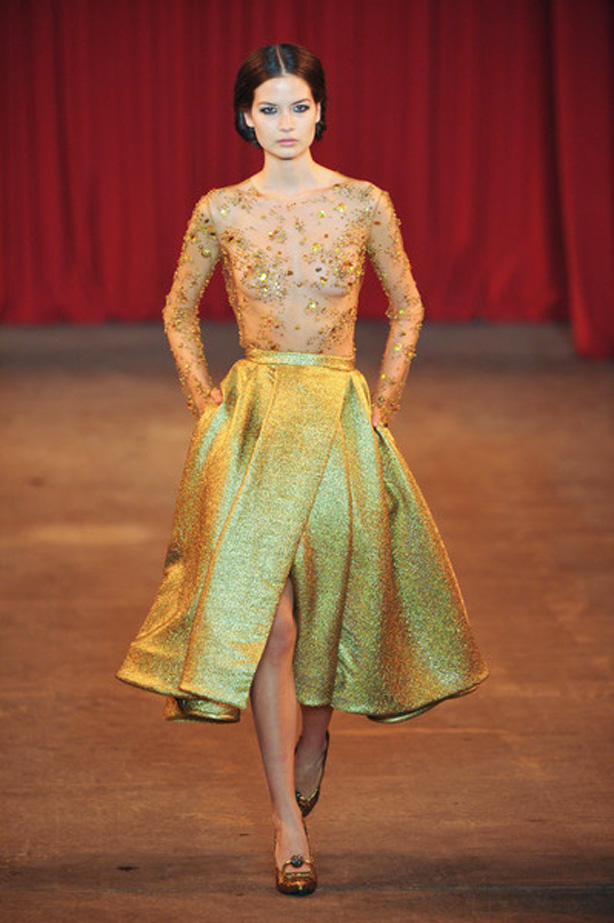 Gold On Gold- After his appearance on Project Runway (which I think was probably the last season I ever watched), I as well as the rest of the fashion world have been keeping an eye on Christian and his amazing collections. Dressing all of the big names now including Victoria Beckham, Christian has made a strong name for himself in the fashion world. Having a hard time choosing just one photo to display from his stunning gold and black themed collection, I have to say that this gold dress was a winner. Having a throwback to Britney Spear's epic one piece in "Toxic" mixed in with some Hollywood Glam, you know this dress is going to be seen on some starlet at some amazing event sometime very soon. Christian's Fall collection was yet again another proof that he's here to stay.
NY.Racked.com // Fabsugar.com// Vogue.com // Stylebistro.com //Zimbio.com // Fashionista.com
XOXO

alice and olivia
BCBG Mazazria
Christian Siriano
fashion show
fashion week
Monique Lhullier
new york
Rachel Zoe