My life motto has always been that you don't need to spend a million bucks to look super cute and fashionable– it's all about how you piece items together that makes all the difference. So when the Beverly Center came to me with the "Show Us Your Style" challenge to make, what was to me, the cutest fall look for $125 using the stores at the Beverly Center, I was excited and ready to take on the challenge. But why make one outfit when you can make two? I wanted to show you Fashionlainers how to really make the most use of your money– and how to make two of your fave fall looks for the price of one.
When I think of fall, three things automatically pop into my head as must-haves: beanies, burgundy, and leather. So I knew when I was hitting the mall, those things were instantly on my radar as needs to incorporate into my outfit. Taking a visit to a majority of the Beverly Center stores, I originally had a little bit of a different vision for what my outfit was going to entail. But as soon as I entered Forever 21, I came across this amazing leather skater skirt with gold hearts that instantly called my name, which was then shortly after paired with the cutest burgundy turtle neck crop top that was too necessary for life. And as we all know about my love for crop tops, I was so excited that I was able to find a solution to still perfectly incorporate my crop top ways into the fall and these chilly times slowly creeping up ahead. Referring back to my fall must-haves: burgundy and leather? Check! 2/3 of my checklist was already marked off. But of course, the outfit was still incomplete. Still needing to handle my beanie vision which came to life through the most perfect studded burgundy beanie I found at H&M (you can never go wrong with studs), what ended up finalizing my day look was a black leather vest that paired well with the rest of my purchases. Not typically a huge vest wearer, I really wanted to top off my day look with a leather vest which I believe will be incredibly useful for layer and huge for this fall.
DAY OUTFIT EXPENSES
H&M: Beanie- $10
Forever 21: Leather Vest- $30 (similar here)
Turtle Neck Crop Top- $8 (similar here)
Leather Skirt- $23 (similar here)
TOTAL SPENT (after taxes): $74.51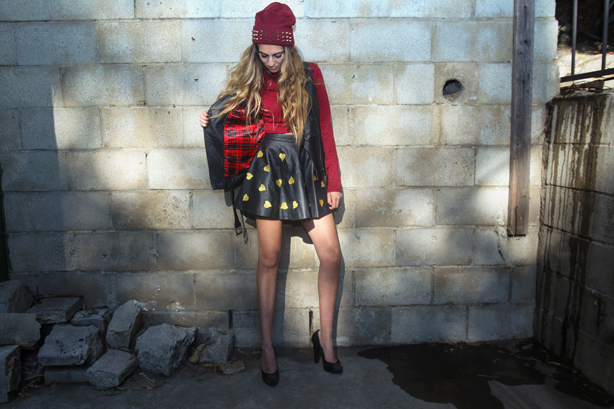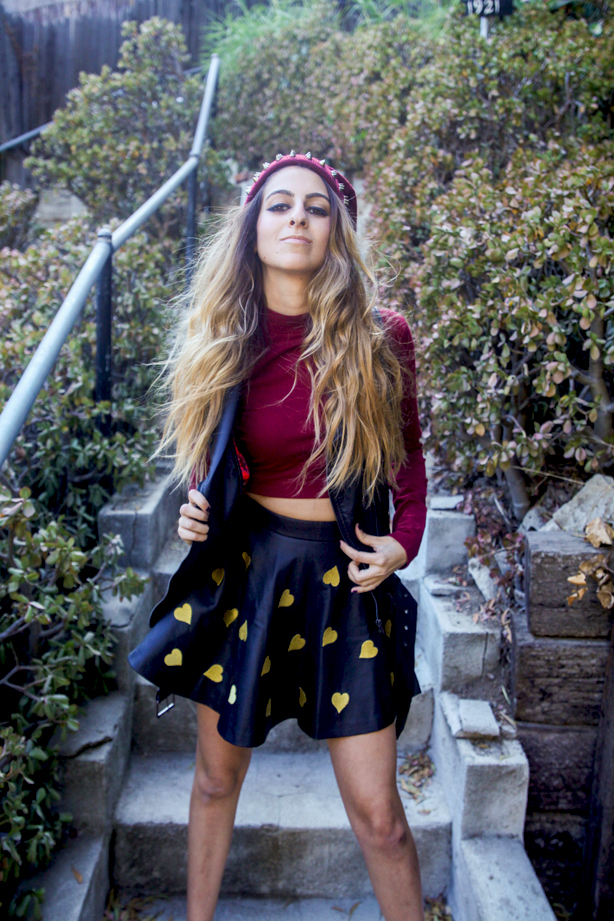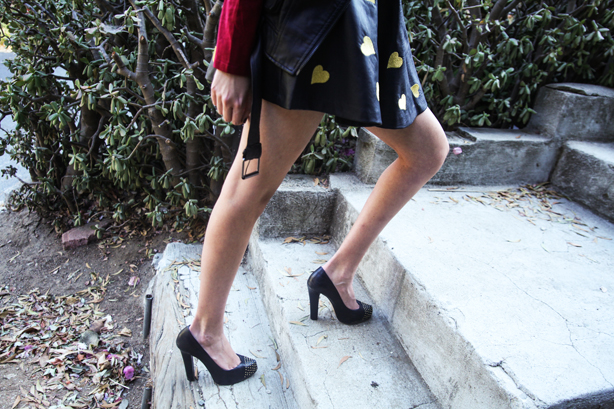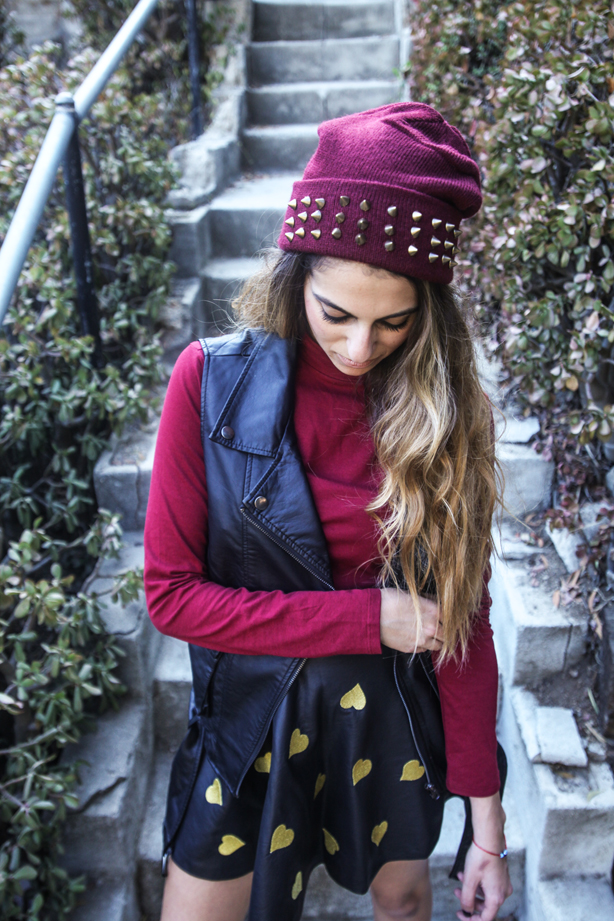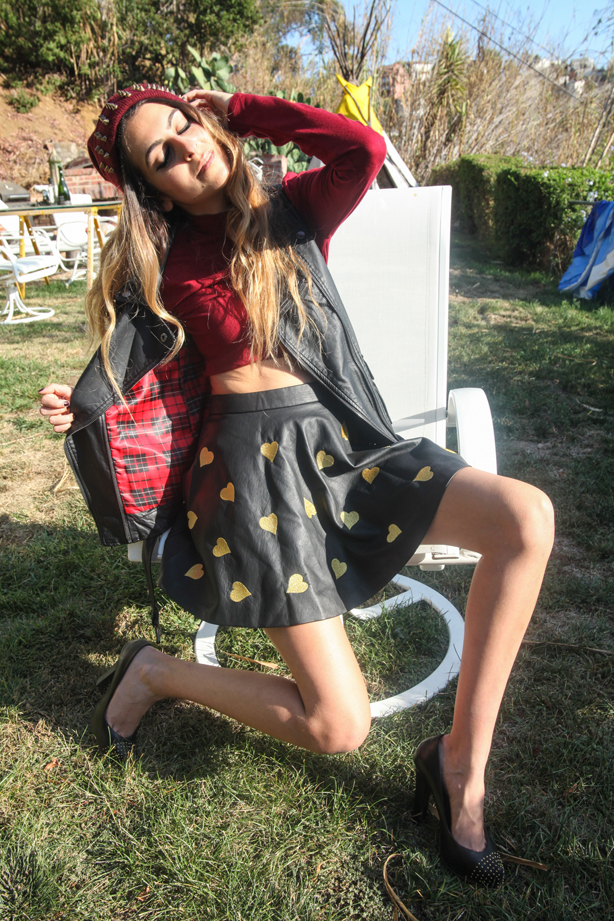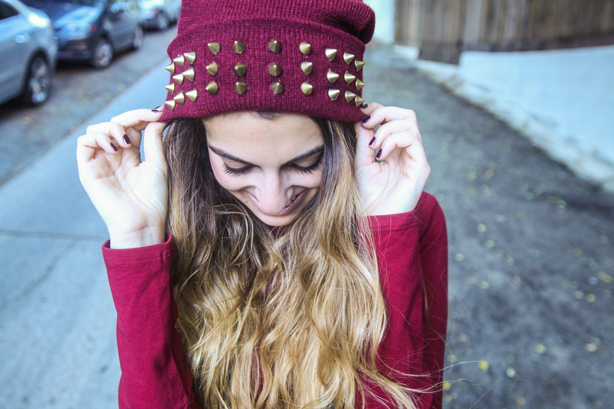 As I got my day outfit complete, I had a little over $50 left to spend, and a vision of my night outfit still underway. Yet, what's so great about partaking in this challenge is the ability to show you Fashionlainers how you really don't need that much money to create one (or two) outfits. We had the ability to use two items from our own closet to add to our fall look. So I decided to pull a pair of Dolce Vita heels that I used for both day and night and a BCBG Maxazria headband that helped me make the switch from casual beanie girl in my day look to a more dressed up fashionista for the night look. So all that was really missing for night was a piece of bling to make my ensemble go from plain to chic. Heading to Bloomingdales for my final stop in the ride, I headed straight to the jewelry section to see what they had in store for me. Clearly with a bit of a budget, many of the options that I wanted reached farther than my $50 spending range. Yet after much looking, I finally came across this super cute necklace that had a House of Harlow feel to it (which is my ultimate fave jewelry line). Giving even me a lesson that day that it sometimes just takes a bit of extra looking and good timing to find the perfect piece even on a budget, once I got my hands on this necklace, I knew both outfits were complete (with $11 to spare!).
NIGHT OUTFIT EXPENSES
Bloomingdales: Necklace- $36 (similar here)
TOTAL SPENT (after taxes for day and night): $113.75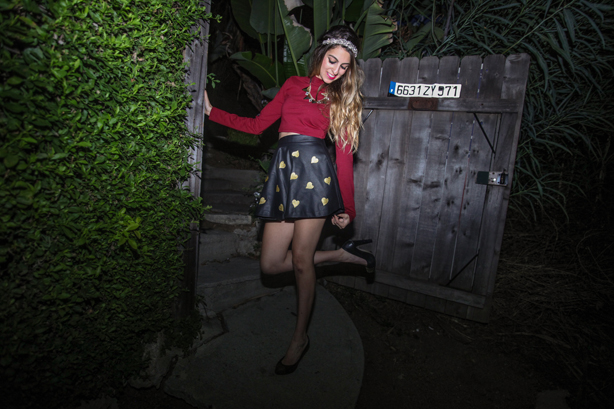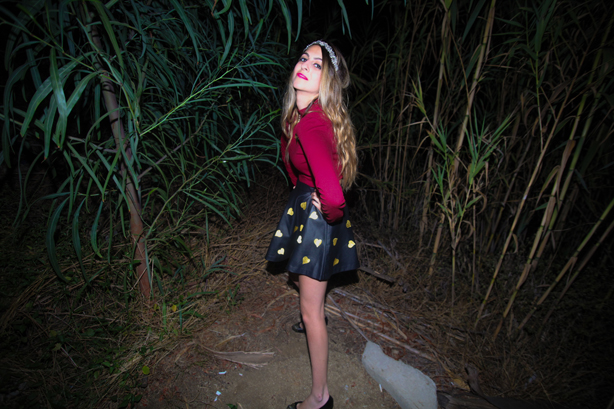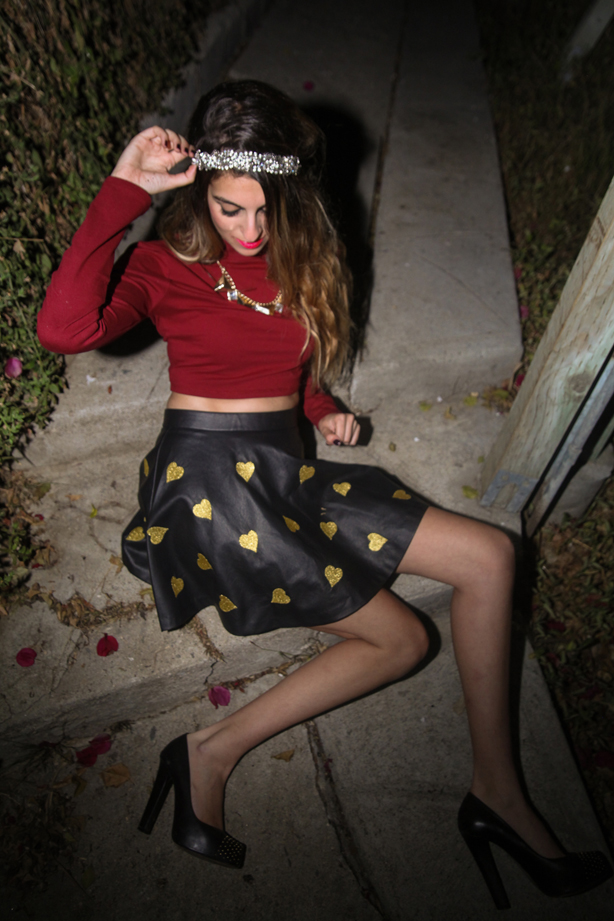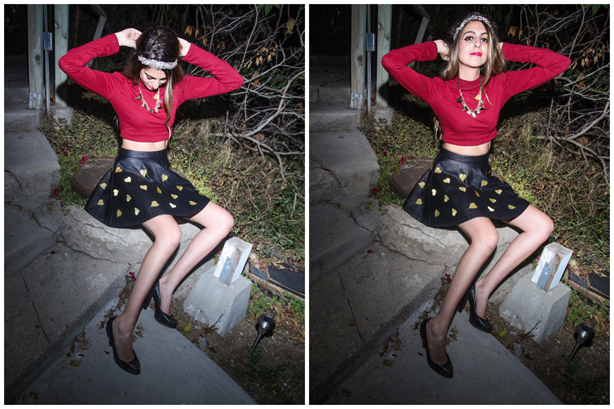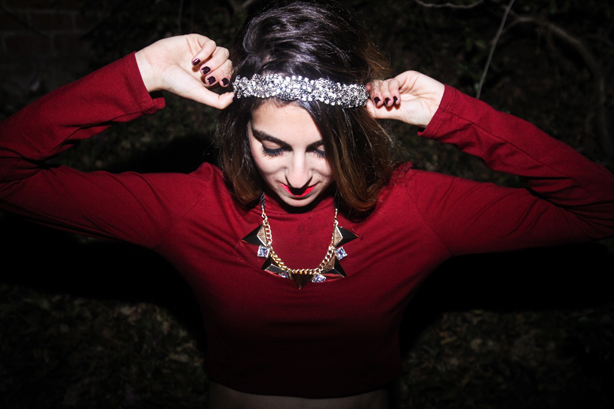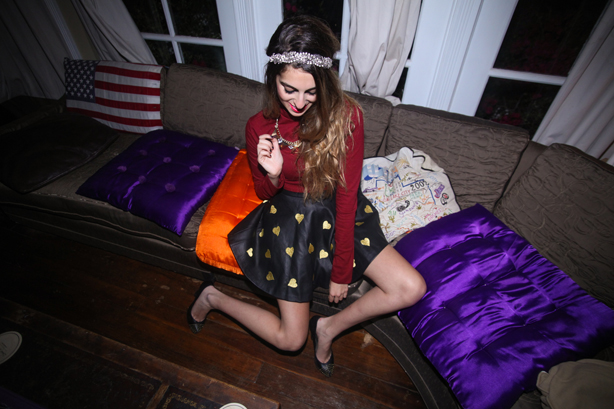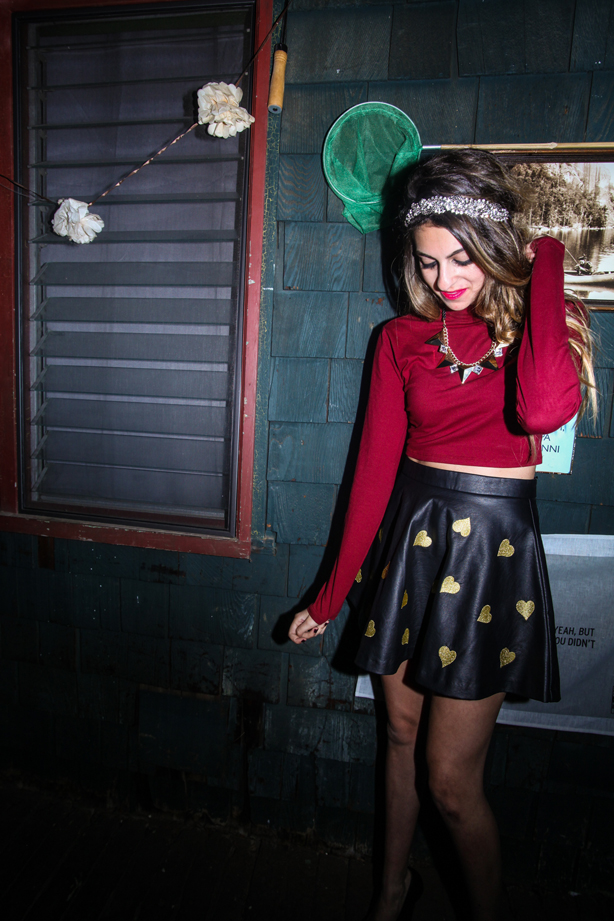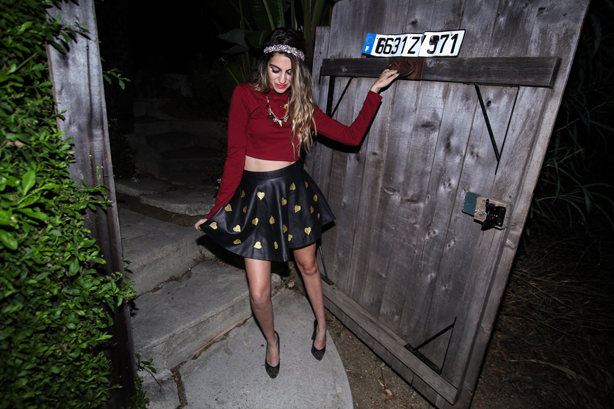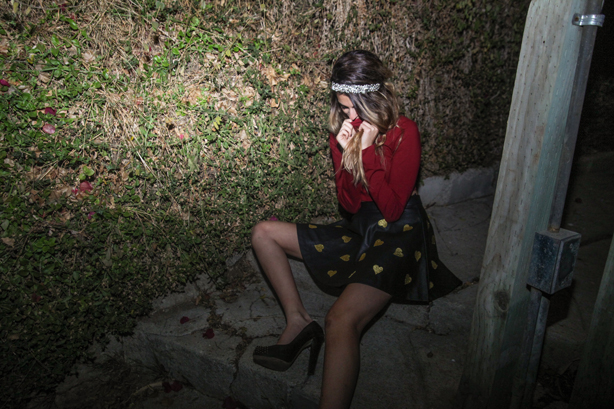 With a little bit of creativity, imagination, and knowing how to really hone in on the items you already have in your closet, something that originally was going to be a difficult shopping challenge became one of a fun do-able adventure. And one that gives you two must-have fall outfits for both the day and night– for the price of one.
Come celebrate with me and some of my fave fashion bloggers Shea Marie (Peace Love Shea), Chriselle Lim (The Chriselle Factor) and Liz Cherkasova (Late Afternoon) at the Beverly Center on October 17th where they'll reveal the winner of this challenge!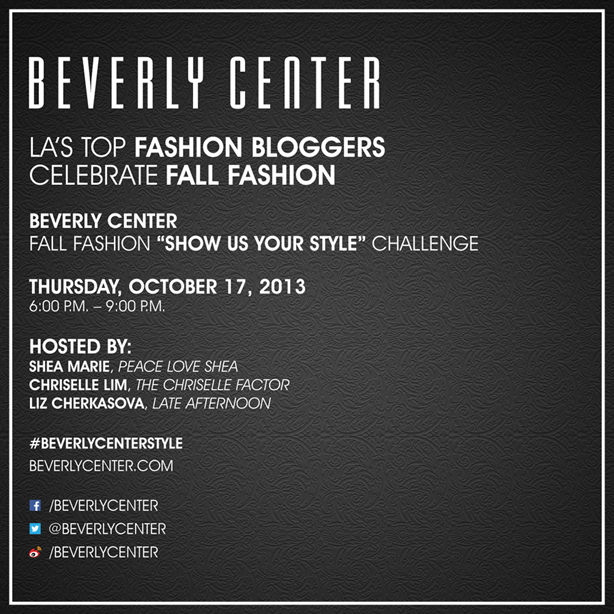 XOXO

beverly center
chriselle lim
competition
crop tops
fall
fashion bloggers
headbands
leather
liz cherkasova
mall
peace love shea
shea marie
skater skirts
the chriselle factor