Last Friday I had a super exciting and super exclusive date with Van Cleef & Arpels at the Bower's Museum to check out their new exhibit titled "A Quest For Beauty". I think any girl can say that they're totally a Van Cleef & Arpels fan. I mean… have you seen their jewels?! But I have to admit, that putting the beauty aside, it was really not until I learned about the pieces at the exhibit and the history of what it takes to make such beautiful creations that did I come to truly appreciate all that Van Cleef & Arpels is and more. Did you know that some pieces take about 10-15 years to create?! The craftsmanship and process for creating each piece is incredible. They first do a sketch, then they create a 3D of the piece to make sure it's perfect, and then the jewelers start putting the piece together. But it's not one jeweler for one piece; each piece has dedicated jewelers that are experts in different aspects of the jewelry.
The exhibit featuring 200 pieces (70 of which have never been seen before!) are broken into four categories: Nature, Elegance, Exoticism, and Femininity. The perfect timing for this exhibit to open (running now all the way until February 15!) as it coincidentally aligns with the relaunch of their renovated store soon opening up again at the South Coast Plaza Mall, this exhibit is such a must for all your fashion lovers and those simply who appreciate art. Below I give you an exclusive sneak peak of a few of my favorite pieces along with some of my favorite stories that I heard.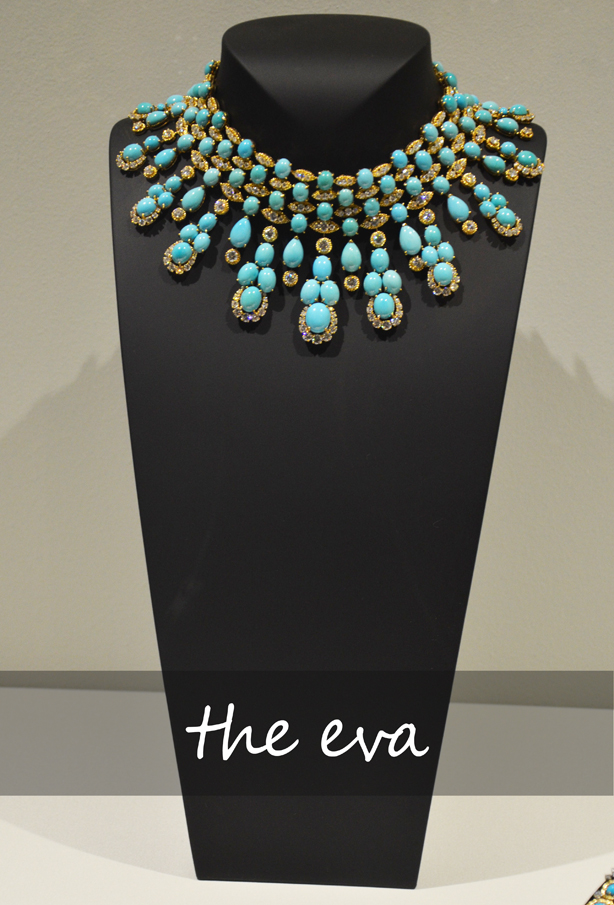 I'm not going to lie, one of the biggest motivating factors of coming to this exhibit was to see this stunning necklace made out of Persian turqouise that Eva Mendes wore on the Golden Globes red carpet in 2009. Every stylist strives to have that "IT" moment for their clients on major red carpets like these, but near and far, if there was one outfit, and more particularly jewelled piece, that will never be forgotten, it was this. Never knowing what pieces will pop up for what perfect opportunity, this necklace needed nothing else to go with it (as can be seen by the perfect and simple white dress).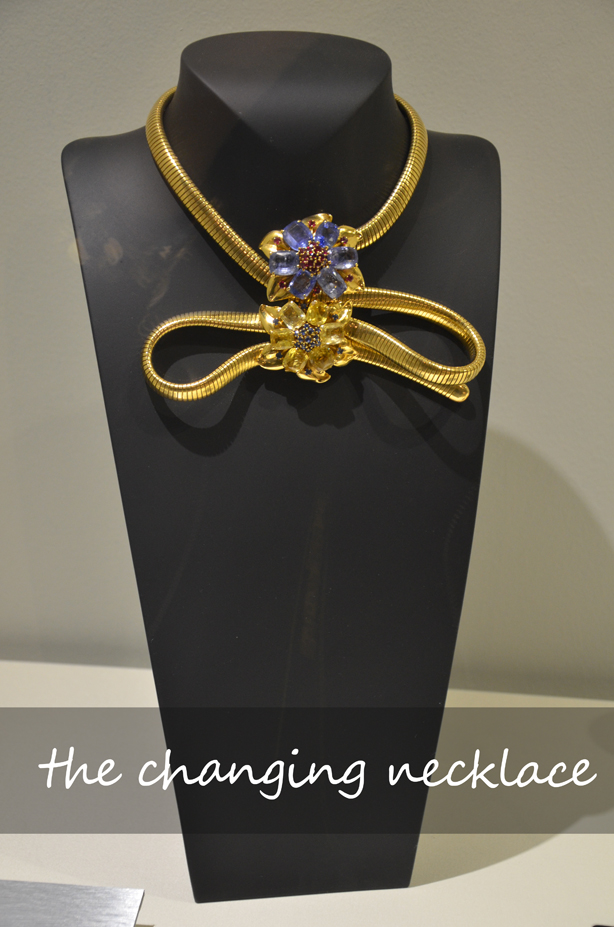 What's so impressive about Van Cleef & Arpels is that they don't match just simple pieces, everything comes with thought, innovation, and creativity. This necklace which is dubbed "passe-partout jewels" was pioneered in 1938 to be a transformation piece upon the wearer's mood, which is perfect for the modern day woman looking to have a piece that can easily be transformed upon any outfit at hand.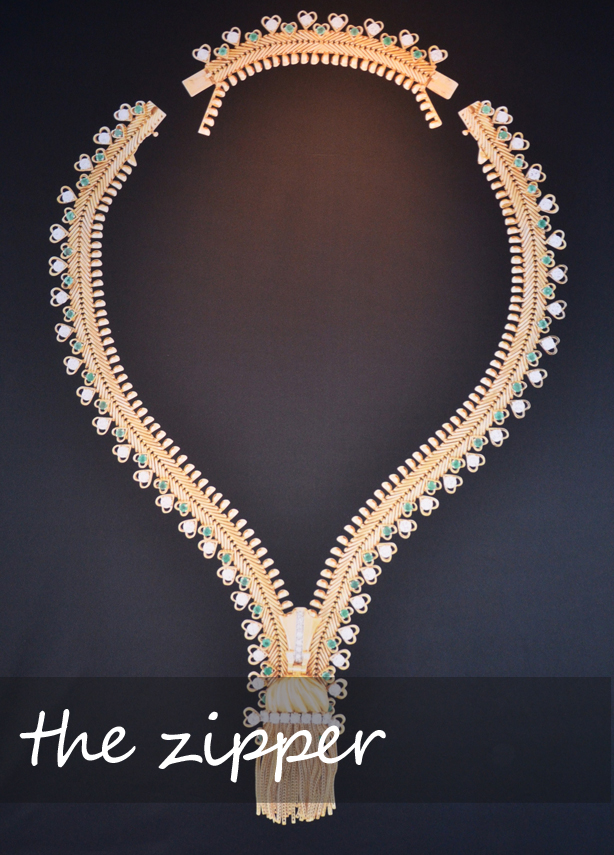 As can be seen with all the collateral and imagery for this exhibit, "the zipper", is the face of "A Quest For Beauty". Probably the most genius and intricate piece there was at the exhibit, this necklace was created in the 1950's for a lady who was looking to have something that could either be a necklace or transformed into a bracelet. Spending 13 years to come up with a solution, Van Cleef & Arpels finally came up with "the zipper" where the necklace would unzip and could become a bracelet at the same time.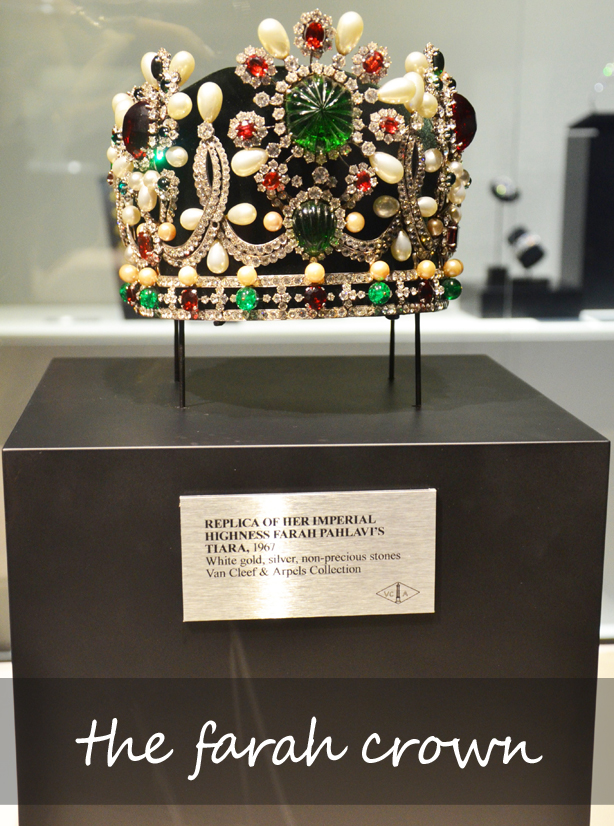 Obviously resonating with myself and my heritage, the crown created for Farah (the Shah's wife in Iran), was something that I was instantly drawn to. One of the only replicas in the exhibit (as the crown could not leave Iran), at the time of the ordination of the Shah and Farah, all the big jewelers were competing to be the one to create Farah's crown. Of course, Van Cleef & Arpels won, but they still had a dilemma. The jewels had to be made in Iran, so at first, they ended up taking a total of 28 trips to and from Iran to make the crown until they decided to fly out the whole workshop to Iran to finish it up. Farah later on sent a thank you note saying that the crown was not only beautiful, but very comfortable.
Probably one of the pieces that completely stole my heart was this necklace made in the 70's that I would completely wear with every and any outfit right now in an instant. The 70's was about boldness and authenticity. So what people would do is where simple pieces and have that one statement piece to stand out and separate them from the rest. And I think it's safe to say that this piece definitely does that.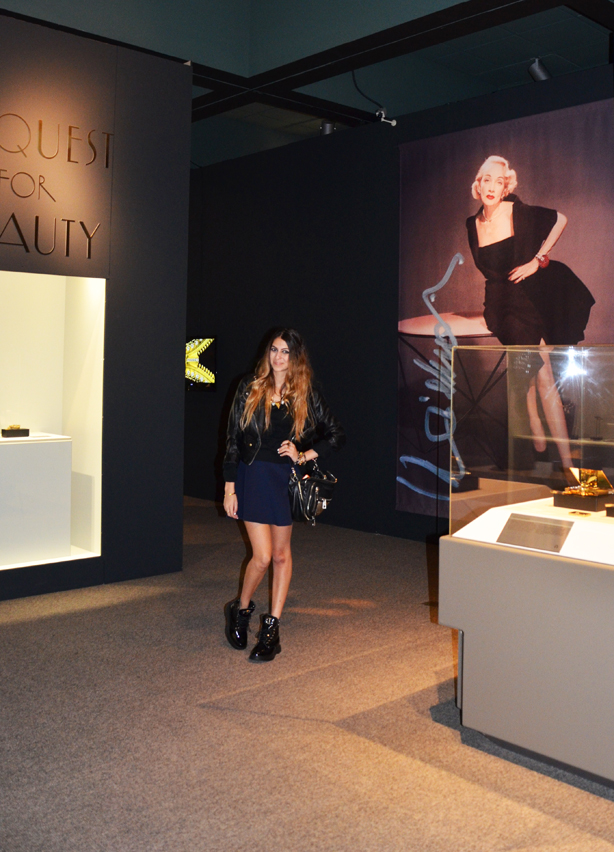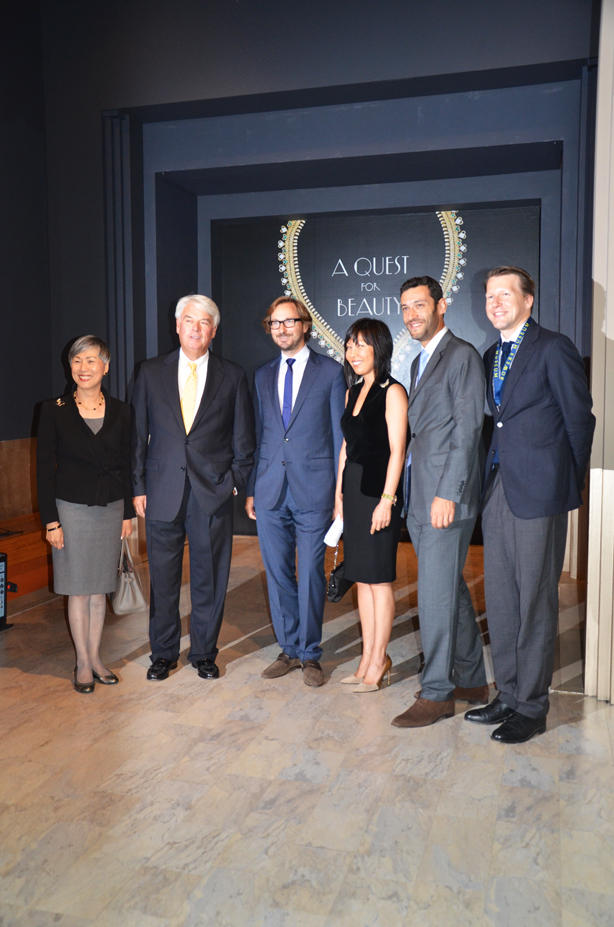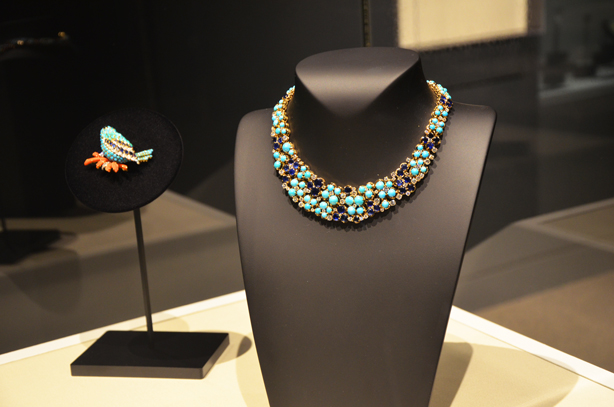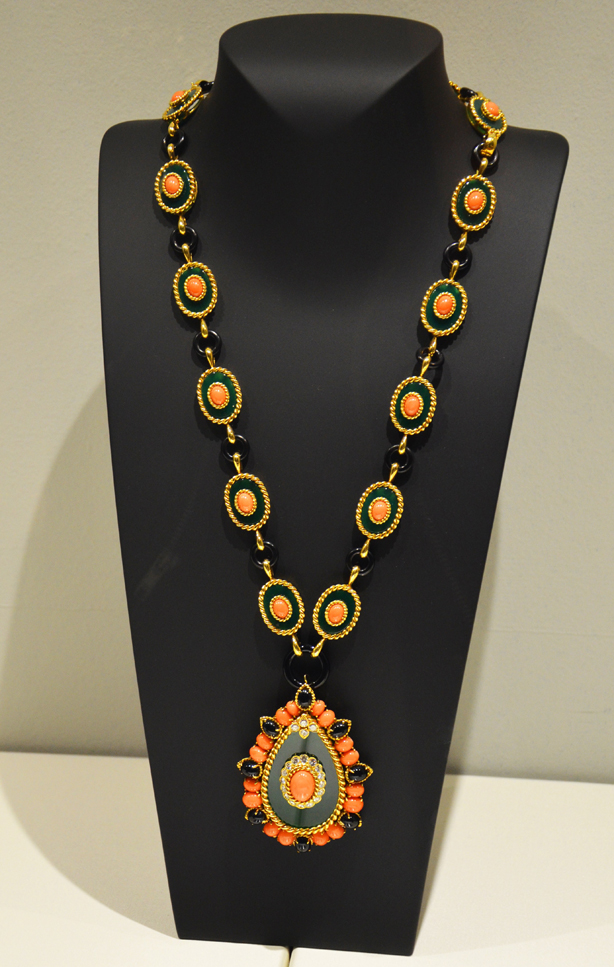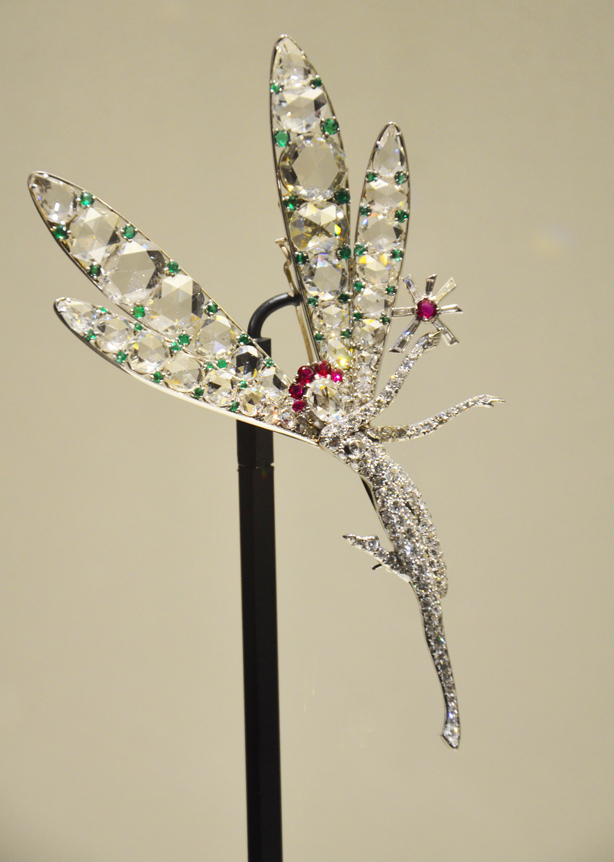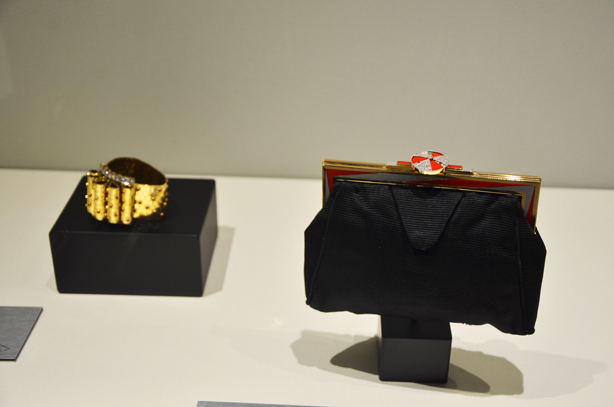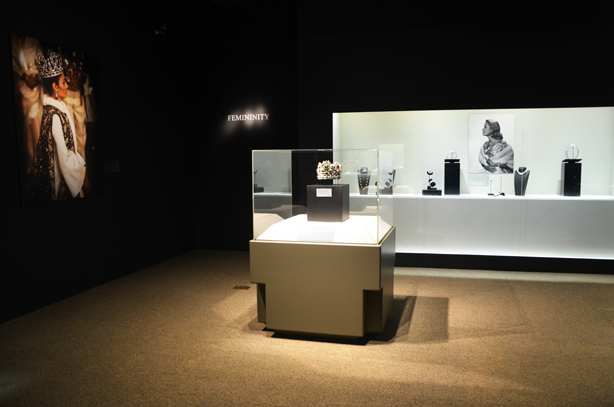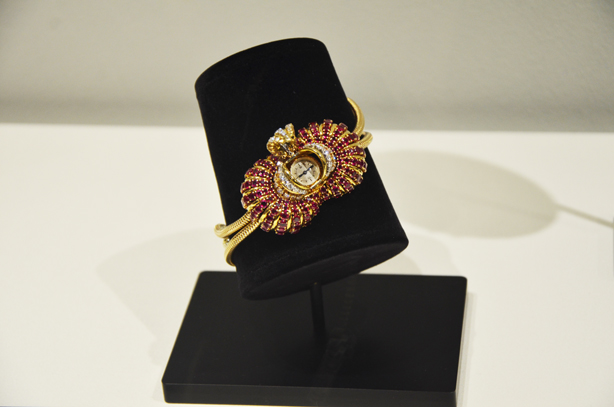 XOXO

a quest for beauty
award shows
bower museum
eva mendes
exibition
golden globes
golden globes 2009
iran
museum exhibit
red carpet fashion
the shah
van cleef
van cleef & arpels
van cleef and arpels
zipper necklace